Looking to develop a new website for your engineering firm?
If you are: good call. Websites are valuable, and they have a shelf life of about three years. After that, they get stale. Your business is best served with a website that's designed to your goals, not one that was designed in 2010.
As you're considering how to move forward with your website development, here's a look into our proven 4-step process, presented in the hope that it'll help to guide your way forward.
But first, two philosophical tenets of website development:
Agile is better. That means prioritizing results over processes and incorporating short feedback loops to stay on track.
Communication is key. However you choose to develop your engineering firm's website, make sure that expectations are regularly and transparently communicated throughout the process. If they aren't, you'll run the risk of presenting a finished website that stakeholders hate. Here at New North, we negate that possibility by holding weekly status calls with clients.
Okay – let's dive in. Here's our 4-step process to website development for your engineering firm.
1. Spec
The spec (short for specifications – but you know that already) stage is the planning stage of engineering website development. And it's really important, because the best websites are built on solid foundations.
The underlying question to consider is: what's the purpose of your site?
Do you want it to serve mainly as validation of expertise? You'll want to pay special attention as you plan the portfolio section. Or do you want it to serve as an active lead generation machine? You'll want to consider the conversion mechanisms and blog pages with increased focus.
As you answer high-level questions about your goals, you can work down to more practical considerations:
What pages will be included?
What functionality will be included (or, what does the website need to do to support your goals)?
What technology will be used?
What will the timeline for development be?
How should the site be structured? What items will go in the main menu? Will there be subdomains?
What should go on each page?
You should look to answer questions like these in enough detail to clearly define what success would look like. At New North, we have a collection of documents we use to help shape our spec-stage plans. Those include:
The Tech Spec
This is a written document that outlines all pages and functionality – essentially, it's the written-word description of an engineering website.
The Sitemap
This is a graphical illustration of site architecture that's cohesive with the tech spec. Here's an example from everyinteraction.com.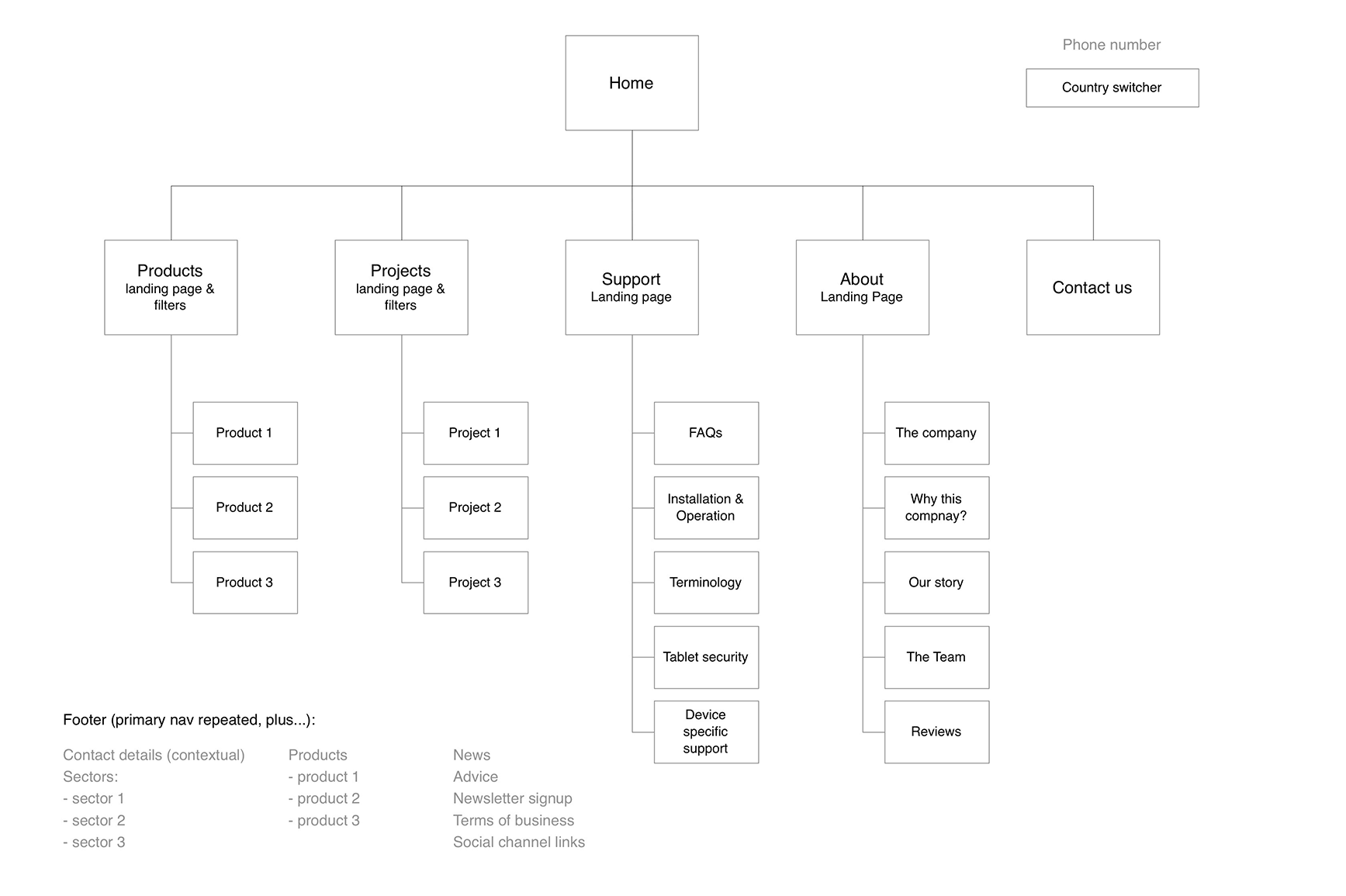 Page Wireframes
For any customized page, we create wireframes. These are basically blueprints that show where design components will go on the page. They give us a skeletal understanding of what the fully-designed pages will look like. Here's an example from Colorlib.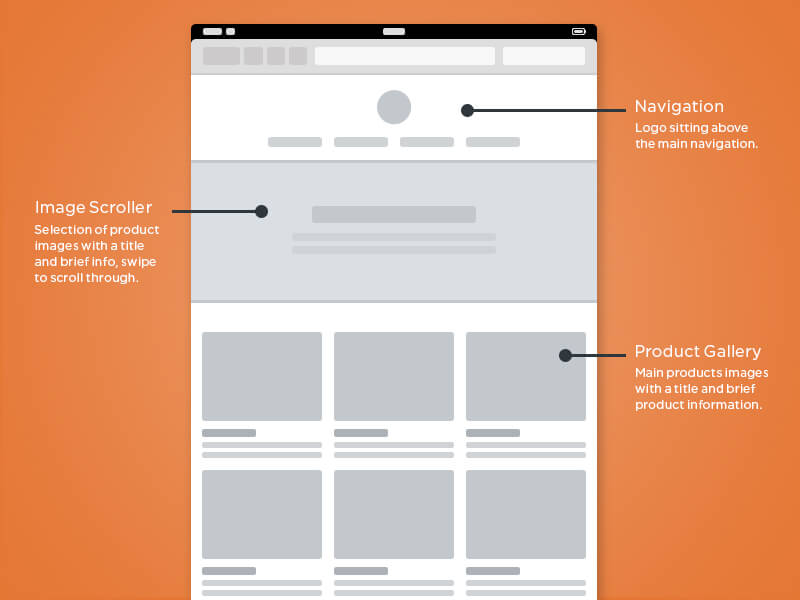 2. Design
With the project specified, the next step in developing an engineering firm website is design. This is where things start to take shape visually, before functionality is added to the mix. It's image-based.
Here's what the design stage practically entails: the creation of all custom pages in a static image format. We generally do these as .psds (Photoshop files), and send them to clients via tools like Invision to get approval.
So, how should you know when to approve a design?
That's a great question, and a really a big one, too.
The truth is that there are literally entire libraries of books on design. A lot of them are worth reading; a lot of them aren't. In any case, our purpose here isn't to cover the ins and outs of kerning, or to push your site toward a French-blue color palette. To help you evaluate design, we'll give you one criterion to focus on: does the design serve your purpose?
In other words, does it work?
You can get lost in debating the merits of analogous color schemes versus monochromatic approaches. You can lose breath arguing over whether the footer should be a darker shade of blue. At the end of the day, all that matters is whether the site serves your purposes. Put subjectivity aside as much as possible and focus on functionality.
What's that look like practically?
Design should be done in light of content, not without it.
Design should take note of best practices / competitor's designs and incorporate models that make sense.
Design should make CTAs easily accessible.
3. Develop
Here's where the rubber meets the road for your engineering firm's website – in the development phase. This is where, traditionally, technical knowledge has been a necessity (meaning, you had to know how to code).
That's not entirely the case anymore, thanks to platforms like Squarespace, and now WordPress's new Gutenberg editor. But it still really helps to know code if you're trying to do anything custom.
 At New North, our building process looks something like this:
Create HTML from visual documents.
Site root setup.
Develop themes and skin.
Build new functionality.
Install pre-built functionality
Extensive quality assurance.
Beta / client approval
Launch
Again, we always maintain communication channels with our clients (weekly meetings, at least), so they're up-to-date on all development and not blindsided by unmet expectations on the final product.
4. Optimize
Last but not least, any good website is continually optimized for results.
This is where subjectivity is finally crushed by data. Track analytics. Monitor user flow through the site. Try tools like HotJar to analyze how users are interacting with your pages. And then, make changes.
Always be working toward your goals. Remember, your website is designed with a purpose. Use data to get there.
Want help? Get website development from an expert team.
This 4-step process is the backbone of good website development. If you follow it, your engineering firm's website will be on the right track. And if you're looking for help – let's talk.
At New North, digital marketing for B2B firms is what we do. We build engineering websites that work based on data, and we'll help you ensure your site accomplishes your goals.
Want help? Schedule a free 30-minute conversation today.