Looking for B2B marketing help? You've come to the right place.
At New North, we've been helping B2B firms reach the next level of growth for over a decade.
Do you have one of these challenges?
You have a growth goal. You've reached 7-8 figures in annual revenue, but you need a boost to get over the next hump.
You want to enter a new market. You have a new geographic target or a new offering that you want marketing support for.
You're aiming to be acquired. Your industry is consolidating, and you want to maximize the value of your business for a sale.
We can help.
We work with mid-level to enterprise-level brands to shape B2B marketing strategy and tactics that drive measurable results. Here's a brief overview of what we offer.
B2B Marketing Services
If you're interested in learning how marketing can help your B2B firm – let's talk.
The Next Step: Get a Free Marketing Consultation
Get in touch with us today to talk B2B marketing strategy. We'll review your current activities and identify challenge points and areas of opportunity, then begin to chart a roadmap toward marketing that reaches your goals.
Learn More About B2B Marketing
If you want to learn more about B2B tech marketing – keep reading. Over the rest of this page, we'll walk through commonly-asked questions and offer B2B tech marketing insights to help you get a better understanding of how to market your firm.
We'll cover:
Ready for insight into B2B marketing that will lead to more leads, more sales, and more growth? Read on.
What's the difference between B2B and B2C marketing?
To begin, we've got to define our key term:
What is B2B marketing?
And in order to understand B2B marketing, you need to know what the acronym B2B means. It stands for "business to business."
As Disruptive puts it: "B2B businesses sell products and services directly to other businesses. Or, more specifically, they sell to the decision makers in any particular business."
Marketing, of course, means bringing a product or service to a market.
So, B2B marketing involves bringing a product or service to organizations rather than to consumers. For example, an IT company that provides services to doctors' offices is providing a B2B service. Any marketing for this service – from Facebook posts to blog articles to Google ads – would be B2B marketing.
What is B2C marketing?
B2B marketing is typically contrasted against B2C marketing. B2C, of course, stands for "business to consumer." As HubSpot puts it, "it describes businesses whose customers are individual consumers, rather than professional buyers."
When you think of marketing, B2C marketing probably comes to mind first because you've probably seen more of it.
Nike billboards, GEICO commercials, Instagram ads for weirdly comfortable sandals – those are all bringing products or services directly to the attention of consumers who will buy them for personal use. They're all examples of B2C marketing.
You can learn more about what B2B marketing entails (and how it's different from B2C marketing) here.
What are the most effective B2B marketing strategies in 2021?
1. ABM
ABM stands for account-based marketing, and, as I noted earlier, it's really only been a buzzword for the past five or six years.
What is ABM?
Here's how we've described it before: Rather than crafting a message and applying that message to a market in order to get a few clients or accounts to raise their hand in interest, in account-based marketing, we rearrange the process. We treat each account like its own market and craft specific messages for each.
WordStream puts it this way: "Account-based marketing is a strategic marketing strategy where key business accounts are marketed to directly, as units of one (compared to the typical one-to-many approach)."
Where does ABM fit into the B2B marketing funnel?
I classified ABM as a demand generation strategy a few paragraphs above – and ABM is that, but it's more than that, too.
An ABM approach covers the entire marketing funnel. In fact, it flips the funnel on its head. You identify specific clients your business wants to work with first, and then work on targeting them to build awareness, start conversations, and drive sales.
How to employ ABM effectively:
ABM is most effective if you're serving a small or niche audience at a high purchase point. For example, if you're providing IoT software for auto manufacturing facilities, the market is probably small enough that you know exactly who you want to sell to – and getting a few accounts will yield a big increase in revenue. ABM is ideal here.
2. Pay-per-click marketing
Pay-per-click (or PPC) marketing is still one of the best demand generation tactics in the B2B marketing toolbox. Even HubSpot – long a proponent of inbound marketing and a skeptic toward paid outreach – has come around over the last several years.
What is PPC marketing?
Pay-per-click marketing is what its name suggests: Marketing where you pay per click on your ad. This form of marketing can be run on nearly any digital platform – Google search, YouTube, Facebook, LinkedIn, and so on – where user activity can be tracked.
PPC Hero puts it this way: "PPC (pay-per-click) marketing is a form of online advertising in which advertisers accrue costs when users click their ads. Advertisers bid on the perceived value of a click in relation to the keywords, platforms, and audience type in which it originates."
A note here: While PPC means ads that are charged on a per-click basis, colloquially, it may also refer to ads that charge per impression – where you'll pay for each time a user views your ad. For instance, on many social platforms, you can pay per impression or per click.
Where does PPC marketing fit into the B2B marketing funnel?
PPC marketing is best used in demand generation. It's an effective way to reach an existing market. For example, if you're selling a CRM for small businesses, you could tap into the 2,400 monthly Google searches for "CRM for small business" by running Google search ads on that query.
Additionally, PPC marketing may also be used to nurture contacts through your funnel via remarketing. Let's say you have an email list of 10,000 contacts. You could create Facebook ads and show them to this list to encourage another action.
How to employ PPC effectively:
Pay-per-click marketing is most effective in creating demand by targeting an existing audience. If you know that there is market demand for your product or service, PPC makes sense.
3. SEO
SEO, or search engine optimization, is a longer-term tactic than PPC. You won't get quick wins, but it has the potential be more cost-efficient over time, as you won't have to pay for every click.
What is SEO?
SEO has an air of complexity to it, but its core is simple: the practice involves getting your content to appear in search engine results for valuable keywords. It's a tactic to help your B2B firm get found online.
Moz (an old-school SEO stalwart) puts it this way: "SEO stands for Search Engine Optimization, which is the practice of increasing the quantity and quality of traffic to your website through organic search engine results."

Where does SEO fit into the B2B marketing funnel?
B2B SEO falls squarely in the realm of awareness building. It's a tool to increase the size of your audience. Let's say you're selling custom ERP development. If you rank for that search term, users will hit your site, learn about your firm, and potentially buy. SEO is a way to fill the top of the funnel.
How to employ SEO effectively:
Like PPC, SEO is an ideal tactic for hitting an established market. If there are a lot of searches for your services – or for closely related terms – SEO is worth the investment.
Tactically, there are two main thrusts to any SEO strategy: On-site SEO and off-site SEO. On-site SEO involves content creation and site edits to improve ranking factors. Off-site SEO involves building backlinks (yes, this still matters) to boost the domain authority of your site. Note that good SEO takes time, especially if your B2B firm is relatively new.
4. Social media marketing
Love it or hate it, social media is here to stay, at least in some form. While it's probably not worth it for your B2B business to be on every platform, there are ways that B2B social media marketing can be incredibly effective.
What is social media marketing?
Social media marketing is the use of social media platforms to build an audience, communicate stories, and drive actions for a brand. It's often used simply to demonstrate proof of pulse – in other words, as a means of proving that your company is legitimate. Marketing on social platforms can be paid or organic.
Here's how Buffer puts it: "Social media marketing is the use of social media platforms to connect with your audience to build your brand, increase sales, and drive website traffic. This involves publishing great content on your social media profiles, listening to and engaging your followers, analyzing your results, and running social media advertisements."
Where does social media marketing fit into the B2B marketing funnel?
Ask different marketers this question and you'll get different answers. Here's my take: Social media is best used for awareness building and proof of pulse. Yes, it can be used to drive purchases, but, for most B2B companies, you'll see better bang for your buck in other channels (like email).
Focus on the top of the funnel. Done well, social media marketing can be a highly impactful tool in building your audience.
How to employ social media marketing effectively:
This is a tough one, because it varies widely depending on your business and on what industry you're in. Generally, the approach you should take is this: Identify the social channels where potential customers spend time. Optimize those channels for your business, then post to them regularly.
You might want to consider paid ads to increase your reach. And you should probably ignore the channels your users don't frequent.
5. CRO (conversion optimization)
All right – we've worked our way through awareness building and demand generation B2B marketing strategies. With CRO, we're moving lower in the funnel. You'll need this strategy to build a contact list.
What is CRO?
CRO, or conversion rate optimization, is the process of optimizing a website page so that users are more likely to take a desired action. Content edits, call-to-action tweaks, button design, color changes, A/B testing – that's the stuff CRO is made of. The whole point is to ensure that a higher percentage of your users convert.
Here's how Directive puts it: "Conversion rate optimization (CRO) is the process of optimizing your site or landing page experience to help improve desired actions (conversions). Think about it this way: if traffic is the water, and your website is the leaky bucket, then CRO acts as the sealant that fixes that bucket so fewer leads are lost."
Where does CRO fit into the B2B marketing funnel?
CRO is a mid-funnel tactic. It's not concerned with driving more users to your site or building awareness in the market; it's about doing more with the traffic that you have.
If you're investing in any of the tactics above, you should almost definitely be investing in CRO, too.
How to employ CRO effectively:
To do CRO, you'll need to clearly define what constitutes a conversion on a page, so that you can optimize for that action. In other words – each page should have a goal.
Additionally, CRO is most efficient when you have data. Without data, any changes you make to optimize conversion rate will be based on opinion. To get data, you need to have traffic. So, build out the top of your funnel first.
Once you have a goal and you have traffic hitting your page, start testing what works to increase conversions. Make intelligent, data-informed changes, and, over time, you should see your conversion rate increase.
6. Email marketing
Email marketers are fond of saying that email has the best ROI of any marketing channel. That's a pretty cool thing. Yes, this channel is old, but it's clearly still worthwhile.
What is email marketing?
Come on. You've known the answer to this since at least 2002. But hey, here it is anyway: Email marketing is the use of email to build brand awareness and drive valuable actions.
Or, as OptinMonster (somewhat boastingly) puts it: "Email marketing is the highly effective digital marketing strategy of sending emails to prospects and customers. Effective marketing emails convert prospects into customers, and turn one-time buyers into loyal, raving fans."
Where does email marketing fit into the B2B marketing funnel?
Email marketing can be effective up and down the B2B marketing funnel. For example, you can (and should) employ email marketing to reach existing clients or customers.
However, the tactic's most common usage is in nurturing contacts to become clients.
How to employ email marketing effectively:
For email marketing to even be possible, you need emails to market to. You can do this by growing your traffic via the strategies outlined above, and then converting visitors into contacts. Or you can buy a list, although on most email marketing platforms – like HubSpot's, for example – you aren't allowed to email people unless they 've opted in. There are times for both – but a collection of emails is a requirement, obviously.
Given that, there are two main modes of email marketing. The first is to send one-off emails, usually to a large portion of a list. The second is to send automated campaigns (or drips) that build conversations with the recipients. For instance: You might get emails by offering a download of a tech spec sheet on your site. When users download the sheet, they get entered into a drip of five emails explaining various benefits of your product.
Pro tip: Segmentation makes emails far more effective.
7. Sales support
Too often, marketing and sales are on different pages. Sales support is a nice way to get things aligned.
What is sales support?
The name kind of gives it away: Sales support is marketing that helps salespeople to do their jobs more effectively.
Here's how TenFold describes it: "Sales support refers to a variety of functions that help your sales representatives focus on actually selling and closing deals."
It's worth noting that we're this isn't strictly confined to marketing; there are other forms of sales support (bringing technical experts onto sales calls, for example). Here, though, we're talking marketing materials.
Where does sales support fit into the B2B marketing funnel?
Sales support strengthens the bottom of the funnel. Done well, it can help salespeople to turn a greater number of contacts into clients and customers.
How to employ sales support campaigns effectively:
This may go without saying, but if sales aren't a heavy focus, you don't need sales support. Some SaaS companies operating at lower price points might not need sales support (although most still will). If you have salespeople, though, sales support is probably worth it.
Practically, this can take a variety of forms. A few ways we've helped support sales for our clients recently include creating tradeshow collateral, crafting email follow-up automations, and setting up LinkedIn message chains. The bottom line in all of these efforts is that salespeople's jobs are made easier.
8. Customer marketing
We've reached the last B2B marketing strategy on our list: customer marketing. Yes, you should keep marketing to people after they buy from you. Here's what that means.
What is customer marketing?
This is another simple one: Customer marketing is marketing that's targeted to people who have already purchased from you.
Here's how Influitive puts it: "Customer marketing is built around activities designed to drive retention, loyalty, advocacy, growth and community participation for current customers. The strategy, which is different from marketing with the goal of acquiring new customers, relies heavily on maximizing strong customer relationships."
How does customer marketing fit into the B2B marketing funnel?
This is at the very bottom of the funnel – after conversion to client. In some depictions, you'll see this laid out as the foundation to the funnel.
How to employ customer marketing effectively:
Admittedly, customer marketing is a broad term – basically any form of communication with existing customers could fall under this umbrella. But there are a few general tips that nearly always apply.
First, you should be doing customer marketing. Existing customers tend to be easier to convert for repeat purchases or upsells.
Second, you should always communicate new offerings. If you're rolling out a new product line, for example, your existing customers will be a great audience to start with.
Third, segmentation is crucial here. If you offer a variety of services, your messaging should change based on which customers you're speaking to.
Okay – those are the top eight B2B marketing strategies for most businesses in 2021.
To learn more about each (and for additional resources), read this article.
What is B2B content marketing?
We've covered a bunch of strategies. But while we've touched on some of its component parts, we haven't yet defined B2B content marketing, which is arguably the B2B marketing strategy.
No worries – we're breaking it out here.
What does B2B content marketing mean?
To understand the term, you've got to break it down into its component parts – which, again, are kind of jargon-y in and of themselves. Here's what we're working with:
B2B
B2B means "business to business." It's a qualifier that means the end buyer of a product or service is a business, not an individual consumer.
For example, you could call a company that only sells products to other businesses a B2B company. At New North, that's us – we only provide marketing services to businesses.
You could also call a product or service that is only available to businesses a B2B product or service. For example, ERP software is only for businesses; it's a B2B product.
At the other end of things you have what B2B is typically set against: B2C. This is short for "business to consumer" and applies to any business that sells to individuals. Nike, Netflix, Apple, etc. – they're all great examples of companies that are primarily B2C.
Content Marketing
Content marketing is an approach to marketing that focuses on content creation to draw customers into a relationship with a business.
Content Marketing Institute (which is, as you'd expect, a good resource on the subject) describes it this way:
Content marketing is a strategic marketing approach focused on creating and distributing valuable, relevant, and consistent content to attract and retain a clearly defined audience — and, ultimately, to drive profitable customer action.

Instead of pitching your products or services, you are providing truly relevant and useful content to your prospects and customers to help them solve their issues.
It's in the same vein as inbound marketing (a term coined by HubSpot); the point is that, instead of being pushy about sales, you meet people where they're searching and pull them in with valuable or entertaining content.
You can argue that any kind of marketing that involves content creation is content marketing (meaning that an ABM campaign or an Instagram ad are content marketing) – and people do. I think the argument's kind of dumb, though, because all marketing involves content, which would make all marketing content marketing.
And if that's the case, why use the term at all?
So, content marketing is not any marketing that involves content; it's a unique approach focused on drawing people into a business relationship through the provision of value.
Okay – with that clarified, let's put our two terms together:
B2B content marketing is a strategic approach to marketing that uses content to build valuable relationships with business consumers.
Or, in the words of WordStream:
B2B content marketing is the art of using content to expand your business's audience, strengthen and develop brand affinity, and ultimately drive leads and sales by appealing to other businesses.
Once the jargon is out of the way, the term is pretty simple. It's content marketing for businesses. That's it.
What is B2B content marketing used for?
Now that we've defined the term, let's clarify it with some application.
B2B content marketing is most effective for products or services that have a certain market size. I'd say it's best where there are at least 5,000 potential customers (and, honestly, the more the better).
If there are fewer customers than that in the market for a product, it's likely more effective to go out and get them than it is to try to draw them in with content.
Tactically, B2B content marketing can take many different forms:
Email
Blog posts
Videos
Social media campaigns
Mixed media
Really, what's key is the approach, not the medium.
Examples of B2B content marketing
To make the term as concrete as possible, let's cap things off with a few examples.
You've probably heard of Deloitte. This is basically their resource center. It's a treasure trove of information (blogs, podcasts, reports) that positions Deloitte as a market leader without focusing on directly selling services.
Salesforce offers enterprise CRM solutions – and they've got a podcast that's a great example of B2B content marketing. It features stories and tips from Salesforce admins, and it's meant to strengthen the company's user community (again, not for direct sales).
This page.
Meta, right? This blog post is, in fact, B2B content marketing. Here you are learning about what B2B content marketing is, and now all of a sudden you realize you're on the website of a company that provides B2B content marketing. Life is crazy.
How to use LinkedIn for B2B marketing
First, a note: B2B marketing works really well on LinkedIn.
There are plenty of reasons LinkedIn is so effective. To start, there are a ton of people on the platform. According to LinkedIn's news center, there are 722M+ active users, with 191M in North America and 174M in the US alone.
But, even better, LinkedIn's members are the right demographic and they're there for the right reasons; this is a professional social network.
That means that, while there are still some cat memes and obnoxious political posts, there's a lot more business networking happening here than on places like Pinterest or Facebook. Most members join to job search, network, make sales, and learn.
If you're in B2B, LinkedIn is a good place to be.
As the following stats show, B2B marketers overwhelmingly agree.
The opportunity is there.
The bottom line: Yes, LinkedIn works for B2B marketing. If you approach this platform correctly, it can build your bottom line.
The purpose of B2B marketing on LinkedIn
Okay, we've clarified that B2B marketing on LinkedIn can be worthwhile. So, what can you do to make your marketing worthwhile?
As with marketing on any channel, the first step to success is to define your purpose.
There are two main purposes to using LinkedIn:
Branding
You can use LinkedIn to build your brand.
Oberlo defines branding this way:
Branding is the process of creating a strong, positive perception of a company, its products or services in the customer's mind by combining such elements as logo, design, mission statement, and a consistent theme throughout all marketing communications. Effective branding helps companies differentiate themselves from their competitors and build a loyal customer base.
This is top-of-funnel stuff – the marketing that will get you in front of people, build an audience, and create a "positive perception". If you want to stand out in your market, using your LinkedIn profiles for inbound marketing is a great approach.
Lead Generation
The second purpose of LinkedIn marketing is to generate leads for your business. This is a lower-funnel approach. While there may be overlap with branding, this will more likely involve more outbound activities – reaching out to qualified prospects, running LinkedIn ads, and so on.
While branding and lead generation are both worthwhile, it's typically wise to focus on a single purpose as you begin your LinkedIn marketing strategy.
Inbound marketing on LinkedIn
Inbound marketing, as HubSpot explains, is "a business methodology that attracts customers by creating valuable content and experiences tailored to them." Instead of going out and finding people, inbound marketing relies on your target audience finding you.
On LinkedIn, this methodology typically entails three key tactics: optimizing your personal profile, optimizing your company profile, and posting content regularly.
1. Optimize your LinkedIn personal profile.
The first step to LinkedIn marketing is to optimize your personal profile.
An optimized profile has:
A clear, recent profile picture showing your face. Hopefully, you're smiling.
A header image that provides additional context on who you are, what you like, or what you do.
A compelling header that explains what you do and who you do it for.
An audience-focused description that gives more detail on the problems you solve and provides viewers with a next step (i.e. a link back to your website).
Relevant past experience linking to appropriate company profiles.
Accurate educational background.
Volunteer experience at the organizations you care about.
Neil Patel's video below has some solid info on how these components can work together to benefit your business.
It's important to note that the more customer/client-facing your role is, the more important it is that your personal profile is optimized. It might not be important for back-office staff, but it's definitely important for anyone in the following roles:
An executive position (CEO, CFO, COO, VP, etc.)
Sales
Client service
If you're serious about investing in LinkedIn marketing, I'd recommend compiling a list of all of the employees who should be part of the initiative. By involving them, you can vastly increase your reach when you reach the third tactic on this list – creating and posting content.
2. Optimize your LinkedIn company profile.
Once you've optimized personal LinkedIn profiles, you'll want to ensure that you optimize your business's profile, too.
The best approach to optimization, generally, is to use all of the fields that LinkedIn provides. Besides the basics (photos, header, description), you can go pretty deep here and add information like:
Product listings
Service offerings
Upcoming events
Job openings
Special sections (i.e. "Life at Your Company")
Here's an example of a nicely optimized company page from Salesforce:
Finally, to sum things up, here's a helpful video on company profile optimization from Hootsuite.
3. Create content and post regularly.
Now that you've optimized your personal profile and your company profile, it's time to put them to use and start posting content.
There are two keys to success here.
First, your content has to be good – and by good, I mean helpful for your intended audience. It can be entertaining, informative, or both, but it has to connect to the audience. Otherwise, you're posting for vanity's sake.
Second, to successfully build your brand, you need to post consistently. Ideally, that means at least once per day, and, at the very least, you should be posting 2-3 times per week. If you can't get to that level of consistency, you probably won't be able to use LinkedIn as a viable marketing channel. Best practice is to post during business hours between 8am and 3pm on weekdays – but, timing aside, the most important thing is simply that you post.
What should you post?
Great question, and, really, the answers are endless. Here's a basic formula to follow, though:
Post 1-2 news-related pieces each week; share a post and add your own insights.
Post 2-3 original posts each week; videos work particularly well.
Post 1 call-to-action post each week; share something that will lead your audience toward an engagement with your company.
Post 1 article to LinkedIn itself each week.
How to Expand Your Company's Reach
The easiest way to expand your company's reach on LinkedIn is to tap into your employees' networks. Basically, encourage all of your employees who are on LinkedIn to share company posts.
Here's an example of Simon Sinek taking this approach himself. Notice how his company created the post, and then he shared it to his personal profile. This broadens the reach of each post.
If you follow the steps above (optimize your personal profile, optimize your company profile, and create and post content), you'll build your brand on LinkedIn, start driving traffic to your website, and, over time, generate meaningful business.
If you want to move faster, though, you may want to try outbound marketing.
Outbound marketing on LinkedIn
While inbound marketing is about drawing people in, outbound marketing is about finding people. In my opinion, this is the ideal way to use LinkedIn for B2B marketing.
Here's a three-step process to put it into action.
1. Identify your target audience.
The first step in any outbound marketing campaign is to identify your target audience – the people you want to reach with your offer or message.
You likely have some idea of who your target is – what size company you serve best, what industries, and what roles make buying decisions. If you don't, you'll need to do market research. Even if you think you do, make sure that your assumptions are based on data.
If you have data, LinkedIn rocks.
LinkedIn is particularly great at reaching targeted demographics because it's a business-centric platform, which means that it's packed with company data.
Let's say you're selling office management software to folks in the IT industry. You can use LinkedIn to identify office managers at IT companies of a certain size in a certain location – and then you can reach out to them directly.
Depending on how targeted you want to make your search and how many people you want to reach out to, it may be worthwhile to use LinkedIn's Sales Navigator. This is paid functionality that gives you advanced search capabilities. Honestly, if you're serious about outbound marketing on LinkedIn, it's table stakes. User seats start at $65.
2. Reach out consistently.
Once you've identified your target audience, it's time to reach out consistently.
Sales teams are all about this. And for good reason; while B2B sales have shifted online, as I'm sure you know, many (most) are still closed with a personal touch.
This isn't an article on personal selling, so I'll refrain from giving too much advice in that arena. But I do want to note that there are some awesome marketing tools that can make reaching out to prospects very efficient while maintaining customization.
At New North, we often recommend Reply.
Basically, it lets you customize messaging campaigns; you pick a prospect, then target them with a campaign that can include LinkedIn messages, email, and more. Although it's automated, you can set things up so that your messages are tailored based on contact info and appear as personal as possible. Then, when a prospect responds, you can jump in and close the deal.
As with content production, the key to any outreach strategy is consistency – both with individual prospects, and over the long-term. Many people will ignore your outreach efforts, but if you do things the right way, over time, you will see results.
3. Use LinkedIn Ads.
And, last but not least, you can use LinkedIn ads to power up your outbound marketing efforts.
LinkedIn ads can be extremely powerful because of the business data that's on the platform. However, they also tend to be fairly expensive, especially compared against Facebook and YouTube. We've found ad campaigns on LinkedIn often double the amount we pay to drive a similar amount of traffic on other platforms – but we've also found that they tend to have a far more targeted reach.
The platform is always changing, but remember: In advertising (as in most things), what's most important is the thinking behind the tactics. If you know the rationale (what you're trying to accomplish and why), it's easier to figure out the how (what buttons to click), even as the tools change.
So, before you begin a LinkedIn ad campaign, define what you're trying to accomplish. Will you drive website traffic? Form submissions for an ebook? Consultation calls?
In my view, middle-funnel campaigns purposed to drive website conversions tend to be the most efficient; they balance volume with cost-efficiency.
Now, to the basics. There are four major components to consider in any ad campaign. These are:
The goal. As noted above, this is the desired outcome or action that you'll be seeking from your ads. In LinkedIn's Ad Manager, you'll define this at the Campaign level.
The audience. This is the carefully defined segment of people you will be showing ads to. You'll define this at the Campaign level.
The content. This includes ad copy and collateral like videos and images. You'll define this at the Ads level. You should run 2-3 ads per group so that you can compare for effectiveness.
The budget. This refers to the amount of money you'll spend on your ads over a specified amount of time. You can define this at a Campaign or Ad Set level.
Again, the specs for ads are always changing, but here are general guidelines from LinkedIn to help you create compelling content.
Choose words that catch the attention of your target audience. People use LinkedIn to gain unique insights relevant to their profession or skills, so put yourself in your audience's shoes as you create your ads.

Give people a reason to take notice and click the ad by highlighting whitepapers, free trials, unique benefits, or demos.

Include strong call-to-action phrases like Try, Download, Sign up, or Request a Quote.

Include an image with your ad that's relevant to what you offer. The LinkedIn background color is neutral, so images with bright colors are more likely to capture the attention of your audience.

Review the LinkedIn Ads Policies for details on what's appropriate to include in your ad.
Final Word of Advice on Ads
Always be testing – specifically, at the audience and content levels. Tweak your targeting, compare your results, and move forward with what's more effective. Do the same for content.
As you optimize your campaigns, you'll lower your costs and improve your return on ad spend.
Want more B2B LinkedIn advice? Here's our full guide.
How to use B2B marketing automation
First, let's define our term. What is B2B marketing automation? The answer:
Marketing automation is a series of automatic marketing processes that are triggered by a specific action.
That's the high-level definition.
At a more foundational level, any system that replaces manual labor can be termed "automation." Adding the word "marketing" as a qualifier simply signals what realm the automation is happening in – just as saying "manufacturing automation" suggests the reduction of manual labor in manufacturing systems.
And adding the qualifier "B2B" signals that it's happening in a business-to-business environment.
One caveat to all of this – some people also use the term "B2B marketing automation" to refer specifically to the software tools that enable automation. More on that in a bit.
For now, let's get practical.
What are the most effective ways to use B2B marketing automation?
So, if B2B marketing automation is a series of automatic marketing processes that are triggered by a specific action – what processes should be automated, and what should trigger them?
The possibilities here are endless, but the following strategies are some of the most effective.
ABM.
ABM (account-based marketing) campaigns can benefit greatly from marketing automation.
As mentioned above, ABM involves choosing ideal client accounts, then engaging them with multiple messaging points to make contact and drive sales.
Marketing automation can make these campaigns far more efficient.
For instance, let's say you've identified the 10 contacts at an enterprise who you'd like to get in touch with, and you've identified LinkedIn and email as the channels you'll be using to reach out.
Marketing automation could allow you to enter a contact into your process, then roll them through a personalized workflow that connects with them on LinkedIn, sends them a follow-up email, and follows up with a personal message – all with a few clicks.
And that's only the baseline. Marketing automation's true power is in the ability to segment different action paths based on different triggers. For example, if somebody clicks a link in your email, you can immediately have them sent a message corresponding to what they've clicked on.
Things can get complicated quickly, but the bottom line is that one effective use of marketing automation is to send more targeted messages far more easily.
Lead nurture.
Another great use of marketing automation is in lead nurture.
Lead nurture is the guidance of contacts through your marketing funnel so that they transition from lead to sale. Marketing automation is helpful because, with data, you can determine certain factors that make leads more receptive to certain messages or more open to certain touch points – then automatically deliver marketing that resonates.
As an example: Let's say that someone downloads an ebook on your website and visits your service page. Marketing automation can score their level of interest and tag them based on the service they viewed. They could then be automatically entered into an email drip that delivers additional information on that service.
Maybe, two weeks later and after reading several of your emails, they'll reply and ask to schedule a consultation with you.
Again, this is a very basic example. The possibilities are endless.
Anything that reduces manual labor.
All right, I've gone general here. But marketing automation is a general term, and I want to emphasize that you can use it for a lot of different things.
You can use it to automatically distribute content. For example, some companies set things up so that blogs posted on their websites are automatically distributed to social media or sent out via a newsletter.
You can use it to test and implement tactics. Let's say you're testing two variants of a landing page. Instead of having to manually pick and implement the winner, you can rely on marketing automation to select the best performer and set it live.
You can use it to send internal reminders. Do you keep forgetting to add conversations into your CRM? You can use marketing automation to create notifications that remind you what you need to do.
If you're tired of performing manual tasks at scale, you can probably find a way to build marketing automation that reduces your workload – and performs more effectively.
What are the best B2B marketing automation tools?
As mentioned above, when some people use the term "B2B marketing automation", they're referring specifically to the software platforms that perform automation.
There are a lot – too many to list here, and the best fit will vary depending on what you're trying to do, your business's size, and your industry. But here are some of the best:
HubSpot is a great marketing automation option for mid-sized B2B businesses. They've got a full suite of tools, from email marketing, to landing page builders, to a CRM, and it all works cohesively. Plus, they literally coined the term "inbound marketing."
Pardot by Salesforce is a great option for enterprises. It's built, obviously, with the Salesforce CRM in mind, and it does a nice job at automating tasks at a large scale across a contact database.
Fun fact: Marketo is now owned by Adobe. The platform is built with a focus on B2B marketing automation (as opposed to B2C), and is great for managing complex customer journeys.
I'll let these guys explain their platform in their own words: "Reply is a sales engagement platform that helps you automate and scale multichannel outreach, so you can generate more leads, acquire new customers and grow revenue faster." We've used this often for ABM campaigns and it works well.
Active Campaign is probably best known for email automation, but they've expanded to provide site tracking, social ad controls, and a CRM. For mid-sized businesses, this is another solid option.
Again, the list above is just a sampling. For a fuller review of what's out there, it's worth checking out Capterra's list of the best marketing automation software.
Want more information on B2B marketing automation? Check out our full post here.
The best B2B marketing blogs to follow
Well, we've just given you a ton of content to digest. Buckle up – here comes even more.
If you're looking to up your B2B marketing skills or want guidance as you put strategies into action, these blogs are great places to start.
Yes, we're slightly biased. But if you're looking to learn B2B marketing, we're confident our content can help. We cover pretty much everything – from tactics to theories (and even the occasional op-ed on the state of the industry).
Some of our top B2B marketing posts:
And there are plenty more where those came from – here's the link to our blog listing page if you're ready to get reading.
Ah, HubSpot. As you might expect from the company that literally invented the idea of inbound marketing, they do an extremely good job of a) creating a lot of content, and b) ensuring that all of their content is very valuable. If you're looking for general marketing advice, this is a worthwhile stop.
No, they aren't specifically focused on B2B – they serve B2C firms, too. But they have a wealth of content dedicated to the B2B space.
Some of their best posts include:
Each is packed with details and is definitely worth the read.
The Content Marketing Institute blog is one of my personal favorites. largely because the information they provide is always very tactical.
Like HubSpot, their content isn't specifically dedicated to the B2B space, but the vast majority of it is very applicable. Unlike HubSpot, much of the content is written by people who are working actively in the field; I think, for that reason, it tends to feel un-sales-y and educational, both of which are good things.
Some recent highlights include:
If you're looking for intelligent tactics, this is a great place to start.
The B2B Lead blog is run by Brian Carroll, who's a leading researcher in empathy-based marketing. As you may be able to tell from the blog's title, yes, it is specifically focused on B2B.
Brian has been running this publication since 2003, and it continues to hit the mark – not only is it insightful and helpful, but it's actually pretty funny, too.
Some great recent articles include:
If you're not intrigued by those titles, I don't know what to tell you. And yes, they're all legitimately helpful in unpacking how to do B2B marketing well.
Backlinko is probably my favorite SEO blog, for two reasons: 1) It is incredibly detailed in its explanations of how to do SEO, and 2) it still manages to present information that's easy to follow and implement.
It's run by Brian Dean, who's been praised as "the unicorn among a sea of donkey SEOs." Brian's work is not limited to B2B marketing, but he does tend to feature B2B topics pretty frequently.
If you want to learn about (or do) B2B SEO, start with these articles:
Each one will make you better at SEO. If you read all three – well, let's just say Page 1 better make room.
See more of our favorite B2B marketing blogs here.
The top B2B marketing agencies
All right. Let's just say, hypothetically, you've googled "B2B marketing". You've landed on this page. You've read everything above this point and you like a lot of what you're hearing…
But you want guidance.
Either tactically or strategically, you aren't ready to handle all of your B2B marketing efforts yourself. You want a team that can supplement your efforts or provide the strategic guidance you need to do things well – meaning, in a way that gets actual results.
That's where B2B marketing agencies come in.
We've put together a list of our top recommended firms below.
Yes, they're ordered, but don't pay a ton of attention to that (although if you weight the first placement more heavily, I won't complain). Instead, check out the focus of each firm, and see if its purpose lines up with your needs.
With that said, let's dive in.
We may be biased in putting ourselves at the top of this list. We may also be totally correct. Either way, here we are, and there's nothing you can do about it.
We do growth-focused marketing for B2B companies. That includes work in industries like:
Hardware
SaaS
Professional services
And more – just reach out if you're evaluating fit.
Specifically, we're focused on lead generation (getting B2B businesses more clients) as opposed to branding (making logos and creating aesthetic style guides – which is helpful but is less directly tied to driving business). Tactically, this means that we're focused on channels like:
Email marketing (newsletters, automation, list building and optimization)
Social media marketing (organic social media, paid campaign creation and management)
Search marketing (SEO, pay-per-click campaigns)
Video marketing (testimonials, service explainers, social videos)
Content marketing (blogs, ebooks, web content)
Web design and development
We also have deep experience as a marketing agency for B2B tech companies. What sets us apart most, though, is our agile approach to marketing. You can read more about what that means here, but the gist is that we balance long-term strategy with short-term opportunities to get better results and drive leads.
At a Glance
Founded: 2008 // CEO: Tobin Lehman // Notable clients: Thermo Fisher Scientific, Southern States, Langner
Bottom Line
We're a great fit for global firms looking to launch targeted campaigns and for mid-market businesses that are looking to grow.
310 Creative brands themselves as an inbound sales and marketing agency based in Los Angeles. Like us, they're focused on driving revenue and new business as opposed to branding. However, unlike us, their focus (as you can see in the screenshot above) is primarily on using HubSpot as the tool to make that happen.
They're a Platinum HubSpot partner, which means that they've sold $7,000 worth of monthly engagements through the platform.
Here's how they explain their approach:
We help brands get the most out of their HubSpot investment. What started-out as an operating unit in 2003 working on record label tactical work like website and digital marketing campaigns, pivoted to B2B marketing focus in 2010. Today, we are a leading B2B marketing agency and Platinum HubSpot Solutions Partner.
At a Glance
Founded: 2003 // CEO: Andrew Stanton // Notable clients: Viznex, One Discovery
Bottom Line
If you're looking for a HubSpot partner to help your startup with lead generation, 310 Creative is worth a look.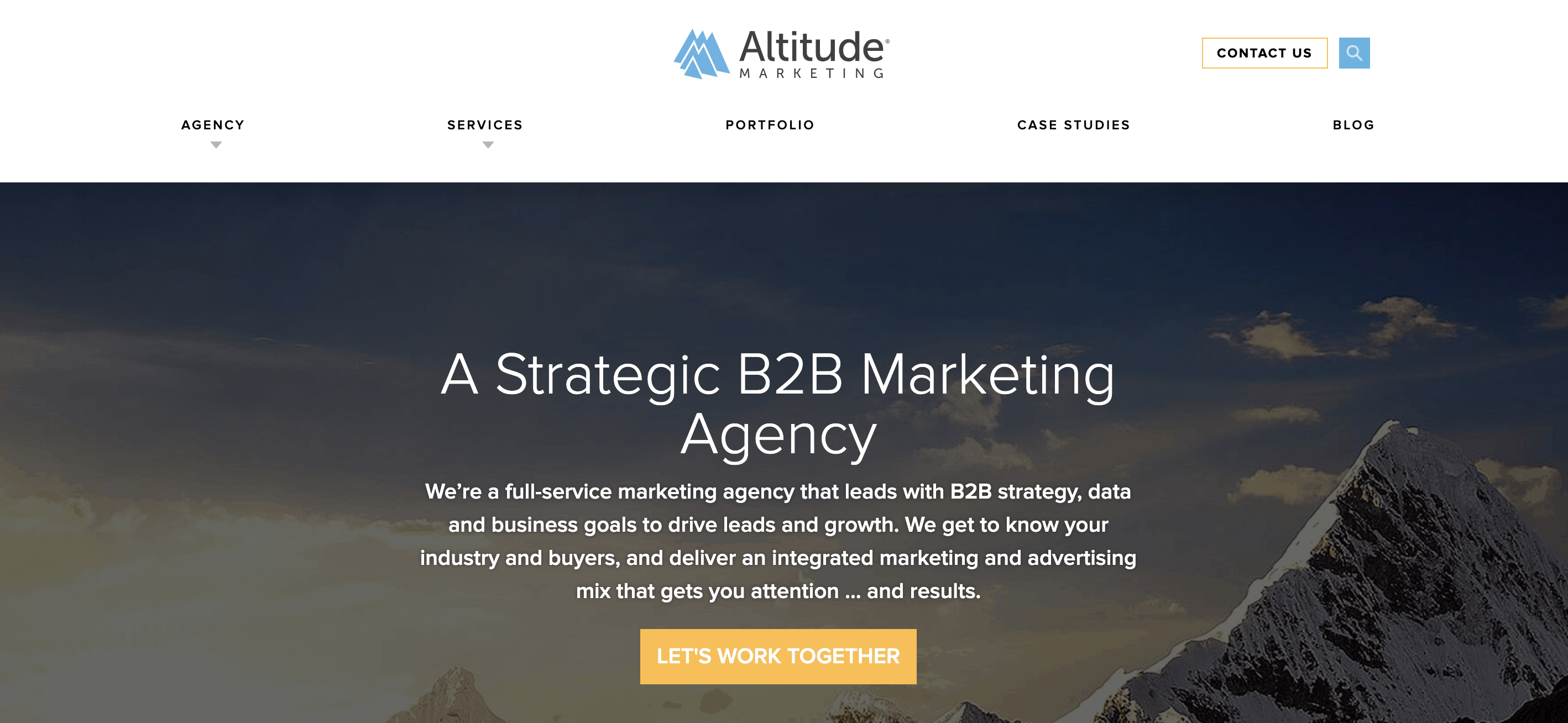 Altitude Marketing is positioned as an integrated marketing department, which, essentially, means that they do everything from trade shows to social media to market research. They work primarily with mid-sized, technical B2B firms, and they have two modes of engagement – either as an entire outsourced marketing department, or as a complement to an in-house marketing team.
Here's how they describe their approach on their about page:
Our proven methodology ensures that we get smart quickly about highly complex concepts, so we can translate them into meaningful market positioning, compelling brand messaging and lead-driving strategies. The result is a fresh approach that distinguishes your brand in a marketplace that's cluttered with hard-to-differentiate businesses.
At a Glance
Founded: 2004 // CEO: Chris Leach // Notable clients: Anthem, Universal Music Group
Bottom Line
If you're a mid-sized B2B company looking for a do-it-all agency, Altitude Marketing may be worth considering.

Ironpaper is another B2B marketing agency that's focused primarily on lead generation. As you can see in the above screenshot, their speciality is in working with companies with a long sales cycle.
While they don't trumpet it in the way other companies on this list do, it's worth noting that Ironpaper is a Diamond Hubspot partner – meaning they're at the second-highest tier of the program.
Here's their story:
Ironpaper was founded in New York City in 2003 with a mission to help companies drive growth using the internet. Today, our 50+ person team has taken this mission to heart. Ironpaper is a specialized agency. We focus on helping remarkable B2B grow. Our work crosses the boundaries of B2B marketing, content, sales enablement, qualified lead generation, website design, and B2B strategy.
At a Glance
Founded: 2003 // CEO: Jonathan Franchell // Notable clients: SAP, Nokia
Bottom Line
Tired of marketing that does not get the results you need? Stop trying and start doing. See How ››
If you're looking for a big agency that has experience in technical industries, Ironpaper is certainly worth putting on your list.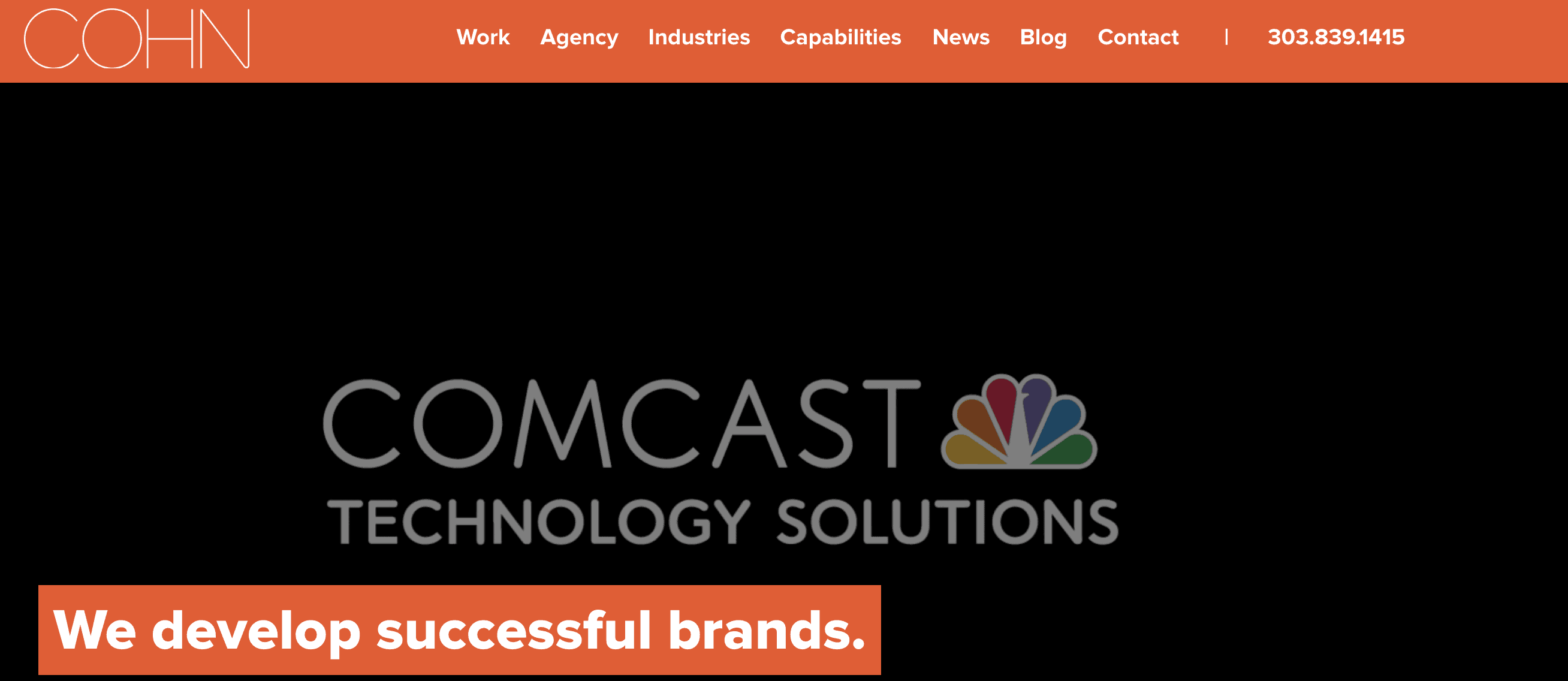 COHN is a bit more broadly focused than some of the other firms on this list; while they do focus on B2B marketing, they also serve B2C firms in real estate, healthcare, and lifestyle. Unsurprisingly, they're more brand-focused than many of the other agencies we've covered so far. Based in Denver, Colorado, their tagline is "We develop successful brands." While related, that's a different target than lead generation – in fact, it encompasses internal marketing, too.
Here's how they describe their approach:
At COHN, we develop brands and help them interact with their internal and external audiences to maximize business success.
At a Glance
Founded: 2000 // CEO: Jeff Cohn // Notable clients: ComfortBuilt, AMAS
Bottom Line
If you're looking for B2B branding for your mid-sized firm, COHN is worth considering.
Want to see more B2B marketing agency options? See our full breakdown of the 16 top firms here.
Ready to Work with a B2B Marketing Agency?
You've come a long way. Congratulations on making it to the bottom of the page.
Hopefully, all of this information has been helpful as you think through your B2B marketing needs.
If you're looking for lead generation and revenue growth – get in touch with us. At New North, we help B2B businesses grow with intelligent marketing that drives measurable results.
Want to see if we're the right fit for you? Let's set up a free consult.
Hope to talk soon, and here's to your success in your next B2B marketing endeavor.