LinkedIn is a fantastic platform for B2B advertisers when used effectively. What does that mean? It's all about finding the right mix of audience targeting attributes that allow you to reach the right people. It's a very different approach from something like Google Ads.
With Google Ads, the focus is on keywords. As an advertiser, you identify a set of keywords relevant to your product/service and show ads to users that are actively searching for them.
With LinkedIn, the focus is on audience targeting. The ad experience is different on LinkedIn than on Google because, well, it isn't a search engine. Ads on LinkedIn show up in a user's feed as they scroll. Users are not actively searching for the ads they see on LinkedIn, so audience targeting is important for ensuring that your ads are seen by a relevant audience that is likely to engage. It's similar to Display Advertising from that regard.
So, how do you ensure your audience targeting is as relevant as possible? Use the LinkedIn Ads Audience Insights Tool! The feature rolled out to advertisers over the past year and remains one of the nifty "hidden" features in LinkedIn Ads. It provides much more detailed insights about your target audience than what you can find with the Demographics Reporting feature. Whether you are building LinkedIn Ads campaign for the first time, or looking for ways to optimize your current campaign, the Audience Insights tool has several valuable use cases to help you get the most out of your ads by ensuring your audience targeting is as relevant as possible.
An Overview of the Audience Insights Tool
First, let's start with the basics: finding the tool. You'll want to navigate to your matched audiences in LinkedIn Ads by clicking "Plan  Audiences".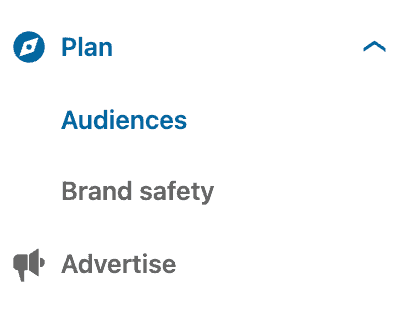 Then, select the audience you want to analyze and click the "Insights" button.
Note: the matched audience you select needs to have at least 300 members and a status of either "Ready" or "Updating" before being able to view Insights.

After selecting Insights you'll see this view: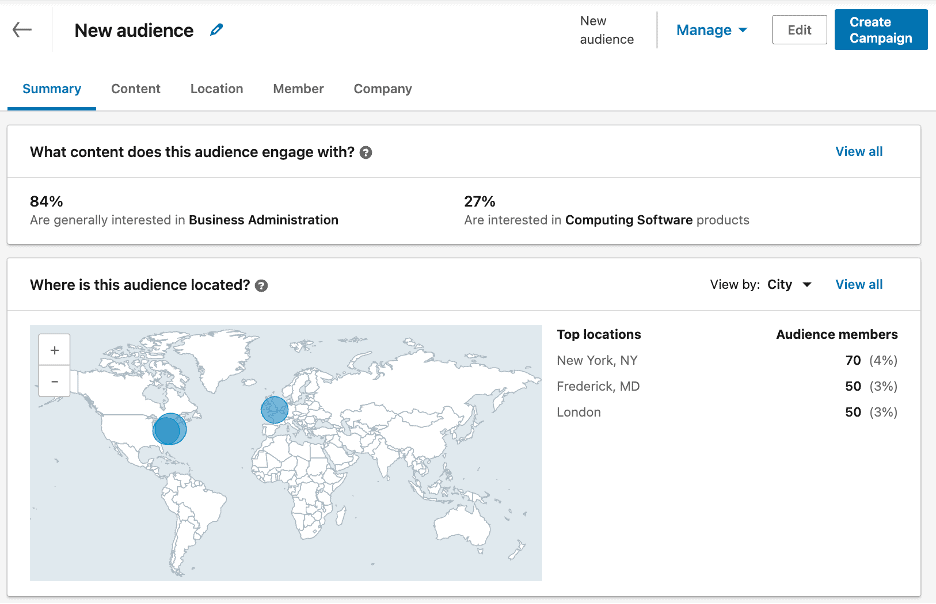 The 5 tabs in the top left provide different breakdowns of audience attributes:
Summary – a snapshot of the attributes of users in your audience. It's a summarized view of the data found in the next four tabs.
Content – contains the top "general interests" and "product interests" that your audience has.
Location – contains info on where your audience is located. You can drill down by City, State, Country, or Continent.
Member – contains the top Job Functions, Job Titles, Member Skills, Job Seniorities, and Years of Experience of people in your audience.
Company – contains company names, sizes, industries, and growth rates for the companies the people in your audience work for.
Each of these views contains a wealth of valuable information that can be used to optimize your LinkedIn campaigns. Next, we'll look at a couple of different use cases for applying these insights to your campaign management.
Use Case #1: Auditing Your Current Campaign Audience(s)
Let's say you're already running LinkedIn Ads campaigns. You've built your target audience, crafted amazing ads, and are in the data gathering phase of your campaign management. You've tested multiple ad variations with different offers/messaging, but performance still isn't as strong as you'd like. What can you do next? Try using the Audience Insights Tool to make sure you're reaching the right users!
What's great about the Audience Insights tool is it will show you the audience attributes you're reaching even if you you're not explicitly choosing to target them.
For example, let's say you built your audience by only targeting a handful of Job Titles (like Marketing Managers). The users in your audience will have those Job Titles, but they might also contain other attributes that aren't relevant. The Audience Insights tool might uncover that 15% of users in your audience work in the "Higher Education" industry. If your company doesn't operate in that vertical, then you'd likely want to add an audience exclusion for that attribute. Doing so will make your audience more targeted and efficient by eliminating clicks from users in non-relevant industries.
Use Case #2: Leveraging Website and/or CRM Data to Create Audiences for the First Time
Let's say you're new to LinkedIn Ads and looking to build your first target audience for a new campaign. The problem? You don't have personas for your target customer or much of an idea of how to build your audience. The solution? Let the Audience Insights tool lay the foundation for you!
A great first step for any LinkedIn Advertiser is to create a matched audience for your company website visitors. Once created (and containing at least 300 users) you can use the Audience Insights tool to see the most common audience attributes that your website visitors have, then use those attributes when building your first campaign. The idea here is that the people visiting your website likely share a few common characteristics that would be relevant for your audience targeting for new prospects. Often, you'll uncover an audience attribute that your website visitors share that you wouldn't have otherwise thought of.
Going a step further, you can also upload customer lists directly from your CRM. One strategy that we use at New North is to upload a customer list of MQLs/SQLs from HubSpot. Because the users in the lists have converted, we want to try and reach other users with similar characteristics. The Audience Insights tool will show the audience attributes shared among your CRM lists and give you a solid starting point for building your audience targeting for new campaigns.
Final Thoughts
If leveraging the Audience Insights tool is something you're eager to try, we recommend you start creating Matched Audiences sooner rather than later, even if you're not ready to create a campaign. These audiences can take up to 48 hours for LinkedIn to process so it's best to get the waiting period over with now, so you aren't held up later. This is particularly true for website retargeting audiences, as you'll want to give them time to populate as new users visit your website. (Make sure the LinkedIn Insight Tag is placed on your website for this to work!)
Need Help Improving Your LinkedIn Ads Solution?
A knowledgeable B2B tech marketing agency can help you make the right decisions that let you get the most ads in front of the right prospects. Plus, they'll likely be able to optimize your ad campaigns and SEO for you.
Want to chat more about what this can look like for your organization? Let's chat.