What are the top B2B technology marketing agencies?
Before we help you find your way to the best technology marketing agencies, here's how we define the "the best."
A top technology marketing agency excels in its understanding and application of digital marketing strategies specifically tailored to technology companies. By leveraging their expertise, the agency team effectively generates leads through various marketing channels such as:
Their comprehensive approach and in-depth knowledge of the technology industry allow them to create targeted campaigns that resonate with the B2B audience, resulting in a higher likelihood of lead generation and business success for their clients. Now, on to the list!
B2B technology marketing is difficult. If you're looking for help in finding a B2B marketing agency to make it easier, you've come to the right spot.
The good news is that a lot of agencies do good marketing work. But many are focused on specific areas of B2B technology marketing: marketing for startups, for instance. Or for hardware manufacturers. Or for Fortune 500 tech brands. The trick is in finding a partner that's a good fit for your needs.
We're here to help. Here's our list of the top B2B technology marketing agencies to help you make the right decision this year.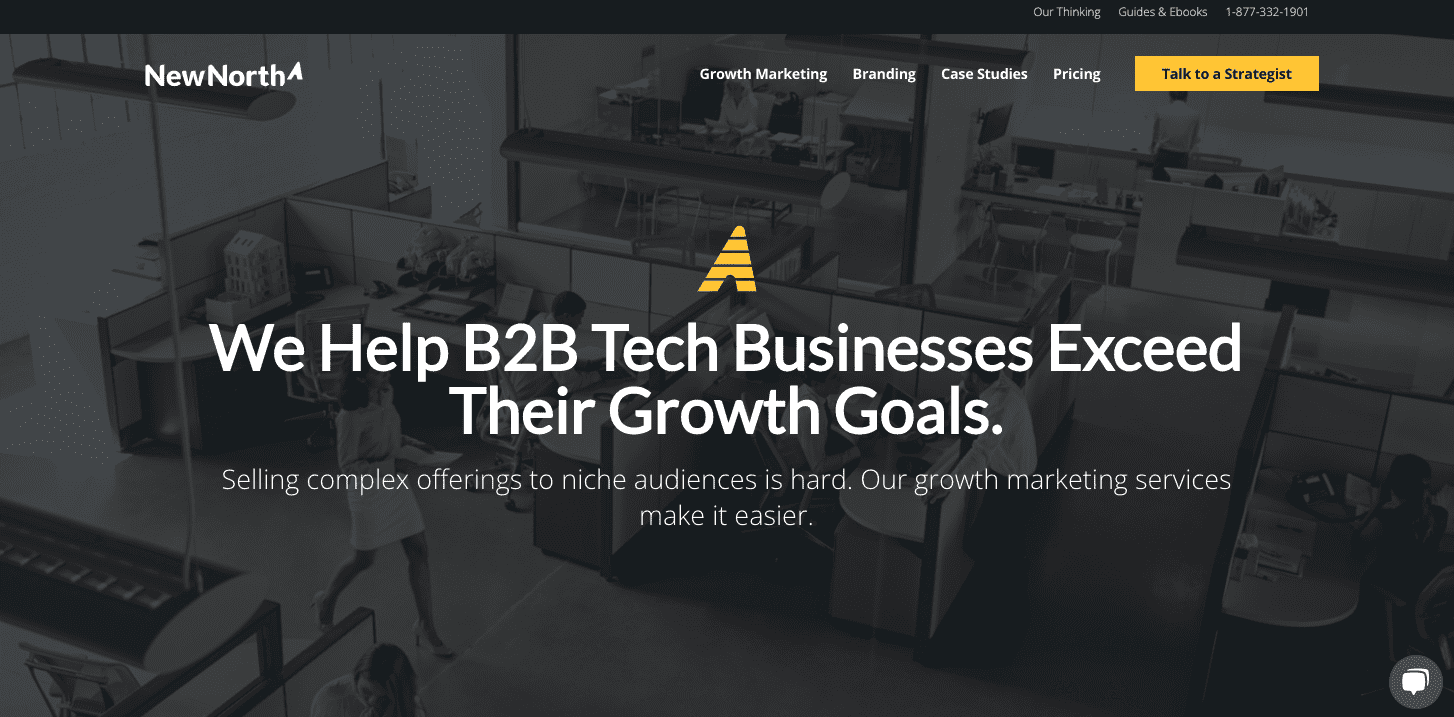 We may be biased in putting New North at the top of this list. We may also be totally correct. Either way, here we are, and there's nothing you can do about it.
We do growth-focused marketing for B2B technology industries like:
Managed service providers
B2B SaaS providers
AV integrators
Technology consultants
Specifically, we're focused on lead generation (getting B2B technology businesses more clients) as opposed to branding (making pretty things – which is helpful but doesn't directly drive business). Tactically, this means that we're focused on channels like:
Email marketing (newsletters, automation, list building and optimization)
Social media marketing (organic social media, paid campaign creation and management)
Search marketing (SEO, pay-per-click campaigns)
Video marketing (testimonials, service explainers, social videos)
Content marketing (blogs, ebooks, web content)
Web design and development
What sets us apart most, though, is our agile approach to marketing. You can read more about what that means here, but the gist is that we balance long-term strategy with short-term opportunities to get better results and drive leads. We're a great fit for mid-market businesses that are looking to grow.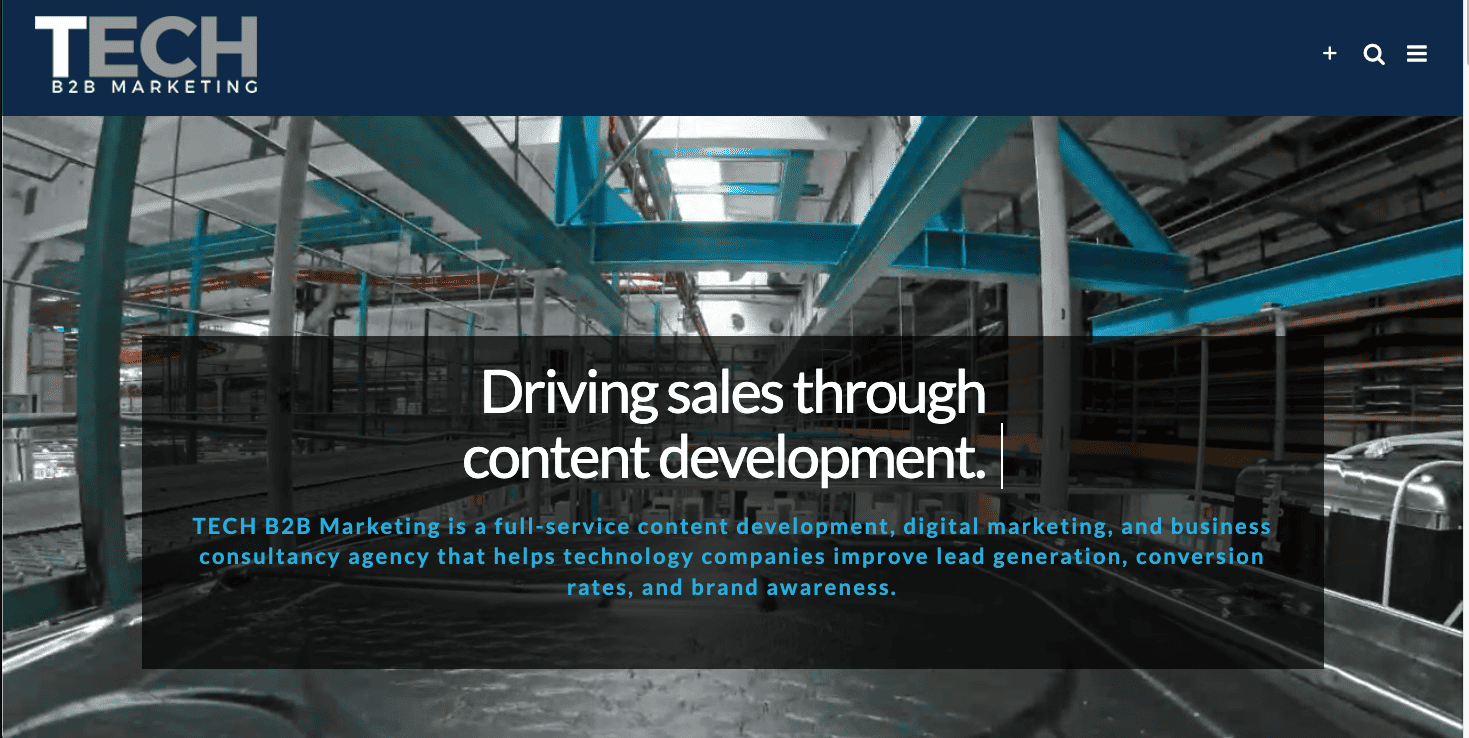 As the second B2B technology marketing agency on our list,TECH B2B boasts a straightforward name and plenty of expertise in technical manufacturing and product companies. Interestingly, they were founded by a journalist (Winn Hardin) back in 1996. So they've proven their mettle.
They're sales-focused more than aesthetics-focused, and they feature a broad range of tactics that include some offline capabilities (like trade show collateral creation and sales planning). From their homepage:
"Public relations and marketing are not goals. They are processes: ways to build customer loyalty and media relationships, maximize existing customer sales, and find new customers for top-line growth." I'm in agreement on that; too many companies make the mistake of pursuing tools ("I need to be on Instagram") over strategies ("We need to drive more subscription sales. Let's figure out the best tools to make that happen"). In other words, TECH B2B is starting from the right place.
The company focuses on integrated marketing, which essentially means that they work in support of the full sales funnel and seek to use data across it.
The bottom line: if aesthetics are a focus for your business, TECH B2B may not be the best fit. But if you're focused on driving increased sales for something like hardware or technical manufacturing, they're definitely worth a look.
There's no denying it: Walker Sands is good.
From their about page: "Since 2001, we've been pushing the limits of what B2B marketing can do to get the results and recognition our clients deserve. We pride ourselves on helping B2B brands reach their goals — whether that's increasing revenue, pushing into new markets, attracting top talent, going public or getting acquired — and we always play for high score." Intense.
They have a clearly emphasized focus on excellence and they've worked with the big brands to prove it: GrubHub, G2 Crowd, RaspberryPi.
The company's big enough to work across seven industries:
Artificial intelligence
Distribution and logistics
Electronics
Fintech
HR technology
IT services
Insurance technology
Marketing technology
Professional services
Retail technology
And they offer the full breadth of marketing services – from branding and design to public relations. Also, as a side note, I'm a personal fan of their site (there's just something about the clean aesthetic that works).
The bottom line: Walker Sands is a great option for big technology brands looking for the big brand experience done well. If your product isn't "super cool" or your business isn't big enough to justify a big budget, though, you may want to look at other options.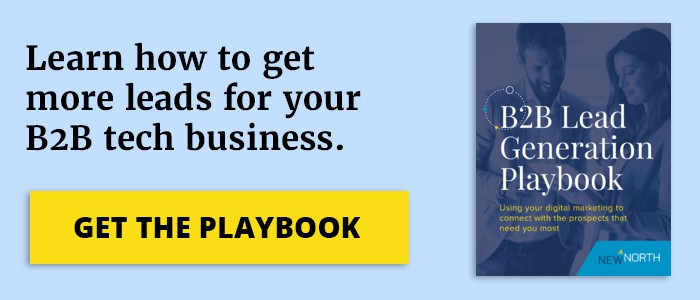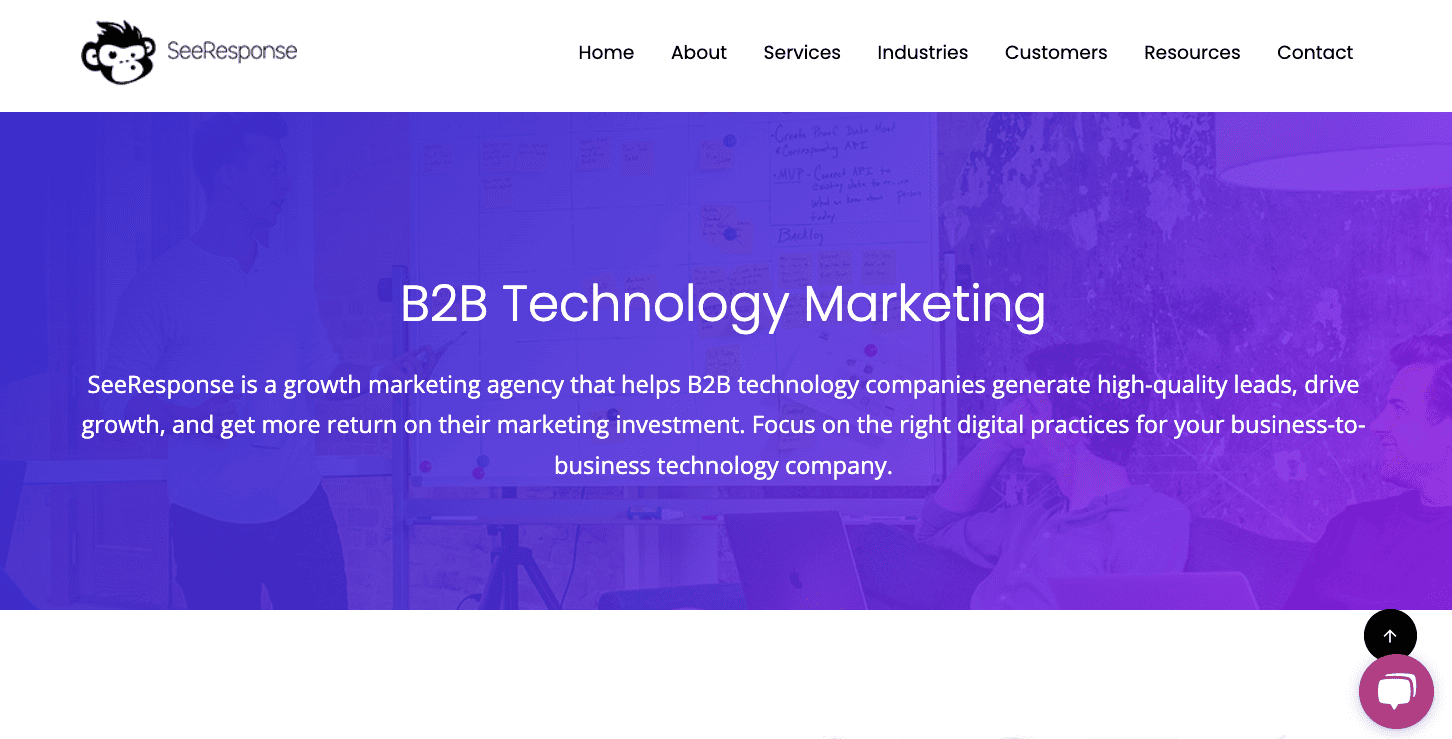 SeeResponse has built a website that looks exactly like a thousand SaaS websites – which I'm sure is the point, because their focus is on marketing for B2B software.
From their about page: "We are a digital-savvy bunch of passionate B2B marketers. Our expertise and experience in marketing strategy and execution bring to the software technology businesses world-class marketing services, without having to spend gazillions of dollars." In other words, if you're looking to launch a hip new B2B app and want the marketing to look good, SeeResponse is worth a look.
They offer all of the digital marketing services you'd expect (inbound marketing, email marketing, SEO & SEM) and some you might not in other technology marketing agencies (sales appointments, sales operations).
The bottom line: if you're a B2B tech software startup looking for a marketing recipe, SeeResponse has a good one. If you're in another industry (or if you're past the startup stage), they may not be the perfect fit.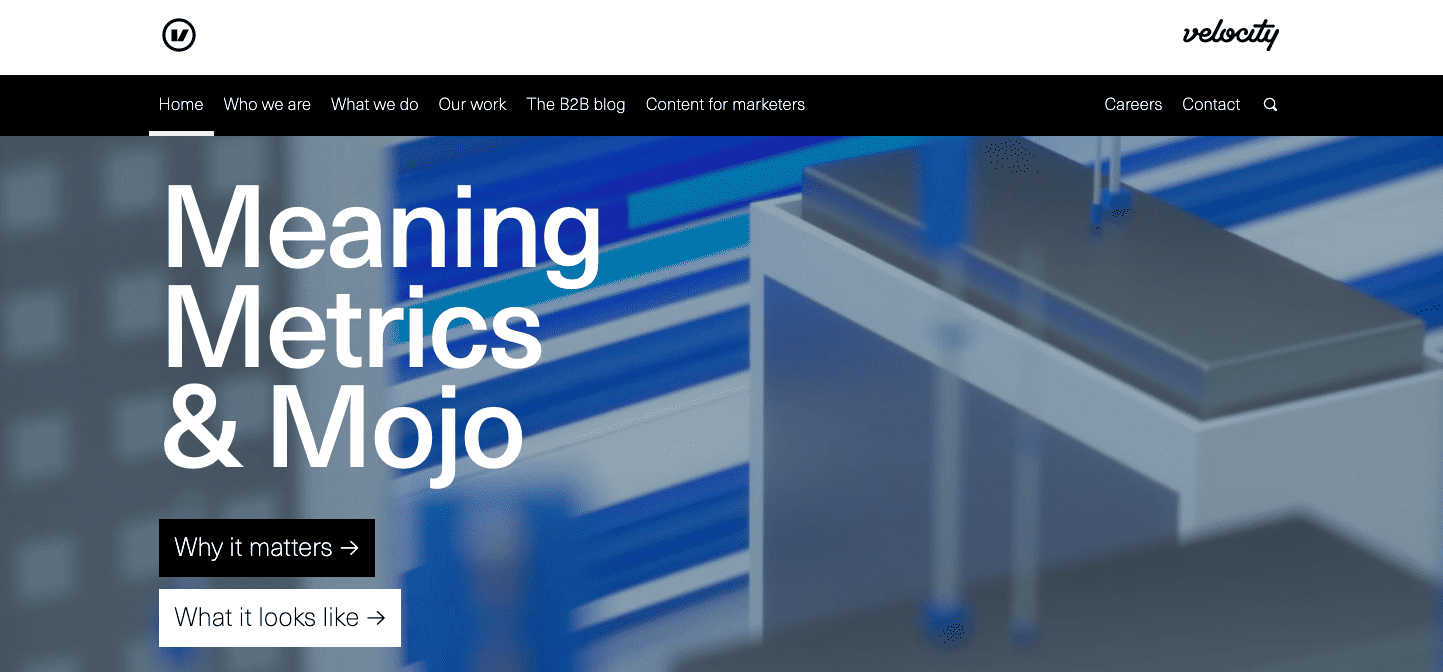 Names always get me. Walker Sands sounds like a bank, right? And that's kind of the aura that WS seeks to portray: reliable and steady. Excellent and effective.
Velocity is chasing something different. Velocity sounds like the nickname you wanted to have growing up but couldn't get to stick. These guys got it to stick. It's a signal that they're not just good – they're hip (at least as far as B2B technology marketing agencies go.)
And their work backs it all up. They've done some really cool stuff for people like Sprint and AWS.
From their homepage: "B2B and tech markets move fast. In the time it takes to say 'Groupon' your window of opportunity can slam shut. We like fast. We help clients build better B2B content marketing programs, accelerate their pipelines and goose the metrics that matter." In other words, these guys are focused on growth – fast growth. And on staying cutting-edge. And on goosing metrics. (Aside: I didn't know that "goose" was a verb that meant "give (something) a boost," but it is and it does and it sounds cool.)
They feature the usual selection of B2B tech marketing tactics: content marketing, branding, strategy, etc. What makes them most interesting is their casual / conversational style and "insanely honest" approach – which fits well with certain slick tech products.
The bottom line: Velocity is the version of the big brand experience that's focused on the cool factor. If you're looking to make a big B2B brand look like a big B2C brand, this is a good place to go.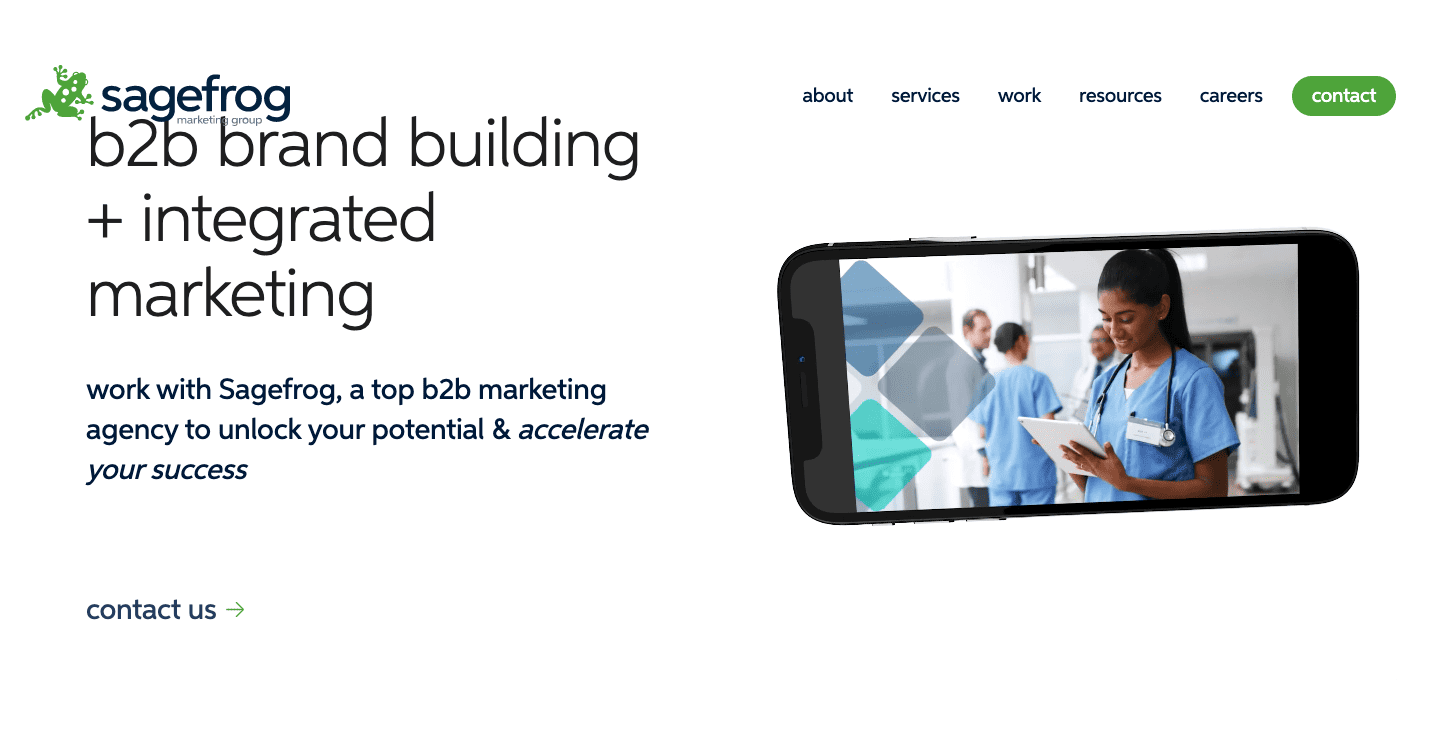 I'm not going to dig too far into the name of this one. Let's keep things practical: SageFrog is more geared toward mid-sized companies, and they've got a particular focus on B2B healthcare which is fairly unique.
They describe how they approach engagements on their about page: "For most, we start by using branding to unlock potential, and then turn to our Integrated Marketing Program to generate awareness, qualified leads and ROI. It's simple and powerful—as most great ideas are."
They work with clients who aren't well-branded or who may not have strong messaging in place coming in, fix those components upfront, and then set to work on ongoing promotion. It's a smart approach.
Like almost any other technology marketing agency, they offer the full breadth of digital tactics. And they do a bit of print work, too.
Interestingly, they aren't strictly B2B-technology-focused; they do some work in other industries, including with service businesses (finance and legal firms), industrial businesses (warehousing and distribution), and healthcare (which overlaps with tech).
The bottom line: SageFrog is a good mid-market partner to begin a marketing strategy with, especially for healthcare technology firms. They'll do a good job getting these companies established with marketing, but they may not be the best option for companies that are specifically growth-focused.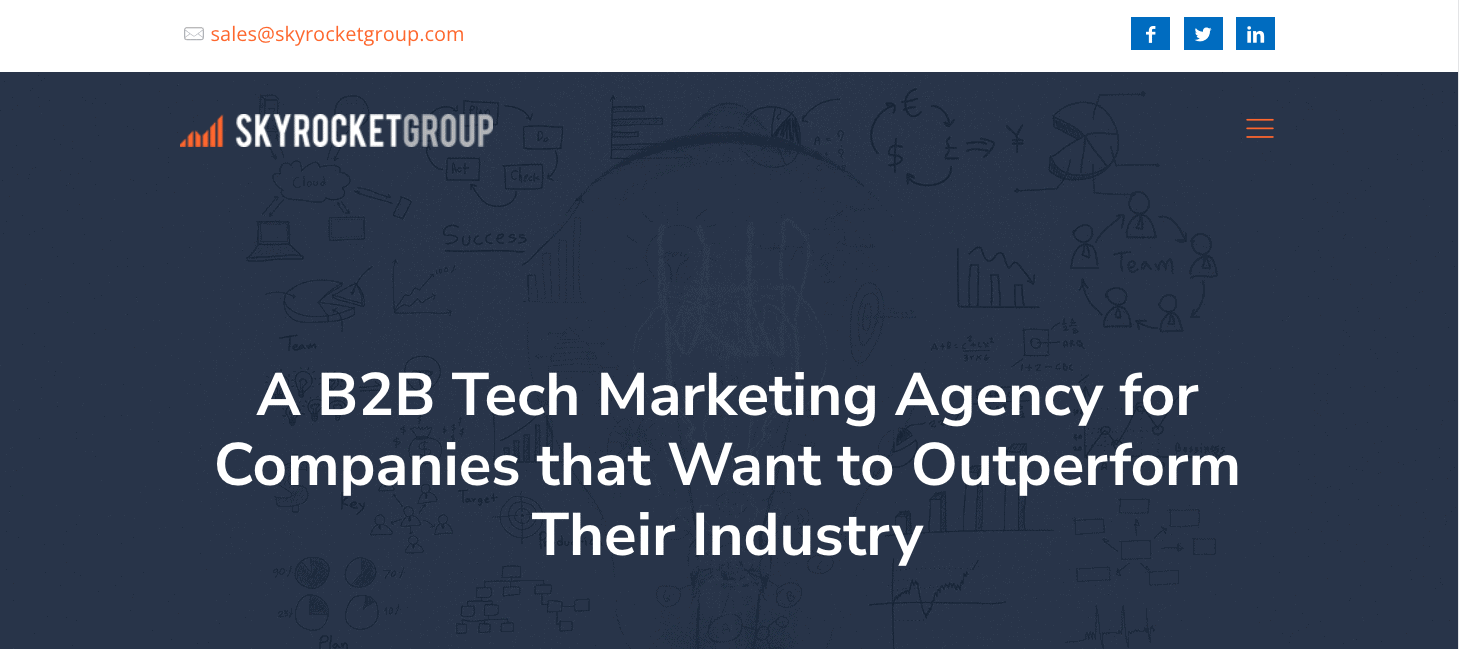 This agency is broadly tech-focused, but they have special expertise in an interesting niche: point of sale and payment processing solutions.
Click through to their client page, and you'll see that they've worked with a variety of platforms like POS Innovation, Retail Management Hero, and others. Here's how they put it on their about page:
"We are a boutique B2B tech marketing agency that specializes in a handful of technology niches. We develop marketing strategy and tactics based on decades of experience in these niches. Simply put, we know your industry better than any other agency."
The bottom line: If you're looking to do lead generation for your payment processing business, SkyRocket Group is worth considering. They offer a full suite of marketing services with unique expertise in this niche.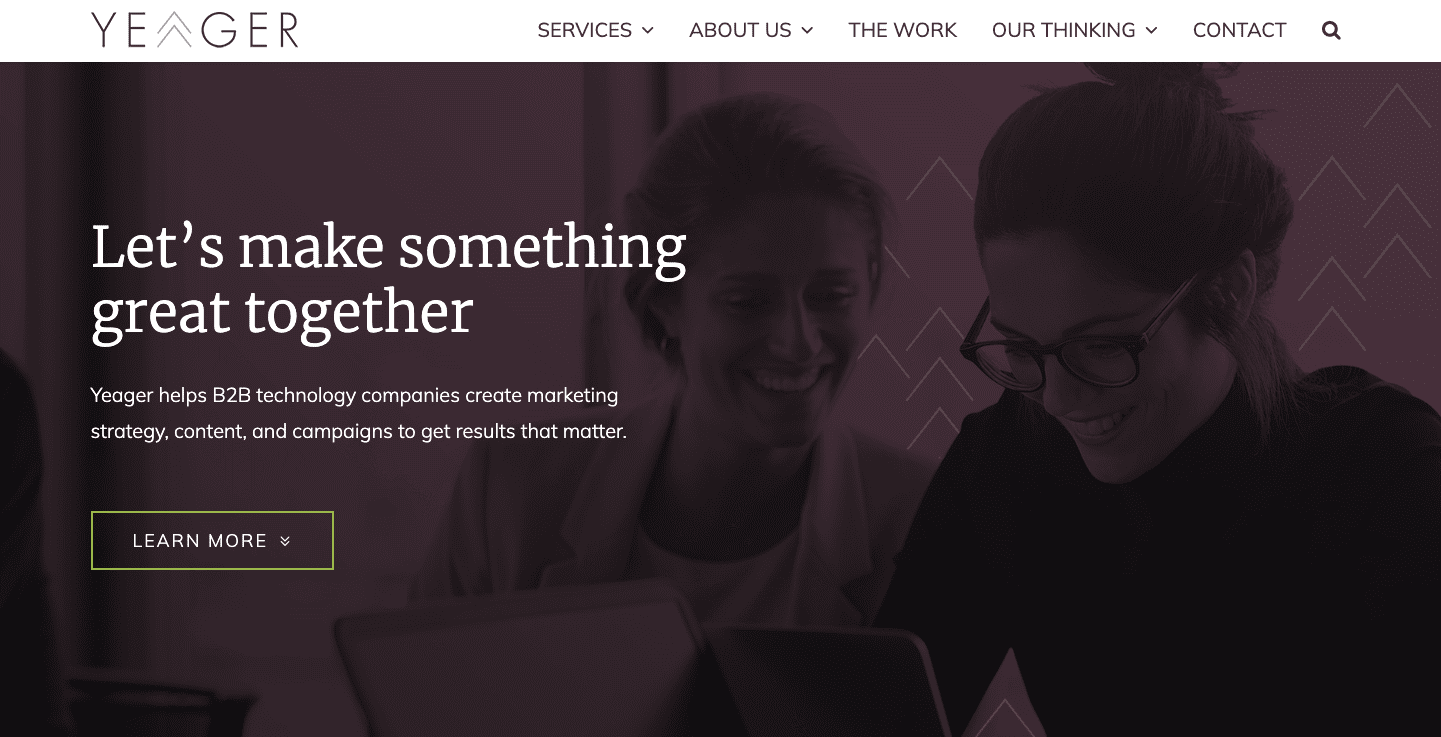 Okay, let's cap things off with Arizona-based B2B technology agency Yeager Marketing. This firm's interesting; they have experience with enterprise-level clients like Cisco and Dell, and they've done a lot of work in branding specific initiatives at those firms.
For instance, they have a cool case study on Dell that shows how they helped the company create an immersive VR experience for a tech trade show.
Here's how they explain their approach on their website:
"From strategy, branding and messaging projects, to content, campaigns and sales enablement, we help you develop purpose-built marketing that stands out."
The bottom line: If you're an enterprise company looking for quick and creative branding around a specific, time-sensitive initiative, Yeager Marketing is a potential fit.
Ready for B2B Technology Marketing That Works?
Hopefully, this list is helpful as you look for a B2B technology marketing agency in 2020.
And of course, if you want to learn more about whether the #1 company on this list could be a good fit for you – get in touch.