There are two ways to learn marketing (or anything, really):
You can either forego outside help and teach yourself through long, painful trial and error…
Or you can learn from the examples of experts.
Learning from experts is better.
When you look at successful examples, you get to tap into years of experience; you get to jump straight to what works. Of course, you also have to apply expert insights for your learning to stick – but you'll be starting from much further ahead if you look for examples to guide you.
This is true in any subject. It's certainly true in B2B SaaS marketing.
To that end, here are five killer examples of B2B SaaS marketing that anyone can benefit from studying.
What it is: Hubspot's blog is the primary example of content marketing on the internet. These guys coined the term "inbound marketing," so it's safe to assume that they have some expertise on the subject. If you're looking for an example of a winning B2B SaaS blog, look no further.
What's great about it: In my mind, there are two things that make Hubspot's blog great.
First, Hubspot produces an unheard of quantity of content. There's almost nothing business-related that they haven't written about. It's nuts. The broad approach works because their audience is potentially anyone (almost every businesses uses a CRM of some kind, after all).
But, second (and just as importantly), Hubspot's content is also very high quality. Take this article on how to write a blog post, for example – it's a 25 minute read, so it's got depth to it, plus it comes packed with free blog post templates, plus the advice is actually really good.
Top takeaway: To capture leads from your blog, produce a ton of high quality content.
What they are: Ubiquitous. Seriously, for the past year, virtually every time I've watched a YouTube video, I've been treated to a pre-roll ad for Monday.com.
What's great about them: They're a little bit funny. And did I mention that they're ubiquitous?
Now, I'm not privy to the Monday.com marketing team's internal discussions, but here's what I imagine they're going for: brand awareness. They're a relatively new player in the project management space, and they're trying to climb the mountain against more stablished players like Asana, Atlassian, and Wrike.
Blitzing relevant viewers with YouTube ads is a great way to build name recognition. If I'm ever in the market for project management software, I'm at least going to look at Monday.com, because I've already looked at their ads a ton.
Top takeaway: If you want to break into an established market, get in front of relevant buyers – as many times as possible.
What they are: A collection of training materials to help digital marketers become more effective. Titles include "Link Building," "Local SEO," and "On-Page and Technical SEO," among many others.
What's great about them: They're legitimately helpful and they're almost entirely free. I took SEMRush's course on backlink building and uncovered some helpful tips that now inform our work here at New North.
Besides simple education, though, they serve two key roles for the company: 1) They establish SEMRush as a leader in the SEO space, and 2) they help users to get the most out of SEMRush, thereby enhancing satisfaction and, presumably, reducing churn.
Creating educational content around B2B SaaS offerings is a great way to entice users to stick with a software product. Lots of brands (including Hubspot) offer courses on their platforms; I'm shouting out SEMRush because I think they do it really well.
Top takeaway: Creating educational content can help users get the most from your product – and that'll make them more likely to keep using it.
What it is: A wide-ranging compilation of social media data pulled from Buffer's platform.
What's great about it: It takes Buffer's product (social media management software) and taps it to generate primary-source data that is sure to get shared and cited across the web. Basically, it's an awesome way to build brand recognition.
Also, it's helpful for any social media marketer – social media is a game of trends, and knowing trends is a huge advantage.
Top takeaway: If you can generate proprietary research that would have broad industry relevance, you should.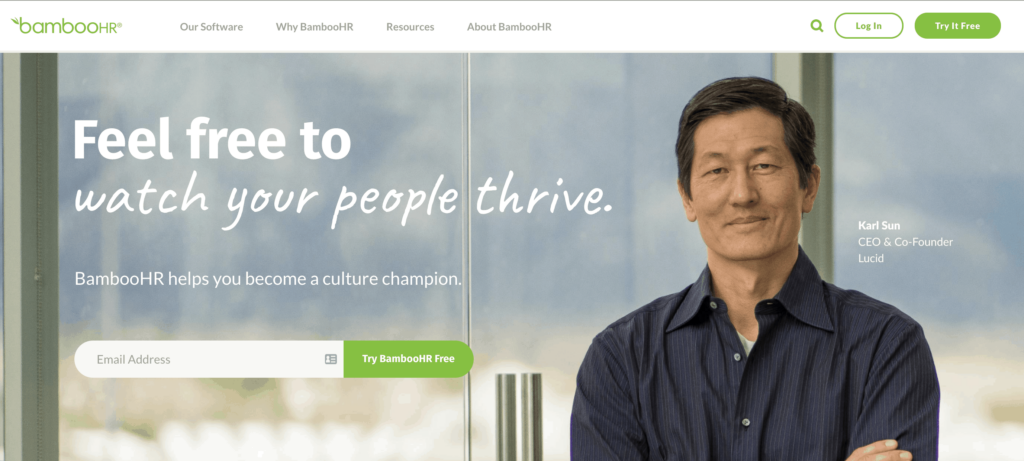 What it is: The homepage on Bamboo's website. Straightforward.
What's great about it: Well, I wanted to showcase a B2B SaaS website design for this piece, and Bamboo is one of my favorites because of its simplicity.
A few things that stand out:
Again, the page is incredibly simple. There are 18 words above the fold. Most websites have 40+.
That simplicity of design and content makes the CTA really clear.
There's brand consistency throughout the page – same color CTAs, tasteful, stylized graphics, and tonally similar videos.
All told, this company nails the "empower HR" vibe that they're clearly going for, and my guess is that they have a high conversion rate to show for it.
Top takeaway: Make your homepage as simple and direct as possible.
Want help applying B2B SaaS marketing expertise to your own efforts?
These examples are great templates for your marketing – but actually working with experts can take you even further.
If you want to apply insights from these examples (and countless others) to your own strategies, let's talk.
At New North, we've helped B2B SaaS firms to build user bases, drive more sales, and grow using the right marketing channels. If you'd like a free review of your current B2B SaaS marketing efforts – and a path forward based on expertise – get in touch with us today.