While growth marketing tactics are wildly popular in eCommerce operations, B2B organizations have historically steered clear of growth marketing strategies because they require an incredible degree of agility–something B2B enterprises tend to lack.
But in today's constantly evolving digital landscape, growth marketing is becoming increasingly vital for businesses to thrive–and B2B organizations are picking up on it.
This guide to growth marketing in 2023 will explore the fundamental principles of growth marketing, as well as its strategies, and tactics. We'll also provide data, statistics, and resources that can help you build the case for bringing growth marketing tactics to your organization.
So, let's dive into the concept of growth marketing, its strategies and tactics, and why it's important for B2B businesses in 2023.
What is Growth Marketing?
Growth marketing is a marketing approach that has been gaining in popularity in recent years. According to Insider Intelligence, more and more B2B businesses are using growth marketing tactics to both attract new customers and deepen relationships. This approach involves a data-driven strategy to identify new channels and markets to grow a business.
The goal of growth marketing is to build a sustainable and scalable business that generates revenue and growth – not simply to have successful one-off campaigns. By using a data-driven approach, businesses can make informed decisions on the most effective channels and tactics to grow their customer base.
Our friends over at Iterable put it this way:
"It's an approach to attracting, engaging, and retaining customers that's focused on relentless experimentation and an intense focus on the unique, changing motives and preferences of your customers. By building and delivering highly tailored, individualized messaging aligned to your customers needs, you'll be able to optimize your organization's growth rapidly through a multitude of channels, especially the ones that matter most to your customers."
What is a Growth Marketing Strategy?
A growth marketing strategy is a comprehensive approach that covers the entire marketing funnel, from lead generation to customer retention. It aims to identify the most effective channels and tactics to grow the business, using data and insights to inform decision-making.
Incorporating a growth marketing strategy into your business can have significant benefits.
Businesses that use a structured approach to growth marketing are more likely to see a clear return on investment (ROI). This is because a data-driven approach allows businesses to make informed decisions about where to focus their resources, which ultimately leads to better results.
By using a growth marketing strategy, businesses can also stay ahead of the competition and adapt to changes in the market. This is particularly important in today's fast-paced business environment, where new technologies and channels are constantly emerging.
What are Common Growth Marketing Tactics?
When it comes to growth marketing tactics, there are many options available, including A/B testing, content marketing, search engine optimization, social media marketing, and influencer marketing. These tactics all aim to help businesses identify the most effective channels and strategies to grow their customer base.
Growth marketing is less about what tactics to use and more about how tactics are used.
Performance marketing vs. growth marketing
It's important to distinguish between performance marketing and growth marketing, however.
While both approaches aim to drive business growth, performance marketing is focused on specific, measurable actions that lead to immediate results, such as clicks or sales. In contrast, growth marketing takes a longer-term view, seeking to build a sustainable and scalable sales funnel by finding new channels and markets to attract new customers.
Growth marketing vs. traditional marketing
While traditional marketing may focus on generating brand awareness and building a broad customer base, growth marketing takes a more data-driven approach to identifying the most effective channels and strategies for growth.
Forbes puts it like this:
"With growth marketing, brands have a blueprint to test frequently, learn quickly and adapt effectively. Growth marketing takes the traditional aspects of marketing, like print, TV, radio and billboards, and shifts the conversation from "how can we attract our customer?" to "how can we keep our customers longer?" With this new conversation comes the ability to reach your target audience through data-backed decisions. The result of this? Long-term, sustainable growth."
Should Your Organization Try a Growth Marketing Strategy?
By now it probably seems obvious that growth marketing holds the potential to expand businesses. "Long-term, sustainable growth," anyone? Heck, yeah!
Be careful. It is all too easy for "growth marketing" to just be another bit of jargon to give a marketing agency an edgy pitch. You see, growth marketing is not a thing, a formula or predefined set of tasks that can be sold as a package. Growth marketing is not just about bringing in leads, although it certainly does that! It's a mindset; the willingness to research what your audience needs and constantly use data to uncover the process that builds long-term trust and loyal customers as their expectations are exceeded over and over.
Should You Hire an Agency?
There are many B2B marketing strategies out there, and each one has some sort of guiding principle. Brand building, product-led growth, and lead generation are common approaches. While there are valuable elements in each school of thought, growth marketing has quickly become the strongest path to success for B2B companies.
As we've already covered, growth marketing agencies aim to achieve sustainable growth and increase revenue by testing, experimenting, and optimizing at each stage of the buyer's journey. Principles of matching content with each stage of the conversion funnel should be augmented with a concept of a flywheel, or long-term customer relationships that lead to referrals from those delighted customers.
But there's a catch – organizations that have deep experienced in true growth marketing strategy are few and far between.
We've created a list of the top B2B growth marketing agencies to get you started in your search. Be sure to look for an agency that can demonstrate experience in data-driven marketing strategies and tactics for other business in your industry.
Working with an agency expands your business' marketing capabilities at a lower cost than hiring full-time staff. However, it's important to partner with a marketing agency that has deep experience working in your industry. This will ensure that they understand what your customer values and the nuance of how your business can be positioned as unique solution to the customers' problems.
Marketing and Sales Roles are Blending
The digital marketing landscape is continuously changing, and businesses need to adapt to remain competitive. In 2023, growth marketing will be critical due to changes in account-based marketing, cookies tracking, and cold email policies. According to a report by Statista, the worldwide spending on digital advertising is expected to reach $526 billion in 2023, up from $342 billion in 2020.
As businesses focus more on customer-centricity, the lines between marketing and sales roles are becoming increasingly blurred. In fact, in 2023, marketing is expected to be involved in the entire customer funnel, from initial awareness to post-sale engagement. This shift is being driven by the need to create a seamless, personalized customer experience across all touchpoints.
One popular approach to managing the customer funnel is the "pirate funnel" model used in growth marketing. This funnel consists of five stages known as the AARRR: Acquisition, Activation, Retention, Revenue, and Referral. Each stage represents a key step in the customer journey, and businesses can use data and insights to identify the most effective tactics and channels for each stage.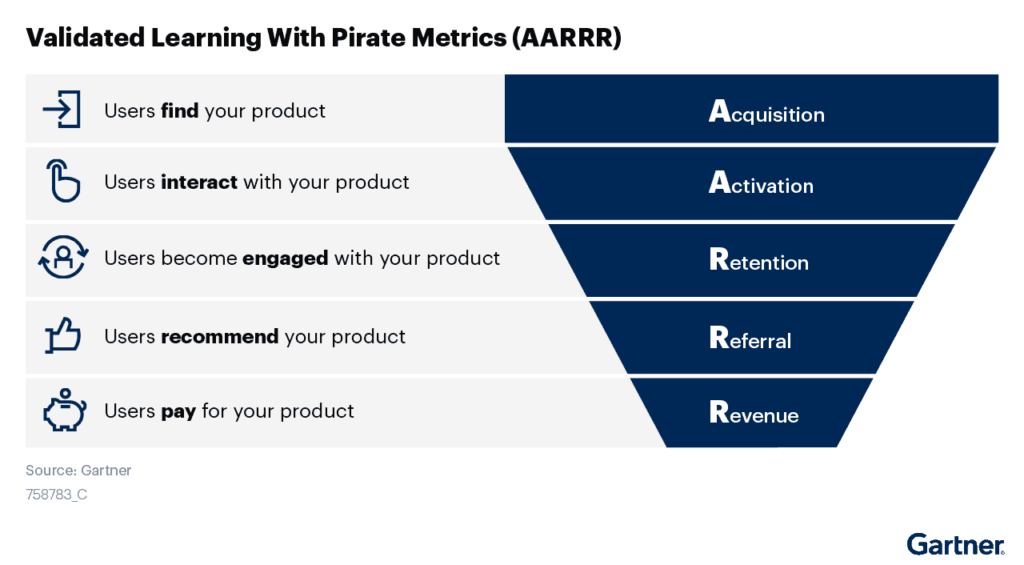 According to a survey by Salesforce, 70% of marketers say that their role has become more important in customer experience over the past few years. This reflects the growing recognition that marketing plays a crucial role in shaping the customer journey and driving business growth.
As marketing and sales roles become more integrated, businesses will need to focus on creating a seamless, customer-centric experience that spans the entire customer funnel.
Growth Marketing for B2B Tech Companies
As we look ahead to 2023, growth marketing will be essential for businesses that want to remain competitive. By focusing on a data-driven, holistic approach, businesses can build a sustainable and scalable business that generates revenue and growth. Use the information, data, statistics, and resources provided in this guide to develop your growth marketing strategy and tactics for 2023.
And if you're looking for a partner to help you grow, don't hesitate to reach out.
At New North, our B2B growth marketing agency for B2B technology firms has been helping businesses generate leads for over a decade. Let's talk through your growth marketing strategies and analyze your funnel to find out how we can improve your stream of new business. Schedule a free consult today.