As technology evolves, so does the way we do business—especially B2B marketing.
Account-Based Marketing (ABM) is at the front of marketing evolution, as marketing tech for this B2B strategy has exploded over the past five years. We now have more software, platforms, strategies, and tactics at our disposal than ever.
But with 94% of B2B marketers using ABM, according to Terminus's State of ABM Report, it can be hard to differentiate your ABM efforts to stand out among your competition.
You need your campaigns to be effective. You want to get in front of potential customers and convert them into long-term clients. You expect a high ROI – as you should. That's why it's important to partner with a strong B2B marketing agency for a successful ABM campaign.
Unfortunately, not all ABM agencies are created equal. Each has its strengths and weaknesses. It's up to you to determine what those are and how they will affect your relationship and success.
The bottom line is that choosing the right agency for your ABM needs is complicated.
We're here to help. We've been paying close attention to the ABM B2B landscape for over 15 years. This blog post will cover the top ABM B2B agencies for 2023. Choosing the right partner doesn't have to be complicated—with the right information.
Who are the top ABM B2B agencies?
Because of the popularity we mentioned, there are many ABM B2B agencies vying for your business. Those who rise to the top understand the importance of being equipped with the tools and knowledge needed to create a successful ABM strategy. These top ABM B2B agencies know their customer's industries and audiences inside and out, enabling them to craft messages and tactics that deliver targeted results.
When choosing a partner agency, you want to make sure they understand your goals and objectives, match your budgets, and provide the level of service expected for an ABM campaign. Finding a B2B ABM agency equipped with experienced professionals is key – one that knows how to bring your products or services alive in today's competitive environment.
With that in mind, here are 8 ABM B2B agencies to consider in 2023.
Note: These agencies may be numbered, but our focus here is to highlight each one for its specialized traits, not necessarily rank by quality. Also, if you're interested in partnering with a marketing agency for more than just ABM, check out this additional list of top B2B marketing agencies.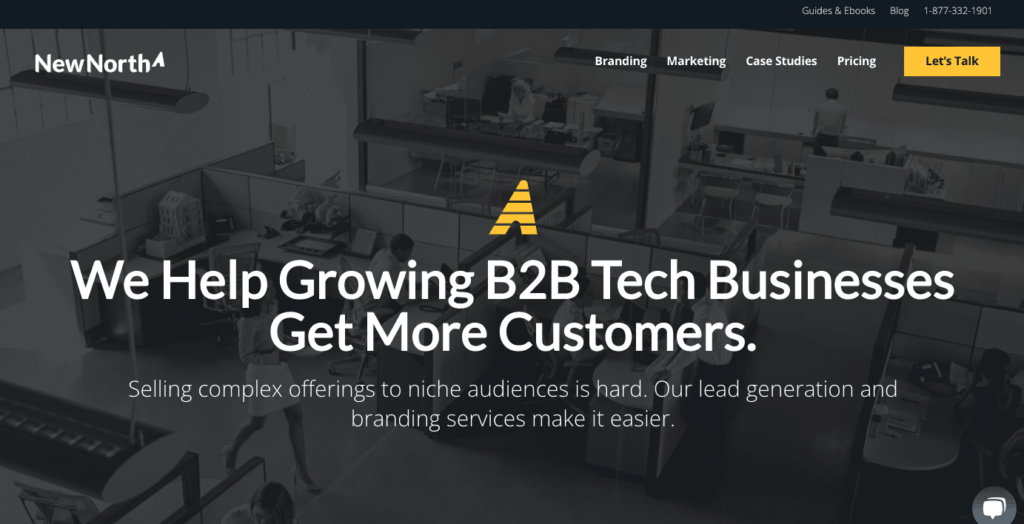 At a Glance
Founded: 2008
CEO: Tobin Lehman
Notable clients: Thermo Fisher Scientific, Southern States, Ricoh Global Software, Avanti Systems, Appen
Clutch Score: 4.6 stars
Was there bias in putting ourselves at #1? Yes. Yes, there was. That doesn't mean we aren't correct.
Our agency provides strategic growth-centered B2B marketing services for companies in a variety of industries with a focus on the B2B tech space.
We're your top pick as an ABM B2B agency because of our agile approach, solid track record, and comprehensive expertise in ABM technology. We've launched dozens of successful ABM campaigns for clients.
We believe in—and practice–marketing and sales alignment, goal- and data-centric campaign strategies, and continuous optimization.
What sets us apart the most, though, is our agile and data-driven approach to ABM, and marketing in general. You can read more about how we work at New North, but the gist is that we balance long-term strategy with short-term opportunities to get better results toward your goals, and drive prospects to convert.
If you'd like to explore the ways our growth marketers and B2B ABM strategists can help your business, don't hesitate to reach out.
Bottom Line
New North is a great fit for B2B businesses looking to launch targeted, multi-touch ABM campaigns for mid-market businesses that are looking to grow.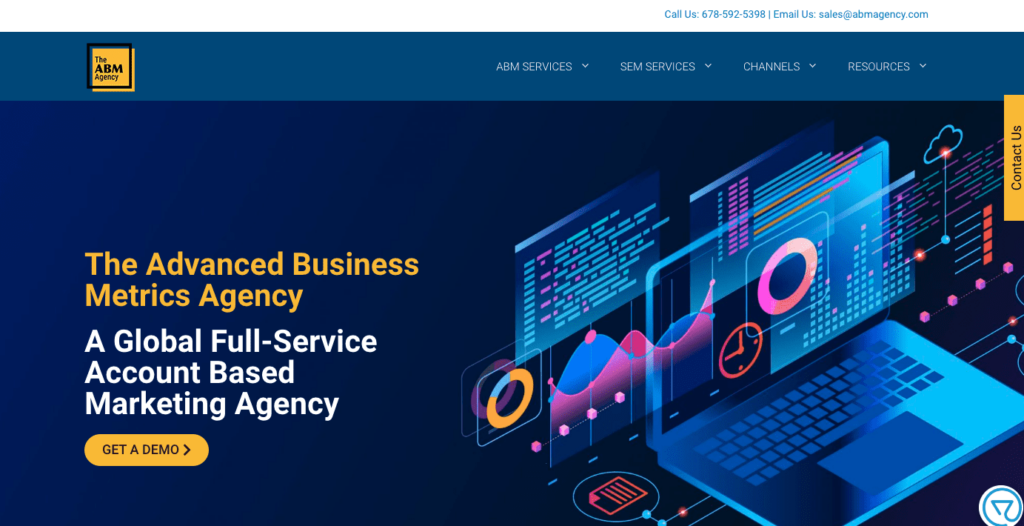 At a Glance
While the ABM Agency doesn't do ABM exclusively, it's their flagship offering.
They describe themselves this way.
"Our B2B digital marketing agency provides full-service account-based marketing (ABM) and demand generation solutions… We can target by country, continent or globally and execute 1:Few, 1:1 and sales enablement campaigns."
Their focus industries are SaaS, Fintech, Industrial & Manufacturing, Supply Chain & Logistics, Tech, Pharmaceutical, and Healthcare organizations. Each of these industries is perfect for the targeted nature of ABM.
They believe strongly in being full-service and say they can handle your ABM campaign from start to finish. Another interesting aspect of their approach is packaging campaigns, by Pilot, 1:Few, and 1:1. Each have different strategies and tactics and our focused on a limited prospect list.
Bottom Line
If you're a large tech company looking to target a smaller pool of prospects and feel comfortable with a more rigid pricing model, consider The ABM Agency.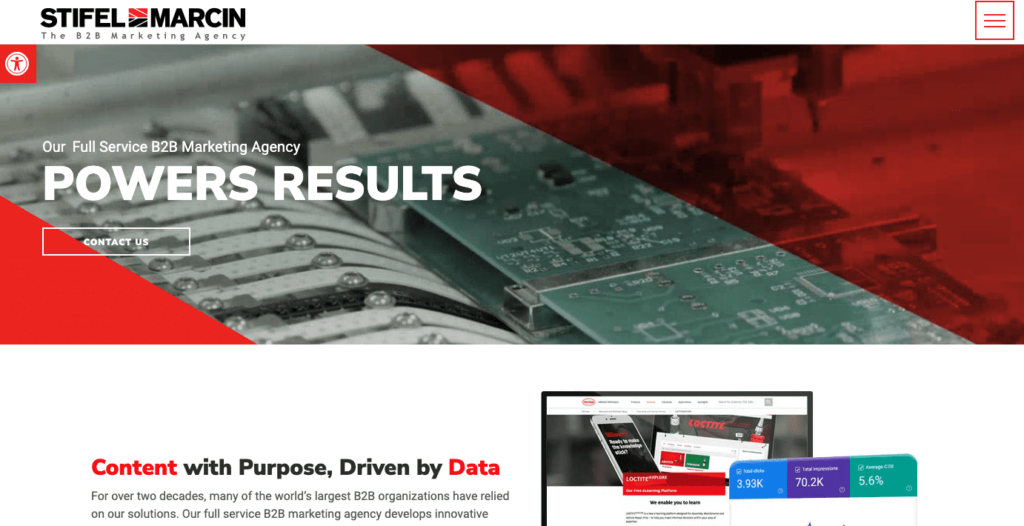 At a Glance
Stifel Marcin positions itself as a B2B ABM agency that provides a variety of services to help businesses in the manufacturing space target and engage specific accounts.
Like The ABM agency, they focus on driving revenue and new business rather than branding. However, unlike The ABM Agency, they have a plethora of other marketing offerings with a strong focus on creative. They also offer analytics and reporting to track the effectiveness of their ABM campaigns which is essential for optimization.
This New England agency may not be a partner of any specific marketing software like HubSpot, but they do promise multi-platform integration.
Bottom Line
If you're in the manufacturing or oil and gas space with an existing tech stack, Stifel Marcin is an agency to look at.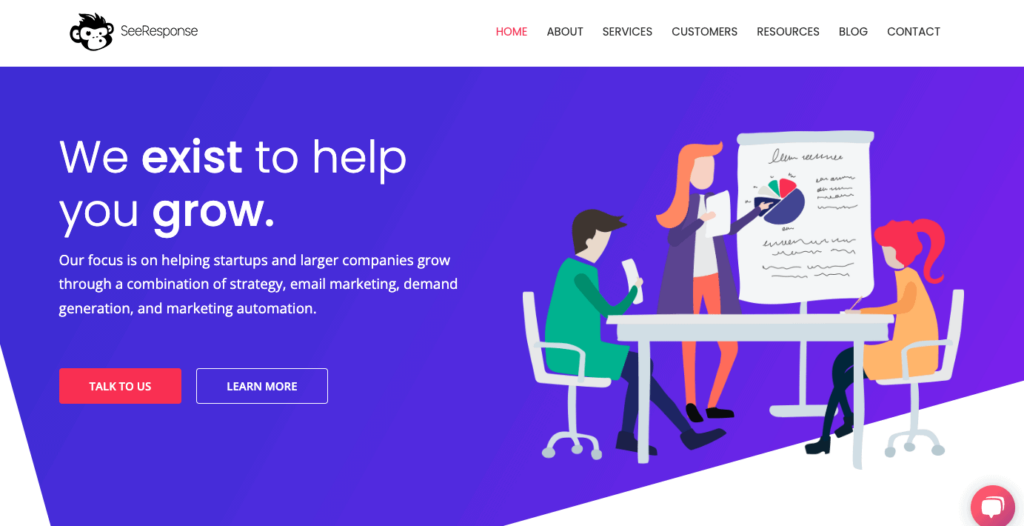 At a Glance
SeeResponse is a B2B digital marketing agency that specializes in marketing for software technology businesses—they're partial to startups. They have built a website that looks similar to so many SaaS websites we've seen, which is fitting because their focus is on B2B software.
According to their about page, they are "a digital-savvy bunch of passionate B2B marketers" who offer "world-class marketing services" at a fraction of the cost. Their services focus on inbound marketing, but they also offer services that are specifically related to ABM strategy development and account-based sales enablement.
Here's a few key details to know about their approach to ABM:
They like to call it "lean key account marketing"
They build campaigns to target prospects by what part of the lifecycle they are in.
They like leveraging two key B2B marketing channels: Email and LinkedIn.
Bottom Line
If you're a SaaS startup looking to dip your toe into ABM for the first time, SeeResponse might be the ABM B2B marketing agency for you.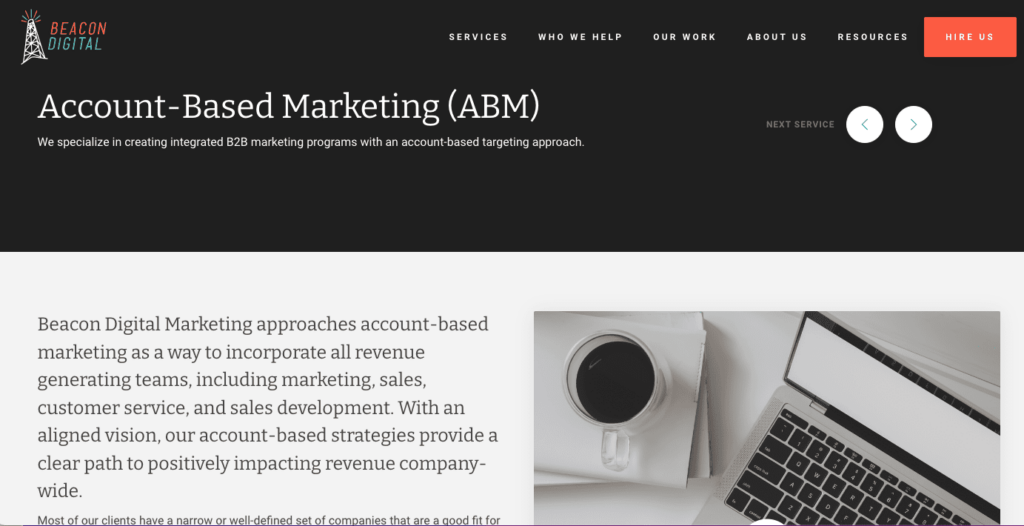 At a Glance
This New York based agency loves B2B and HubSpot. Check out their page that solely promotes HubSpot Integration.
ABM is pretty up there, too. They have the most experience in the cybersecurity and fintech spaces but also include SaaS and Regtech in their industry focus page.
Here's their story.
"Beacon Digital Marketing's team are trained professionals in B2B marketing. We love what we do, who we work with, and helping businesses grow."
One of their strongest offering (that many other agencies don't offer) is integration of ABM and ABS. They describe it as:
"B2B marketing should be focused on acquiring accounts, rather than individual contacts. Because of this, B2B marketing is inextricably linked to Account-Based Marketing (ABM) and Account-Based Selling (ABS) strategies. We're here to help you bring account-based marketing and account-based selling together to get better and more qualified leads faster."
They are a true full-service agency.
Bottom Line
If you're in the B2B tech space and want ABM that directly aligns with sales, consider choosing Beacon Digital Marketing.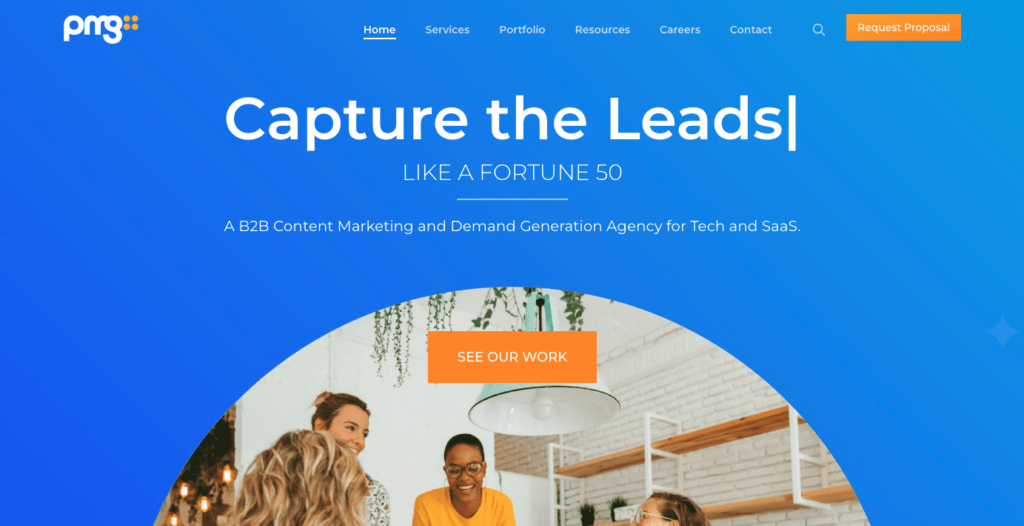 At a Glance
If you google this agency, be sure you click on the right one, there are about a half dozen with similar or identical names.
That aside, their tagline is attention-grabbing: "Master Storytellers. Digital Natives. PMG Tells Tech's Best Stories."
Right off the bat, they promise that you won't spend time "ramping your B2B marketing agency" but more time "launching customized demand generation campaigns that drive MQLs.
Overall, they bring a hard focus on demand generation (similar to top-of-funnel) marketing. Their sweet spot in ABM is lead quality and rebranding campaigns for the high-tech space. They like to tier the prospect segments and concept creative themes for each campaign.
Bottom Line
If want to launch a high-level demand generation ABM campaign, check out PMG.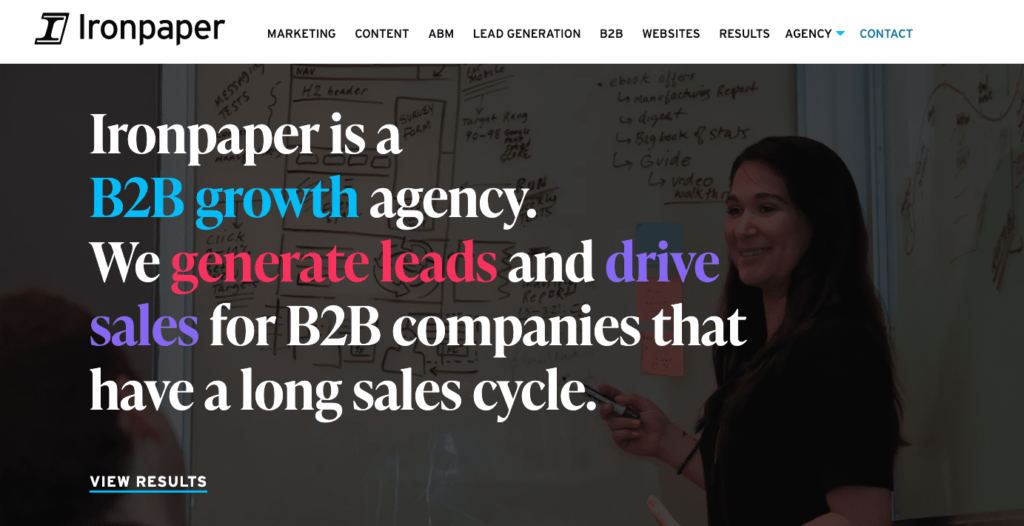 At a Glance
IronPaper is a well-known B2B ABM agency in the digital marketing world. We've talked about them before in other blogs.
As noted in the image above, this agency knows how important the longer sales cycle is in B2B and says they will tailor their ABM campaigns accordingly. While they don't trumpet it in the way other companies on this list do, it's worth noting that Ironpaper is a Diamond HubSpot partner – meaning they're at the second-highest tier of the program.
Bottom Line
If you're looking for a big agency that has experience in ABM technical industries and experience in HubSpot, Ironpaper is certainly worth putting on your list.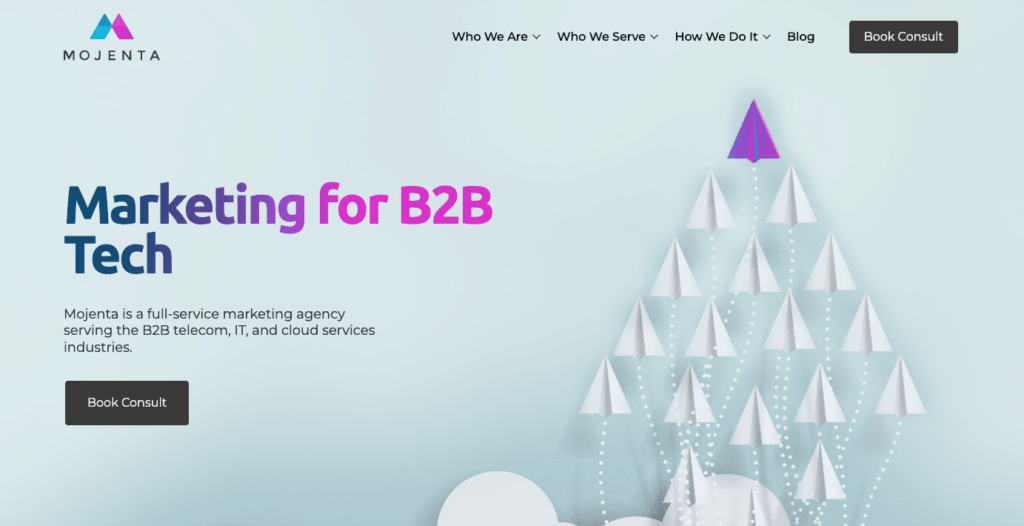 At a Glance
The Mojenta team is all about their pets, and now so are we. Check out this entire page on their website dedicated to their furry friends.
Moving on Mojenta is pretty straightforward about who they are and how they deliver ABM strategy and implementation.
Here's how they describe themselves.
"Mojenta is a full-service marketing agency serving the B2B telecom, IT, and cloud services industries."
Here's how they describe their approach to ABM. (which is really just the definition of ABM as a concept)
"Rather than waiting for right-fit customers to find you, ABM flips the script. We help you identify high-value accounts you'd like to attract, then use an omnichannel approach to get them in your pipeline."
We do give them props for stressing the importance of pairing ABM with personalized ad campaigns.
Bottom Line
If you're looking for an ABM agency with a robust and creative personality, consider going with Mojenta.
­­­­Read to Work with an ABM B2B Agency?
You made it. We hope this list has helped you with finding the ABM B2B agency that's right for you. If you're looking to generate more leads and increase revenue, you're in the right place with ABM. At New North, we help B2B businesses grow with marketing that gets results. Want to see if we're a good fit? Let's chat soon and see how we can help you achieve your ABM goals. ­­­­