Finding the top B2B marketing agency can quickly become a challenge. We've been doing B2B marketing for over a decade, and we're here to help you sort through the noise. This article provides a regularly-updated list of the best B2B marketing agencies based on their skillsets, key clients, and reviews.
We'll provide some definitions and context to get started, but you can skip to the list if these topics already familiar to you.
What is B2B marketing?
B2B marketing is an abbreviation for "business to business marketing."
B2B businesses sell products and services to be used by other businesses, as opposed to selling directly to individuals for personal use. A business that sells products or services for personal use would be in the "business to customer" (B2C) space.
B2B marketing involves offering a product or service for business use rather than to consumers for personal use. For example, an IT company that provides tech support to doctors' offices is providing a B2B service. Any marketing for this service – from Google Ads to blog articles to cold calling – would be B2B marketing.
There's a lot of jargon out there about marketing tactics – but not every B2B marketing agency offers the same set of services and not every agency has the same specialties. If you need branding, for example, you'll be best served by a subset of firms; if you're looking for lead generation, a different subset; if you're looking for something specific (say, market research or podcast creation), still another subset. There might not be one right choice – but, then again, maybe there is.
That can make it tough to choose the right firm to work with for your needs. Check out our quick instructional video below before moving on to our top picks!
What is a B2B marketing agency?
A B2B marketing agency is an agency that helps businesses sell in the complex and longer sales cycle associated with B2B transactions. The B2B market has two key attributes that make it unique. First, the buying value is typically much higher, from five to ten figures in total value. This means there is a longer and more involved sales cycle. Second, there is a group of decision-makers that influence the sale, called the "buying group". This means you are not marketing to one person, but to a group of people that make that sale happen.
A good B2B marketing agency is going to understand and help you navigate buying value and decision-maker influence dynamics from their experience and expertise that will guide the development of your marketing plans to be successful in this buying market.
What are the most effective B2B marketing strategies?
The most effective B2B marketing strategies are grounded in careful consideration of audience targeting, market analysis, budgeting, pricing, and industry psychographics. Here are a few examples of effective B2B marketing strategies.
No strategy is strong on its own. The concert of efforts to reach your target buying group will be key to your success in the strategy. Starting with a knowledge of your buyers, you can craft the right strategy and tactics to reach your targets.
What are the top B2B marketing agencies?
The top B2B marketing agencies are those with the capabilities to deliver strategies and tactics that resonate with their clients' target markets and are aligned with their clients' sales goals. The best agencies focus on a niche in the market, allowing them to offer deep insight into common customer pain points that can be solved by their clients' products and services.
Check out the focus of each B2B marketing agency, and see if its purpose lines up with your needs. Click on an agency to read more about it. With that in mind, here are the top 27 B2B marketing agencies to consider in 2023.
| Agency | Niche | Year Founded | Notable Clients |
| --- | --- | --- | --- |
| New North | B2B technology firms | 2008 | Thermo Fisher Scientific, Ricoh Global Software, Avanti Systems, Appen |
| Motion | B2B tech marketing podcasting | 2017 | PWC, Force3, Mission Data |
| Elevation Marketing | B2B technology, food and beverage, education, healthcare, automotive, and more | 1999 | Amazon, ExxonMobil, AWS, Coca-Cola |
| Altitude Marketing | Technical industries including life sciences, FinTech, and manufacturing | 2004 | Anthem, Universal Music Group |
| Innovaxis | Nonprofits, manufacturing, eCommerce, and B2B technology vendors | 2007 | TPH Global Solutions, Allegiance Industries, Inc. |
| SeeResponse | B2B software Startups | 2016 | Knack, BitTaxer |
| Earnezt | Insurance brokers, credit card companies, and banks | 2009 | Mastercard, DX |
| Riverbed Marketing | B2B SaaS, Fintech, Edtech, manufacturing | 2013 | Thinking Dimensions, Medbridge, Sensible |
| Godfrey | B2B manufacturing | 1947 | Brooks Instruments, Emerson, Avantor |
| Squaredot Agency | B2B technology firms | 2015 | Client Solutions, Travelport, Arkphire |
| Ironpaper | Enterprise B2B technology firms | 2003 | SAP, Nokia |
| Pomerantz Marketing | B2B technology and construction firms | 1996 | Integrated Security Technologies, DELL EMC |
| Noble Studios | B2B, Higher Education, Travel and Tourism, Health and Wellness | 2003 | Adobe, Autodesk, FICO |
| Espresso B2B Marketing | B2B companies | 2010 | IBM, Demand Solutions, Jama Software |
| Modern | B2B software, IT, and technology companies | 2010 | Hyland, Admincontrol |
| Velocity | B2B companies | 2020 | Sprint Business, Amazon Web Service, IIJ Europe |
| Single Grain | B2B and B2C eCommerce, SaaS, and Crypto/NFT | 2009 | Amazon, Uber, Salesforce |
| Merkle B2B | B2B branding | 1971 | Cisco, Intuit, Google Cloud |
| 310 Creative | B2B SaaS | 2003 | Viznex, One Discovery |
| COHN | B2B and B2C real estate, healthcare, and lifestyle companies | 2000 | ComfortBuilt, AMAS |
| Bluetext | B2B technology branding | 2011 | Google, Adobe, DeWalt |
| Bython | B2B ABM | 2012 | Microsoft, IBM |
| Brainrider | B2B branding, video, presentations | 2010 | ebay, Osler |
| Bader Rutter | B2B agriculture firms | 1974 | Pioneer, National Pork Producers Council |
| Jellyfish | B2B and B2C branding and design | 2005 | Google, Deckers Brands |
| Walker Sands | Enterprise B2B tech firms | 2001 | G2 Crowd, RaspberryPi |
| Hinge Marketing | B2B consultants | 2002 | Deloitte, Addison Group |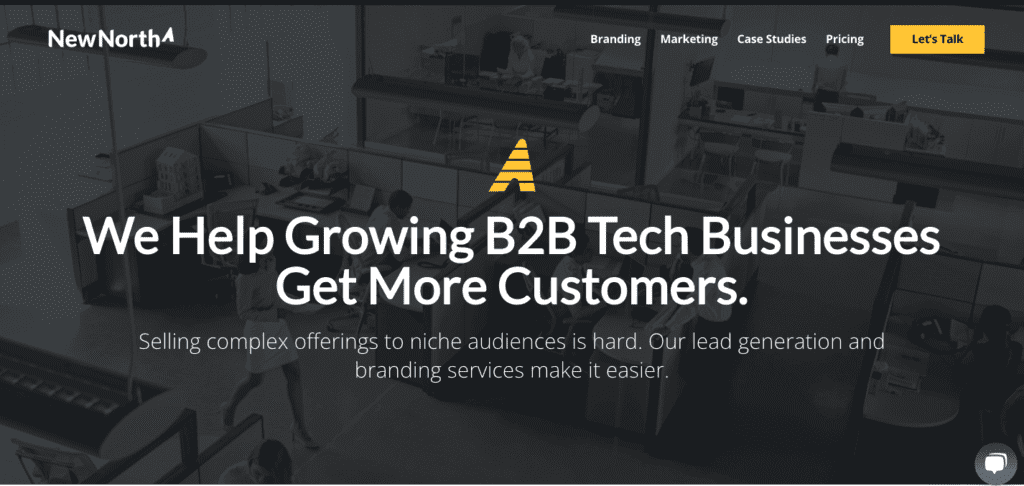 We may be biased in putting ourselves at the top of this list. We may also be totally correct. Either way, here we are, and there's nothing you can do about it. We do growth-focused marketing for B2B companies. That includes work in industries like:
Hardware
Professional services
And more – just reach out if you're evaluating a fit. Specifically, we're focused on lead generation (getting B2B businesses more clients) as opposed to branding (making logos and creating aesthetic style guides – which is helpful but is less directly tied to driving business). Tactically, this means that we're focused on channels like:
Marketing strategy
Email marketing (newsletters, automation, list building, and optimization)
Digital and broadcast advertising (PCC. PPM, search, display. Radio, streaming, television, and video)
Social media marketing (organic social media, paid campaign creation and management)
Search marketing (SEO, pay-per-click campaigns)
Video marketing (testimonials, service explainers, social video)
Content marketing (blogs, ebooks, web content)
Account-based marketing (ABM) (multi-touch targeted unaware campaigns)
Public relations (full-scope media relations)
Web design and development
We also have deep experience as a B2B marketing agency for B2B tech companies B2B tech companies. What sets us apart most, though, is our agile approach to marketing. You can read more about what that means here, but the gist is that we balance long-term strategy with short-term opportunities to get better results and drive leads.
At a Glance:
Founded: 2008
CEO: Tobin Lehman
Notable clients: Thermo Fisher Scientific, Southern States, Ricoh Global Software, Avanti Systems, Appen
Clutch Score

: 4.6 stars
Bottom Line: We're a great fit for global firms looking to launch targeted campaigns and for mid-market businesses that are looking to grow.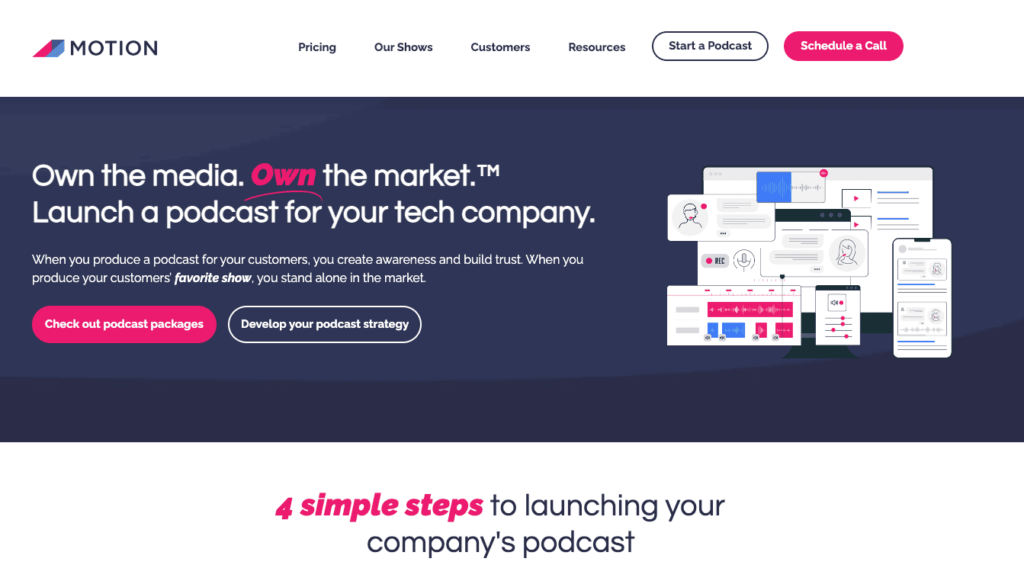 Motion is a top B2B podcasting agency that focuses on helping B2B tech companies launch their own podcasts. In today's competitive market, B2B buyers check a company out 15-25 times before reaching out to sales. A podcast is the most intimate way to keep in touch with buyers before they're ready to chat. Motion is taking advantage of that in a big way. Their home page says,
"Every tech company should have a podcast."
They understand that tech companies need to evolve with their buyers, and a podcast can be one of the best ways to share stories and be a part of customers' worlds. With a podcast, one conversation can generate multiple pieces of content, making it an efficient and cost-effective strategy.
Motion's unique approach to B2B podcast marketing is different from the traditional methods of creating eBooks, case studies, and blog posts. With a podcast, they help clients create original and authentic material that's used to drive an entire content strategy. The podcast format allows for easy collaboration between internal experts, industry leaders, prospects, and partners.
At a Glance:
Bottom Line: In the crowded B2B marketing agency list, Motion stands out as a specialized agency that provides an innovative solution to a common problem. Their expertise in launching podcasts for B2B tech companies makes them an experienced partner for those looking to improve their demand and brand awareness.
Right off the bat, Elevation describes itself as "not your typical B2B Agency." The plethora of services they offer backs up that statement. This Phoenix and San Francisco-based agency has you covered from ABM to PR. Elevation is very hands-on in its approach and boasts many in-house specialists. They also serve a wide variety of industries, including technology, food and beverage, education, healthcare, automotive, and more. Over 60% of their clients $1 billion+ enterprises. Here's how they describe the overarching goal they set for their clients is: Our firm has helped business-to-business companies take on the toughest B2B marketing and advertising challenges — and come out on top.
At a Glance:
Founded: 1999
CEO: Scott Miraglia
Notable clients: Amazon, ExxonMobil, AWS, Coca-Cola
Clutch Score

: No rating yet
Bottom Line: If you're a large to mid-sized corporation or enterprise looking for a comprehensive, aggressive approach to marketing, consider the B2B marketing agency—Elevation Marketing.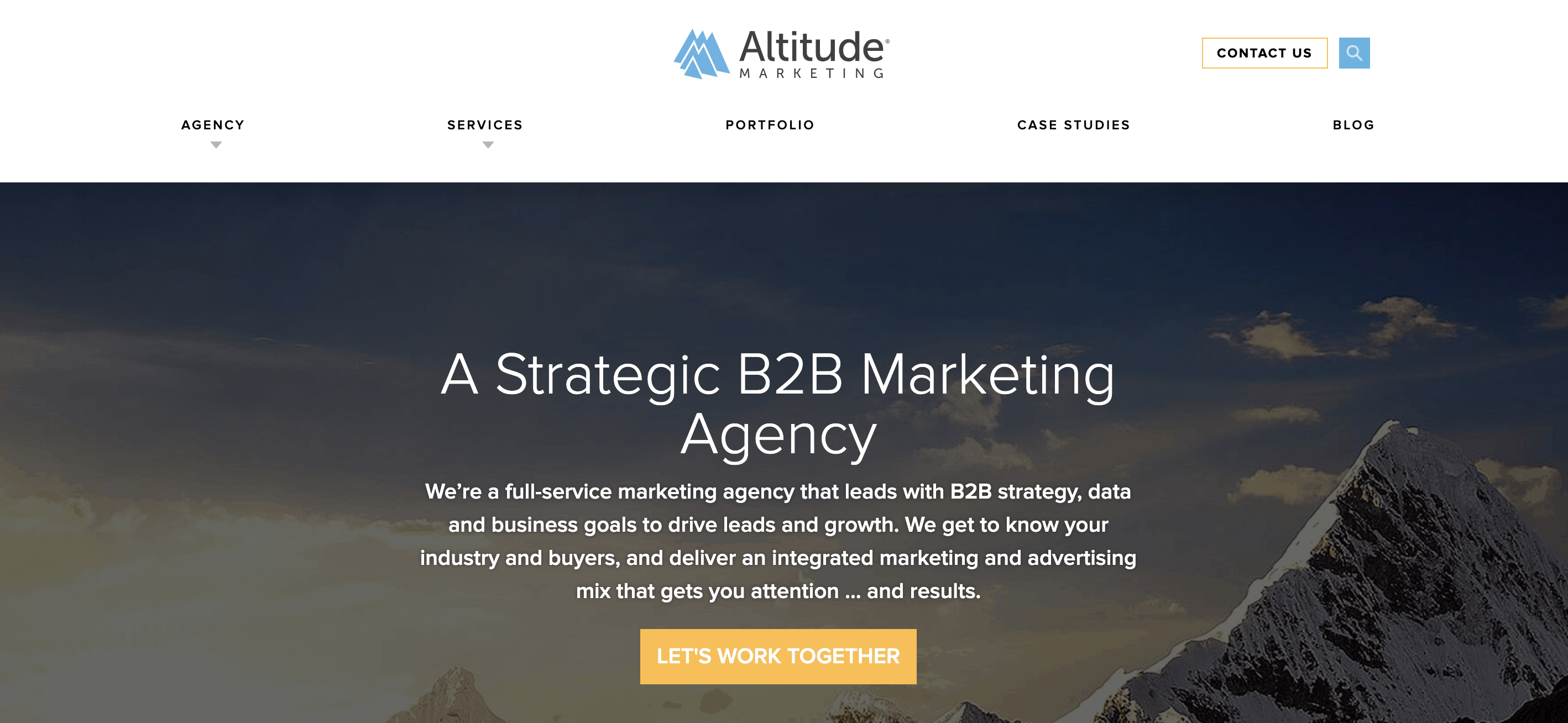 Altitude Marketing is positioned as an integrated marketing department, which, essentially, means that they do everything from trade shows to social media to market research. They work primarily with mid-sized, technical B2B firms, and they have two modes of engagement – either as an entire outsourced marketing department, or as a complement to an in-house marketing team. Here's how they describe their approach on their about page: Our proven methodology ensures that we get smart quickly about highly complex concepts, so we can translate them into meaningful market positioning, compelling brand messaging and lead-driving strategies. The result is a fresh approach that distinguishes your brand in a marketplace that's cluttered with hard-to-differentiate businesses.
At a Glance:
Bottom Line: If you're a mid-sized B2B company looking for a do-it-all B2B marketing agency, Altitude Marketing may be worth considering.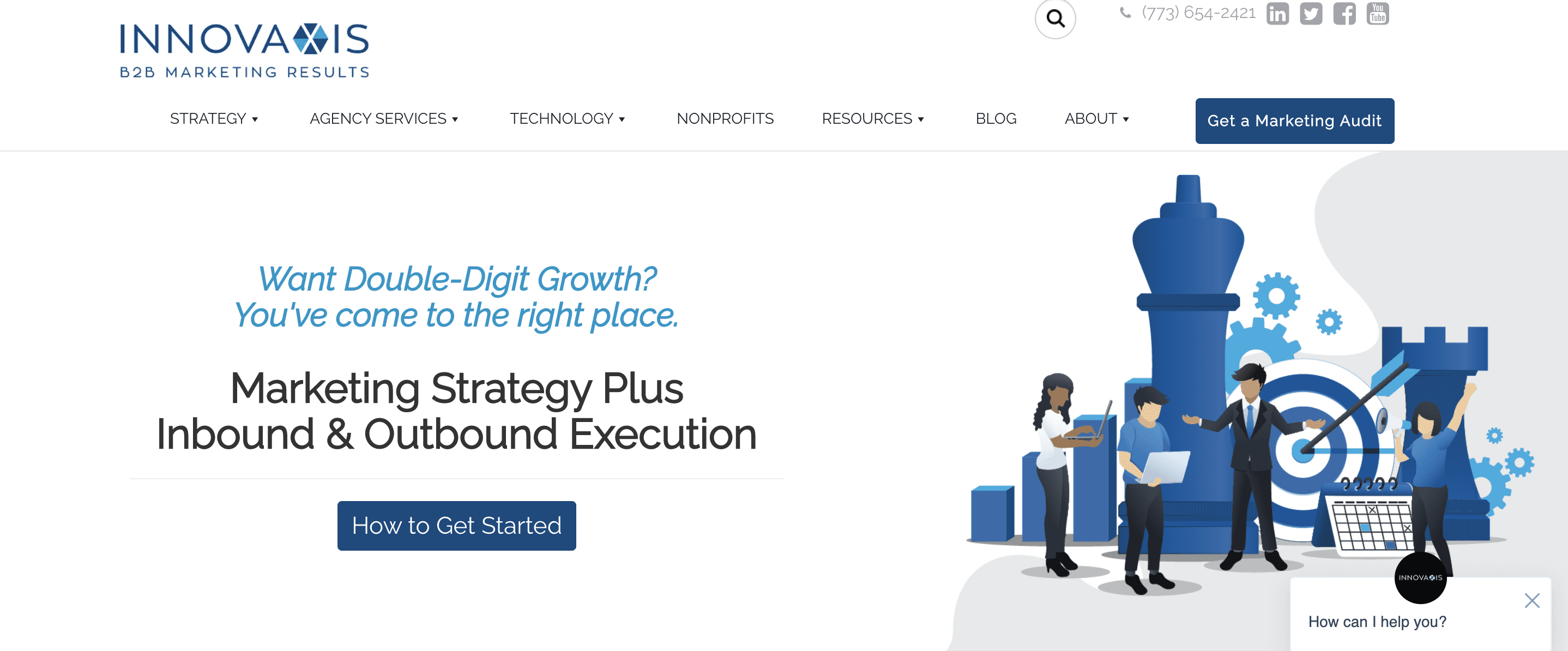 Working out of Chicago, this B2B marketing agency provides start-to-finish marketing. Its broad service line reaches marketing strategy and inbound and outbound execution. Innovaxis builds its strategies and tactics around the customer journey and market analysis. Here's quick and helpful video from their site that explains their process.
For strategy, they focus on the 4 Ps of Marketing: product, placement, pricing, and promotion. For tactics, Innovaxis leverages content marketing, SEO, PR, social media, and more. (as we mentioned, they are from start to finish). It's also worth noting that they have an entire page on their website dedicated to explaining their expertise in marketing for nonprofits. They also serve manufacturers, e-commerce businesses, and technology vendors.
At a Glance:
Bottom Line: This agency is definitely worth a look for nonprofits that need to get their marketing efforts off the ground.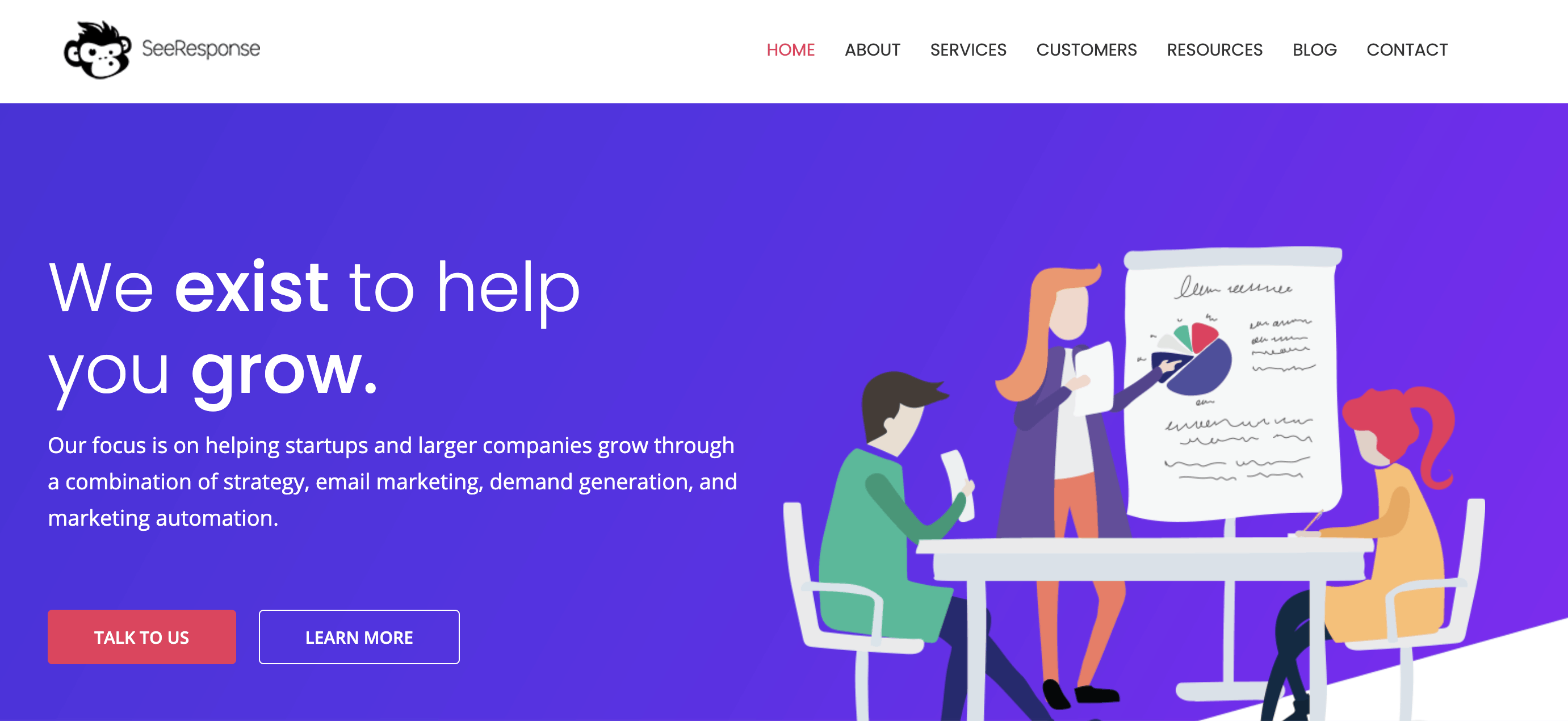 SeeResponse has built a website that looks exactly like a thousand SaaS websites – which I'm sure is the point, because their focus is on marketing for B2B software. From their about page: "We are a digital-savvy bunch of passionate B2B marketers. Our expertise and experience in marketing strategy and execution bring to the software technology businesses world-class marketing services, without having to spend gazillions of dollars." In other words, if you're looking to launch a hip new B2B app and want the marketing to look good, SeeResponse is worth a look. They offer all of the digital marketing services you'd expect (inbound marketing, email marketing, SEO & SEM) and some additional services you might not (sales appointments, sales operations).
At a Glance:
Bottom Line: If you're a B2B tech software startup looking for a marketing recipe, SeeResponse has a good one. If you're in another industry (or if you're past the startup stage), this B2B marketing agency may not be the perfect fit.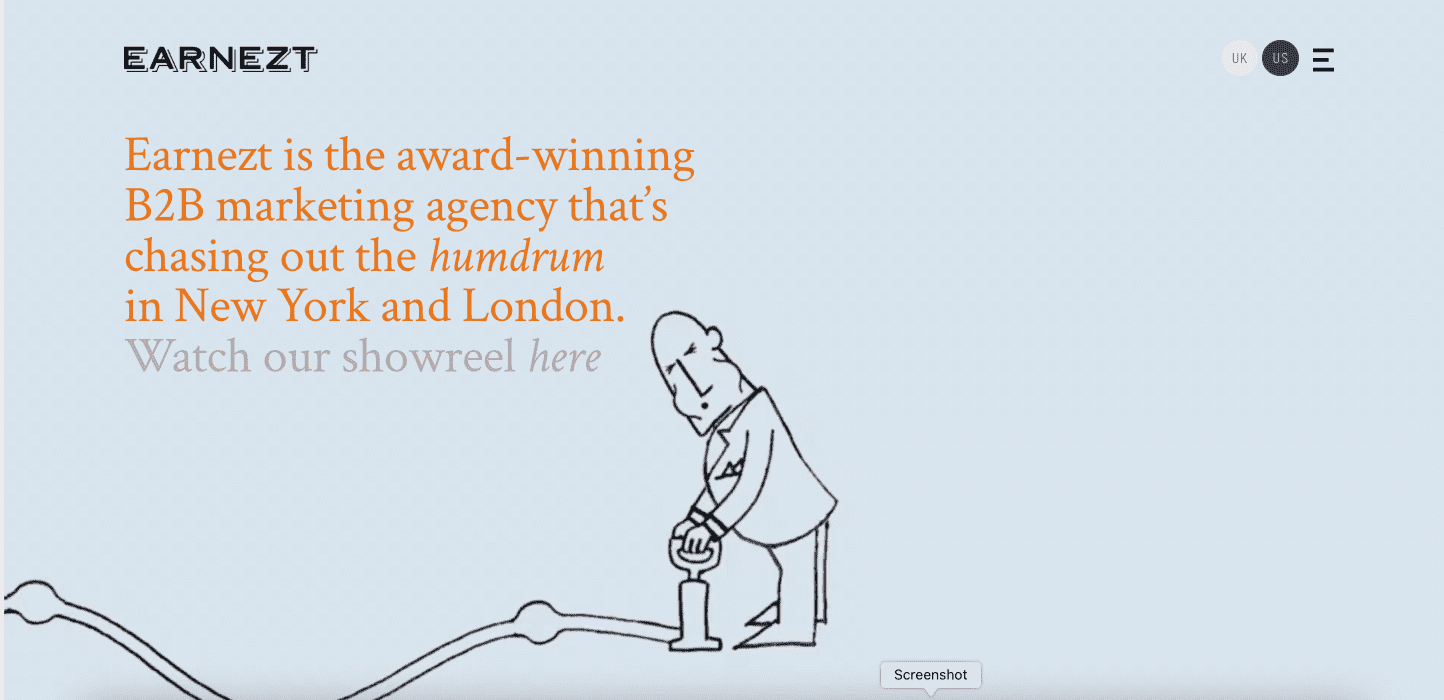 We're covering yet another brand-focused B2B marketing agency here, but that's because there are a lot of solid options for B2B branding. Earnezt takes a distinctively B2C approach to their work, noting that "business audiences want to be every bit as inspired, engaged, and entertained by brands as consumers are." Based in London with offices in New York, they have a particular focus in the financial sector, with experience service insurance brokers, credit card companies, and banks. Here's how they describe their approach: As a B2B branding and marketing agency, we work with organizations to uncover exactly what makes them great and turn these insights into compelling, commercially relevant stories – because a great B2B brand is much more than a logo and a color scheme.
At a Glance:
Bottom Line: If you're a UK-based financial company looking for branding, look no further than Earnezt.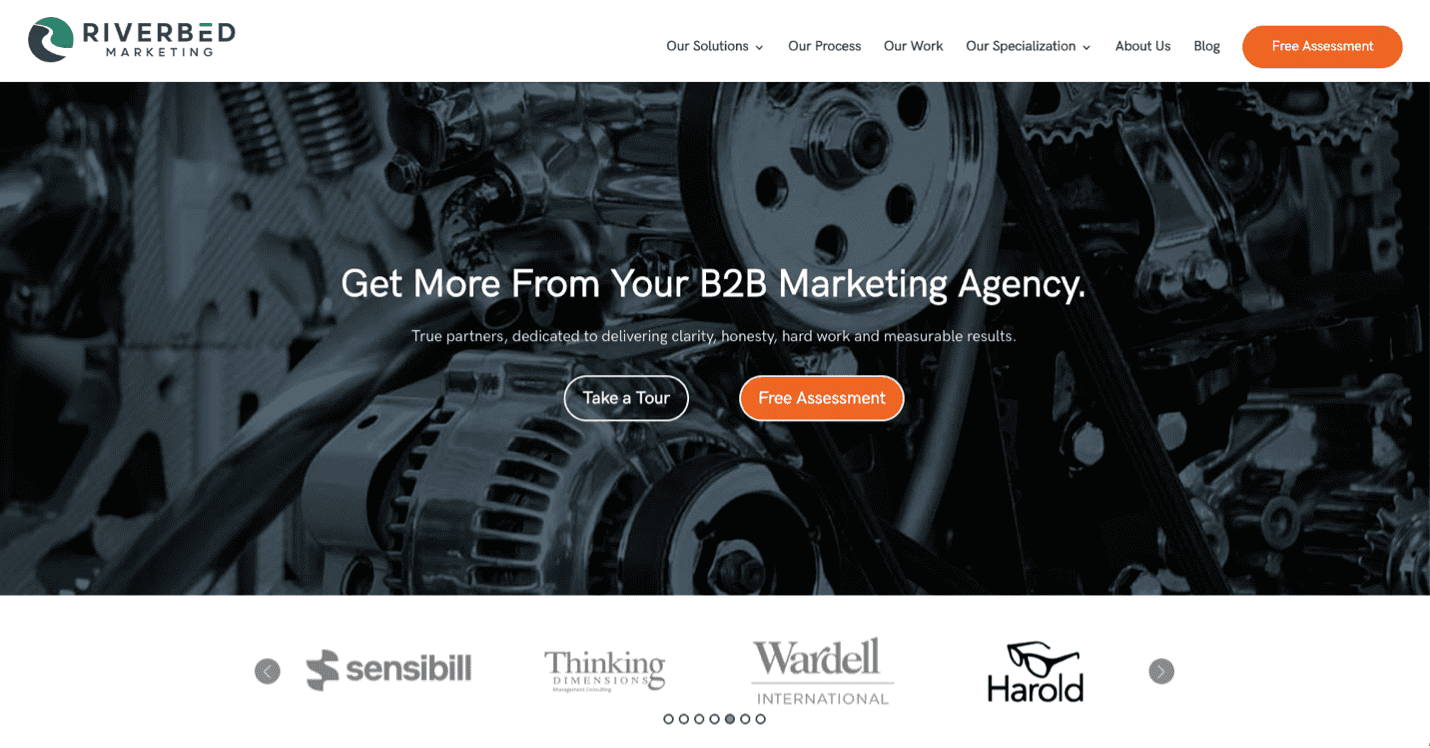 Riverbed Marketing's bedrock is marketing SaaS and technology companies. This Canadian agency's offerings include many traditional content marketing, SEO, and lead generation methods. We like their no-nonsense description of their lead generation approach: "Identify what is working. What is not working. Leverage your assets and begin reaping the benefits with well-oiled lead generation strategy." Consider taking advantage of the 20-to-30-minute free assessments on their website. They are "hardcore and obsessed with delivering…" so an assessment could be worth your time.
At a Glance:
Founded: 2013
Notable clients: Thinking Dimensions, Medbridge, Sensible
Clutch Score

: No rating yet
Bottom Line: If you are a SaaS or technology company looking for a more holistic approach to lead generation—Riverbed Marketing might be right for you.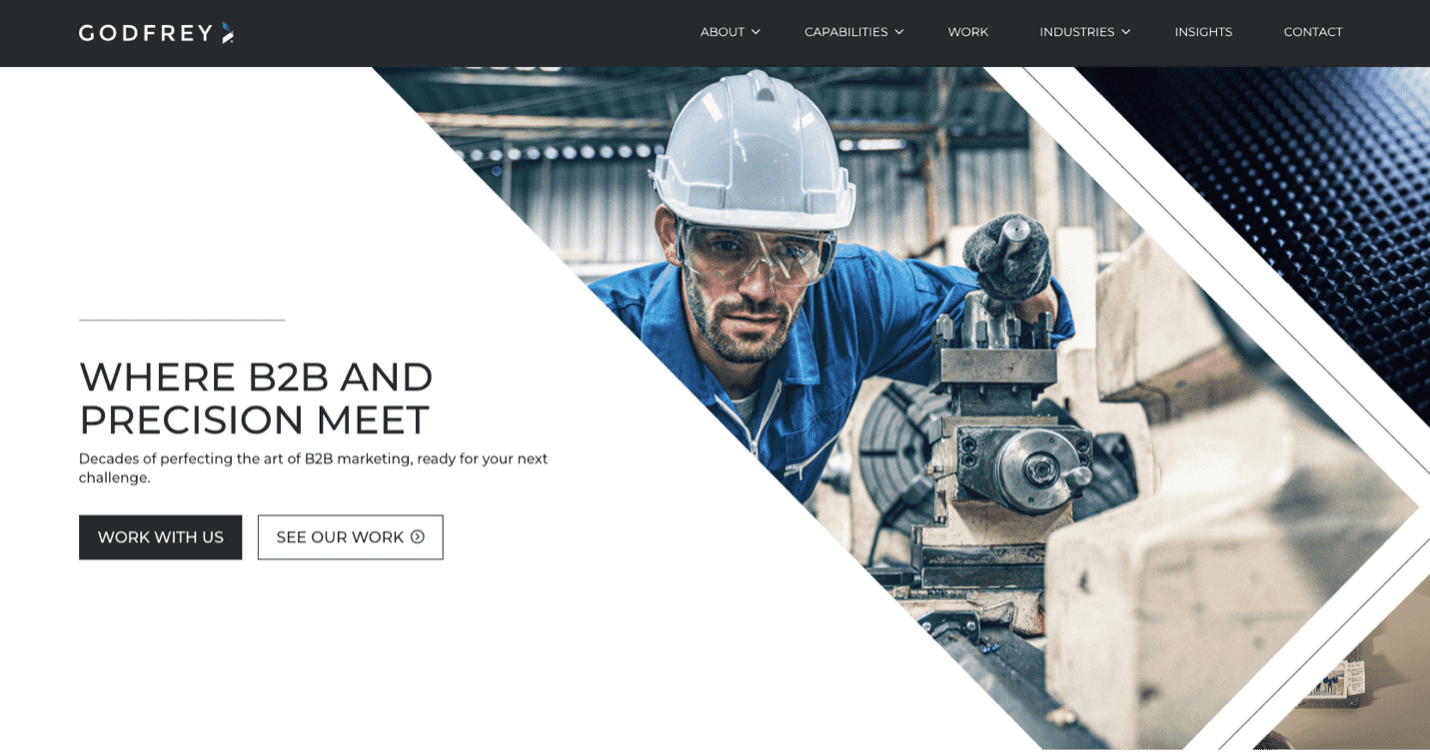 The image on their homepage is a dead giveaway to the industries they serve. This Lancaster PA agency lives to market for businesses that create things i.e. chemical manufacturers, building material consultants, life science applications, and equipment rental agencies. That's a pretty niche approach. Godfrey divides its marketing service lines into three categories: strategy, creative, and demand. They can do branding, website design, content creation, and even video marketing. This agency also uses the "a" word on their site. (Don't worry. It's agile) We like their niche approach and extensive portfolio. At a Glance:
Bottom Line: The industries Godfrey serves should consider taking advantage of this experienced B2B marketing agency.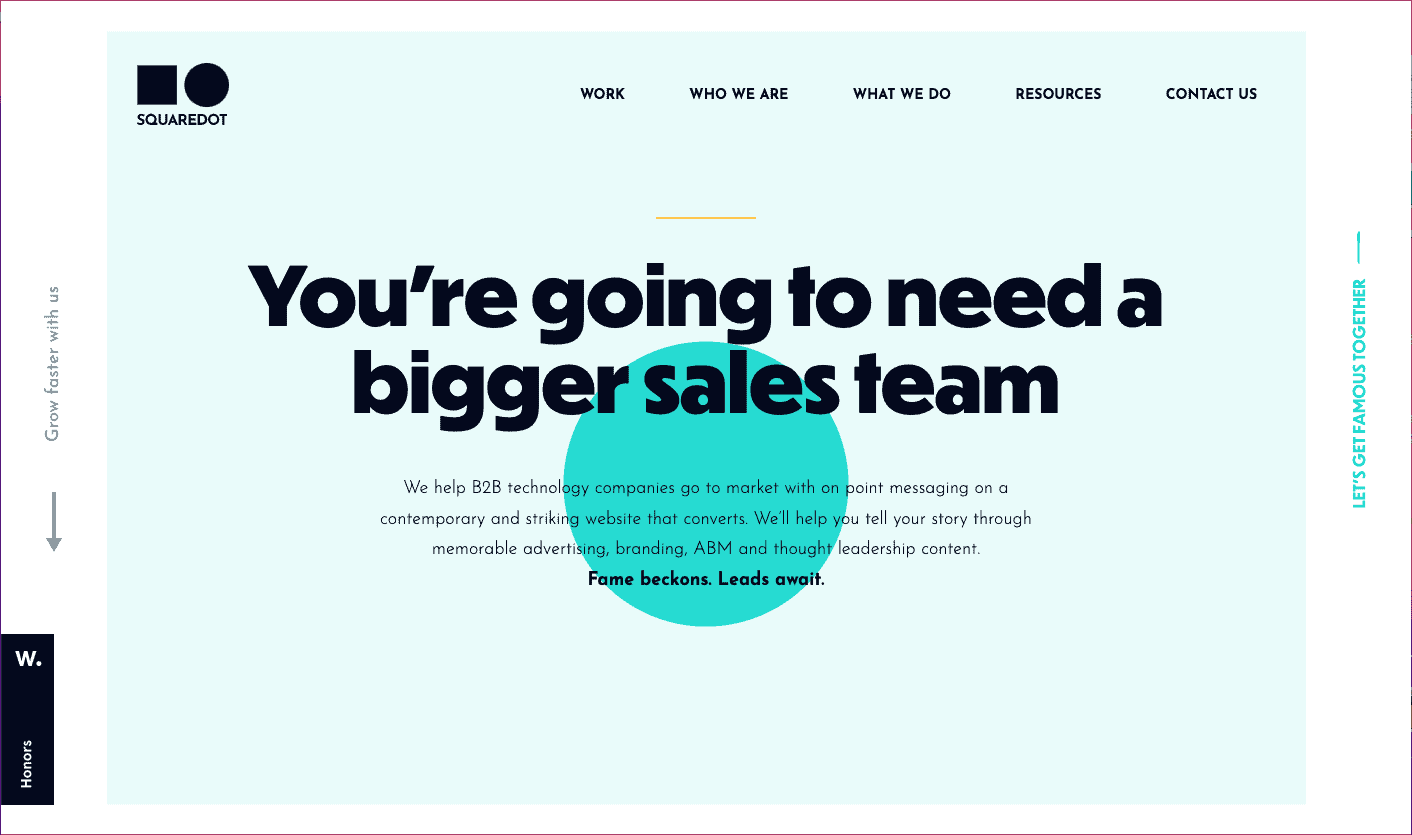 This B2B marketing agency is called Squaredot, and they show a strong brand and messaging tone as soon as you click on their website. I'm talking about dots and squares, sliding graphics, and a lot of wordplay. My personal favorite is on their about page, where they compel you to "join the dots." This B2B agency is based in Dublin, Ireland. Their niche is B2B tech, and they make that clear. "It's B2B or not to be," as they put it. Their approach is to help "make B2B tech brands famous" by leveraging the four pillars of marketing. From their service page here, Squaredot offers assistance in marketing strategy, brand, web design, content, campaigns, and promotion. While they offer a "holistic" approach, how they make the above offerings work together is a little unclear. Some of their biggest pros include their willingness to work with an in-house marketing team and a nice list of marketing awards.
At a Glance:
Founded: 2015
CEO: Ian Blake
Notable clients: Client Solutions, Travelport, Arkphire
Clutch Score:

4.5 stars
Bottom Line: If you're a small ambitious B2B tech company looking to make a name for yourself in your industries, consider getting in touch with this agency.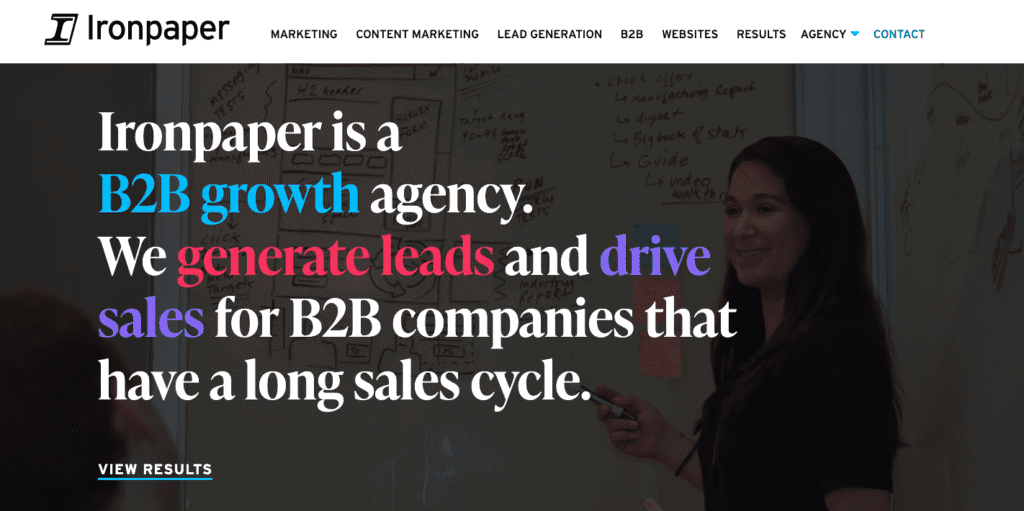 Ironpaper is another B2B marketing agency that's focused primarily on lead generation. As you can see in the above screenshot, their specialty is in working with companies with a long sales cycle. While they don't trumpet it in the way other companies on this list do, it's worth noting that Ironpaper is a Diamond HubSpot partner – meaning they're at the second-highest tier of the program. Here's their story: Ironpaper was founded in New York City in 2003 with a mission to help companies drive growth using the internet. Today, our 50+ person team has taken this mission to heart. Ironpaper is a specialized agency. We focus on helping remarkable B2B grow. Our work crosses the boundaries of B2B marketing, content, sales enablement, qualified lead generation, website design, and B2B strategy.
At a Glance:
Bottom Line: If you're looking for a big agency that has experience in technical industries, Ironpaper is certainly worth putting on your list.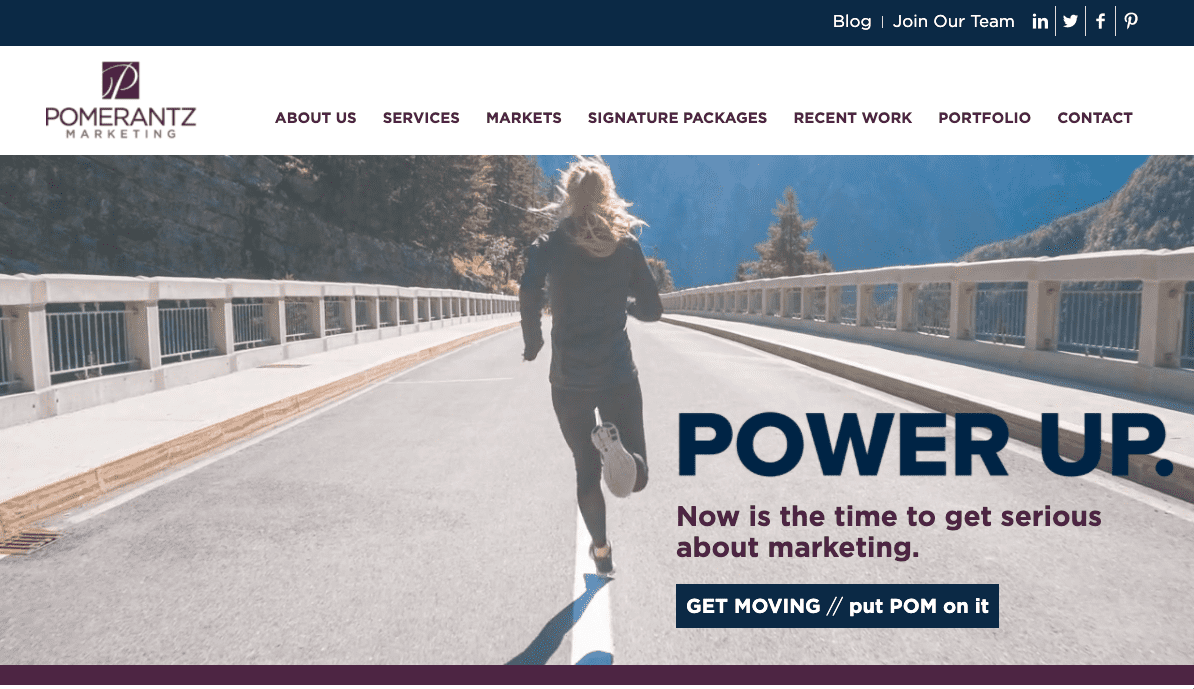 Pomerantz is a Maryland-based full-service agency specializing in the technology and construction industries. Their approach mainly focuses on their "signature packages," which are named "Recalibrate," "Recruit," and "Rethink" Each package is designed to meet companies at their exact need levels. Pomerantz offers a completely outsourced marketing plan for those companies looking for an out-of-sight, out-of-mind solution. They're about page details their mission: We serve as the marketing engine for growth-driven companies that embrace marketing but don't want to staff up.
At a Glance:
Founded: 1996
CEO: Kathy Greenspan
Notable clients: Integrated Security Technologies, DELL EMC
Clutch Score:

No rating yet
Bottom Line: If you're a small to mid-sized business looking to outsource your marketing, check out Pomerantz Marketing.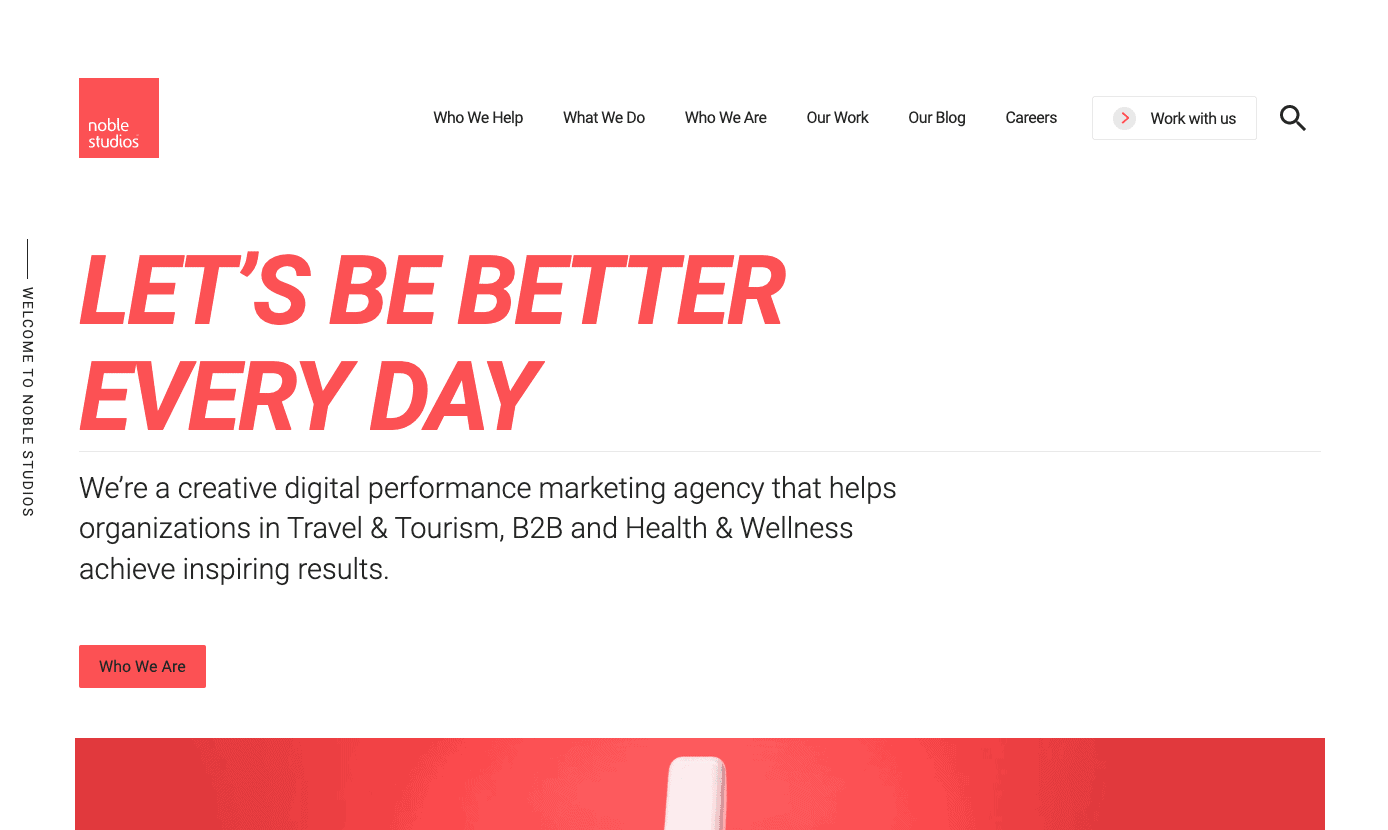 Noble Studios is a full-service marketing company that has won a slew of industry awards and is a Google Premier Partner. Based in Reno, NV, Noble has an interesting industry focus. This company serves B2B, Higher Education, Travel and Tourism, and Health and Wellness. The last two make sense. It's clear Noble cares about creative branding and messaging. Here's how they describe their approach: "As a creative digital performance marketing agency that specializes in B2B digital marketing services, our approach to B2B is holistic: we listen and dive into the nitty gritty of what makes your business successful, and develop custom digital marketing solutions to unlock even greater potential for your business."
At a Glance:
Bottom Line: If you're a B2B company looking for a major rebrand, check out Noble Studios.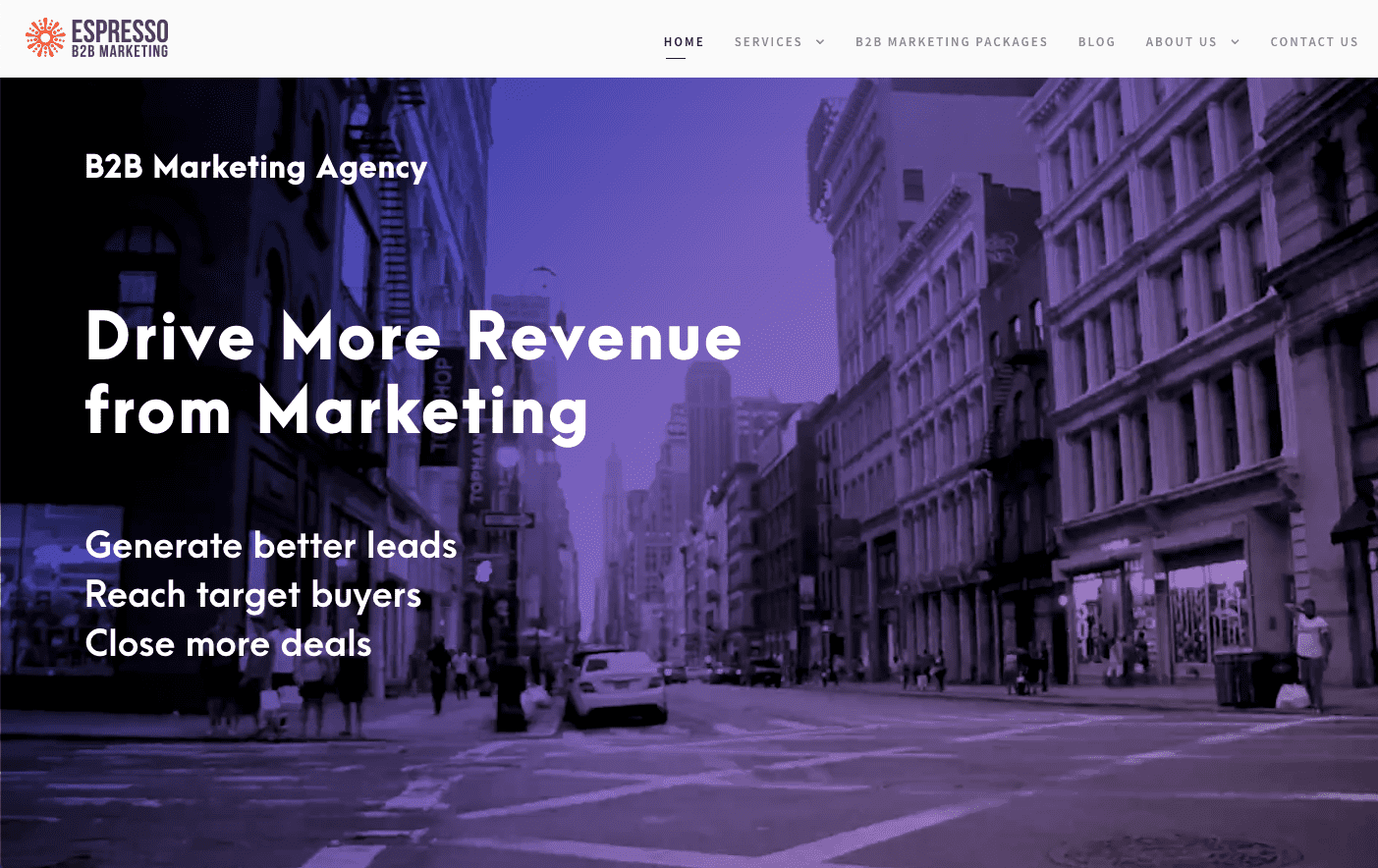 The Espresso B2B Marketing team can seemingly do it all for those in the B2B sectors. Honestly, their service offerings are a little overwhelming. This agency also prices by "B2B Marketing Packages," which start at $7,500 a month and provide a detailed list of what is included in each package. They also have separate content marketing packages for blogging and campaigns. While this billing structure isn't very unusual, it can be difficult for businesses that can't name exactly what they want. On the upside, they probably have experience in most marketing initiatives that potential customers are looking for. Good luck finding it buried in their 18-page service section. Espresso B2B Marketing is located in San Francisco, CA, and has experience with HubSpot, SharpSpring, and WordPress.
At a Glance:
Founded: 2010
CEO: Mark Lennon
Notable Clients: IBM, Demand Solutions, Jama Software
Clutch Score:

5.0 stars
Bottom Line: If you're a B2B business looking for serious and specific marketing assistance, this agency might be the one for you.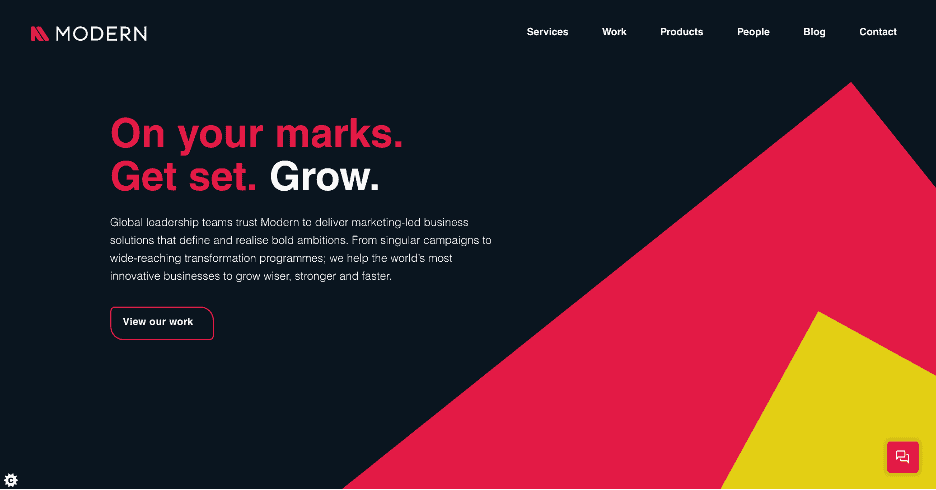 Modern, headquartered in Iron Action, UK, lives up to its name in its approach to marketing. They operate outside the traditional agency model. Their statement on how they're different from other agencies says they have a "focus on the solution that suits you, rather than fitting you to our services and solutions." They also work on retained services basis with project-based fees. Modern specializes in filling the gaps of a business's marketing efforts with tech and expertise. This approach makes them well-suited to service software, IT, and technology businesses. From account-based to performance marketing, this B2B marketing agency offers extensive service packages but also products they call "enablement tools." These products included a "Business case generator," a "Conversational marketing" tool, and a diagnostic reporting tool. They also deal in MarTech like SalesForce and Cyance.
At a Glance:
Bottom Line: If you're looking to fill gaps in your marketing projects and technology, Modern might be the partner for you.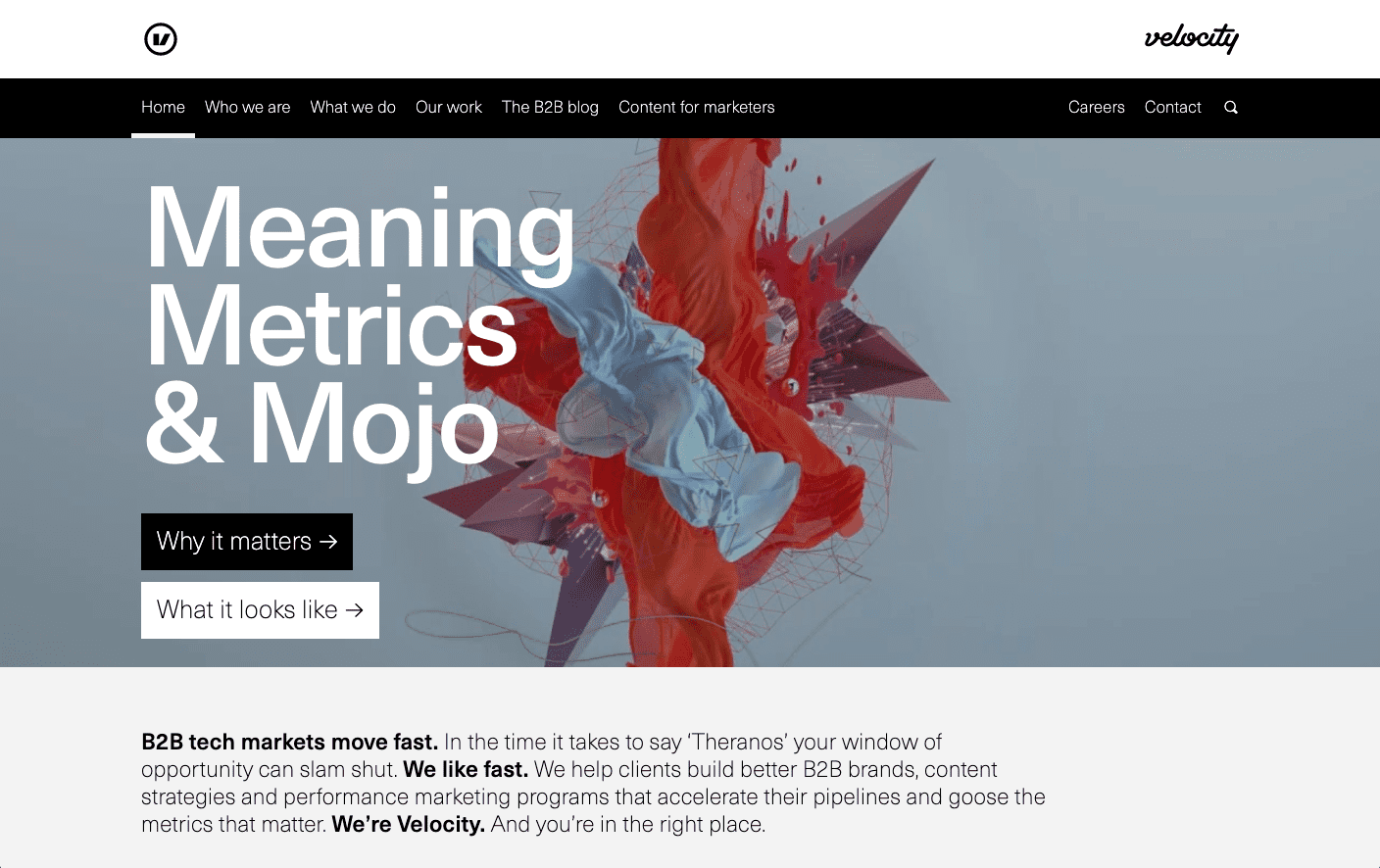 Like some of the other entries on our list, Velocity has a distinct voice and brand. This page features words like "stuff," "crap," and "drankin." While these words may be taken out of context, they still communicate a point. Velocity knows who they are, and they may not be for every B2B business out there. (not always a bad thing. After all, they appear to focus on branding and messaging work for their clients. Here's a little more elaboration on what they do. "Velocity does a special kind of B2B tech marketing that combines three things: meaning, metrics, and mojo." Then they go on to define what those buzzwords mean. Essentially, they work to make your B2B tech brand differentiated and likable. Velocity works out of London and New York and reaches further than some B2B marketing agencies.
At a Glance:
Founded: 2000
CEO: Stan Woods
Notable Clients: Sprint Business, Amazon Web Service, IIJ Europe
Clutch Score:

no rating yet
Bottom Line: If you're looking for extensive marketing messaging rework, consider looking up Velocity.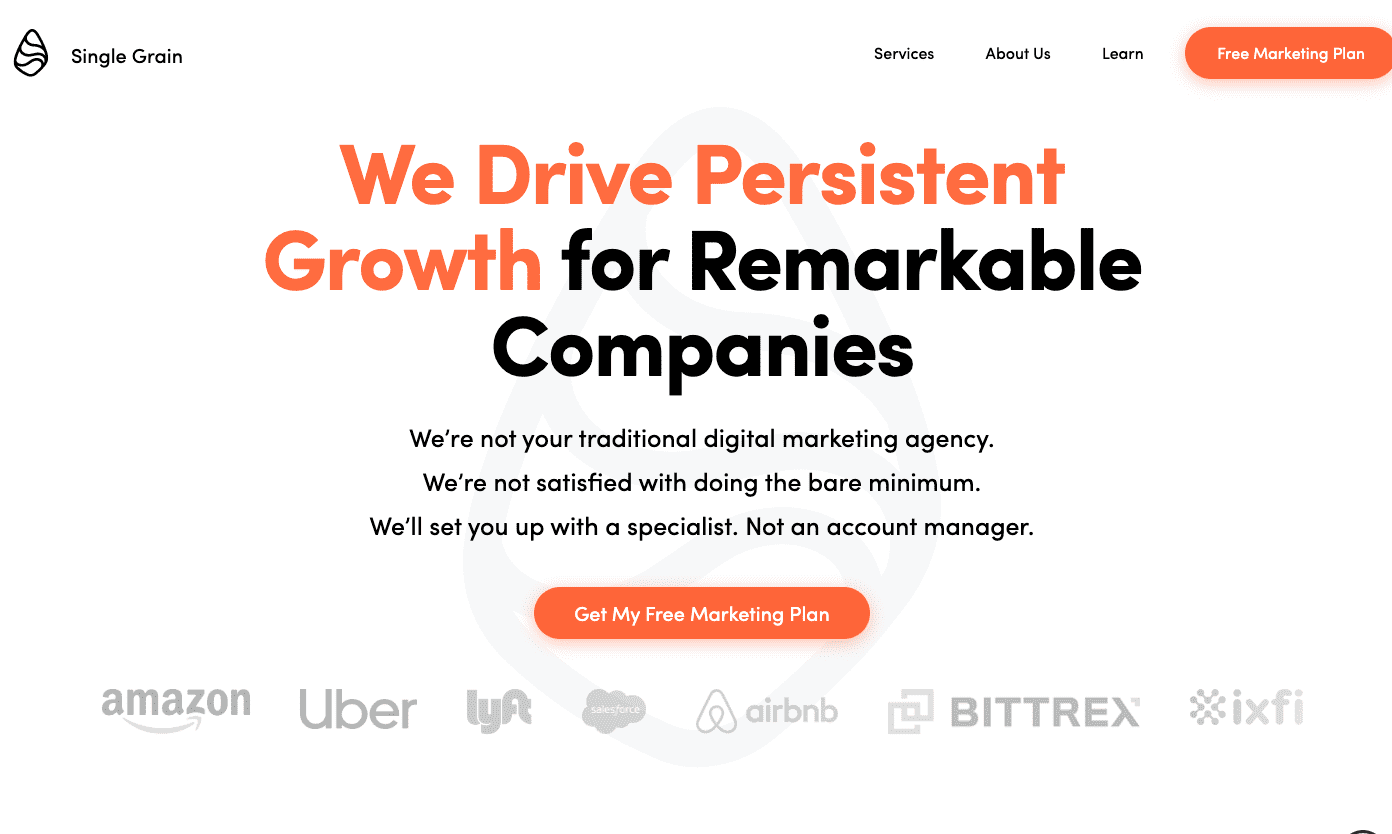 Single Grain positions itself as a full-service marketing agency. They have a mixture of heavy-hitting B2B and B2C clients and specialize in eCommerce, SaaS, and Crypto/NFT marketing. They also heavily advertise expertise in transitioning businesses to Web3. This agency describes its approach here. "Our digital marketing specialists combine tried-and-true strategies with innovative marketing tech to scale your business and drive growth. With an exceptional team of hustlers equipped with the knowledge, tools, and talent to reconstruct your strategy, you'll experience the transformative difference a full-spectrum digital agency can make for your business." They included a helpful timeline of their history and some details about award-winning work.
At a Glance:
Bottom Line: If you're a large corporation looking for a boost in a specific marketing campaign, Single Grain is worth a look.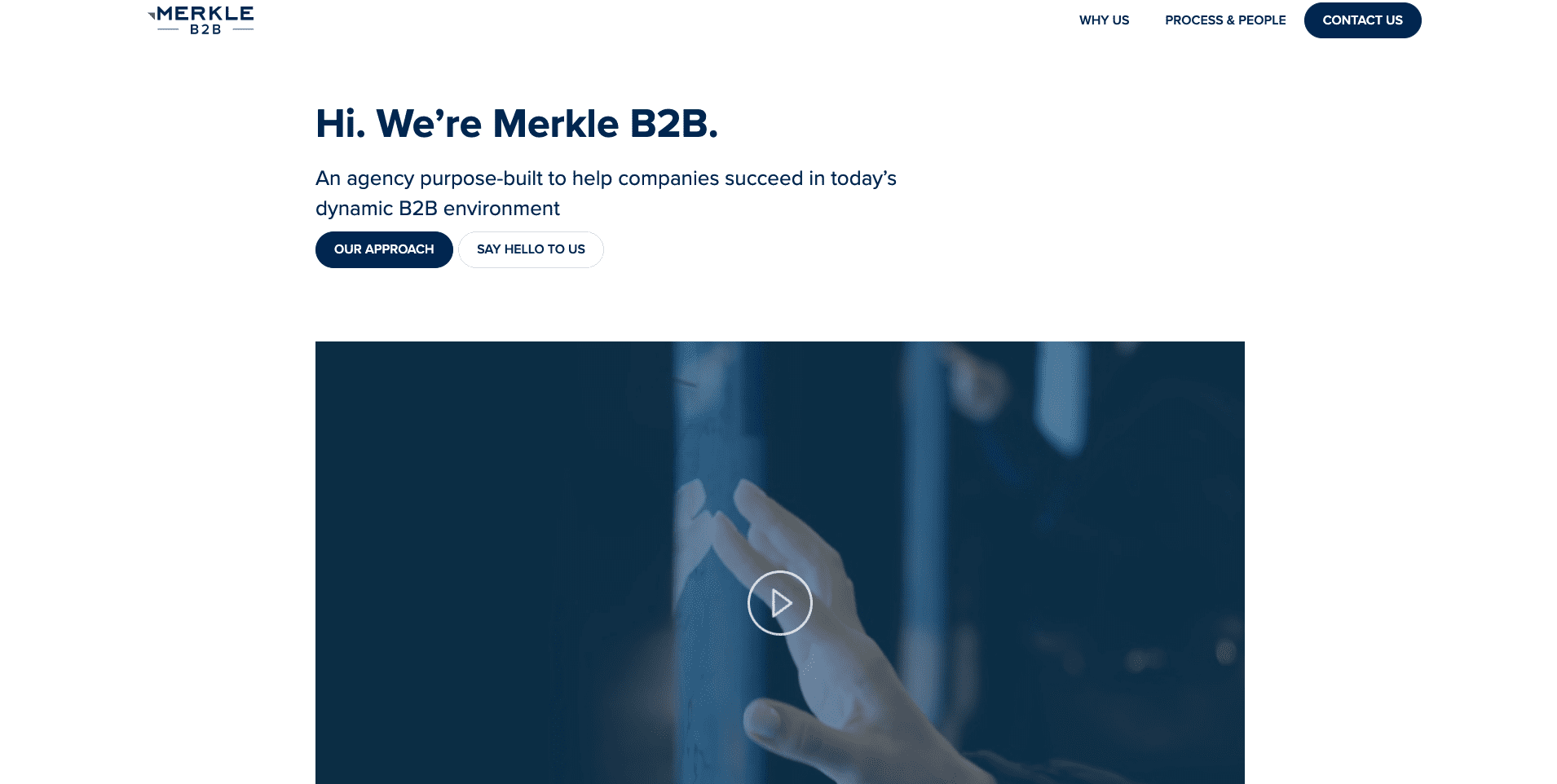 Right off, their style is evident if a bit plain ( I enjoy the first line on their homepage). Merkle focuses heavily on branding for its clients. According to their site, they conduct extensive research and analysis to help their clients "deliver experiences that are personal, predictive, and informed by insights." With 47 offices across the globe, they provide a unique location-centered approach.
At a Glance:
Founded: 1971
CEO: Michael McLaren
Notable clients: Cisco, Intuit, Google Cloud
Clutch Score

: No rating yet
Bottom Line: If you're looking for a proven agency to help you with a severe brand or rebrand, Merkle B2B might be the right choice for you.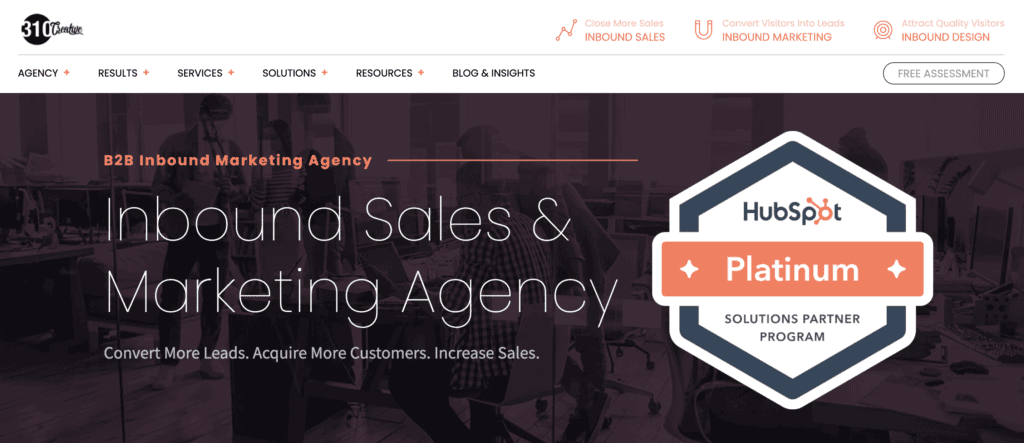 310 Creative brands themselves as an inbound sales and marketing agency based in Los Angeles. Like us, they're focused on driving revenue and new business instead of branding. However, unlike us, their focus (as you can see in the screenshot above) is primarily on using HubSpot as the tool to make that happen. They're a Platinum HubSpot partner, which means that they've sold $7,000 worth of monthly engagements through the platform. Here's how they explain their approach: We help brands get the most out of their HubSpot investment. What started as an operating unit in 2003 working on record labels tactical work like website and digital marketing campaigns pivoted to B2B marketing focus in 2010. We are a leading B2B marketing agency and Platinum HubSpot Solutions Partner.
At a Glance:
Founded: 2003
CEO: Andrew Stanton
Notable clients: Viznex, One Discovery
Clutch Score

: 5 stars
Bottom Line: If you're looking for a HubSpot partner to help your startup with lead generation, 310 Creative is worth a look.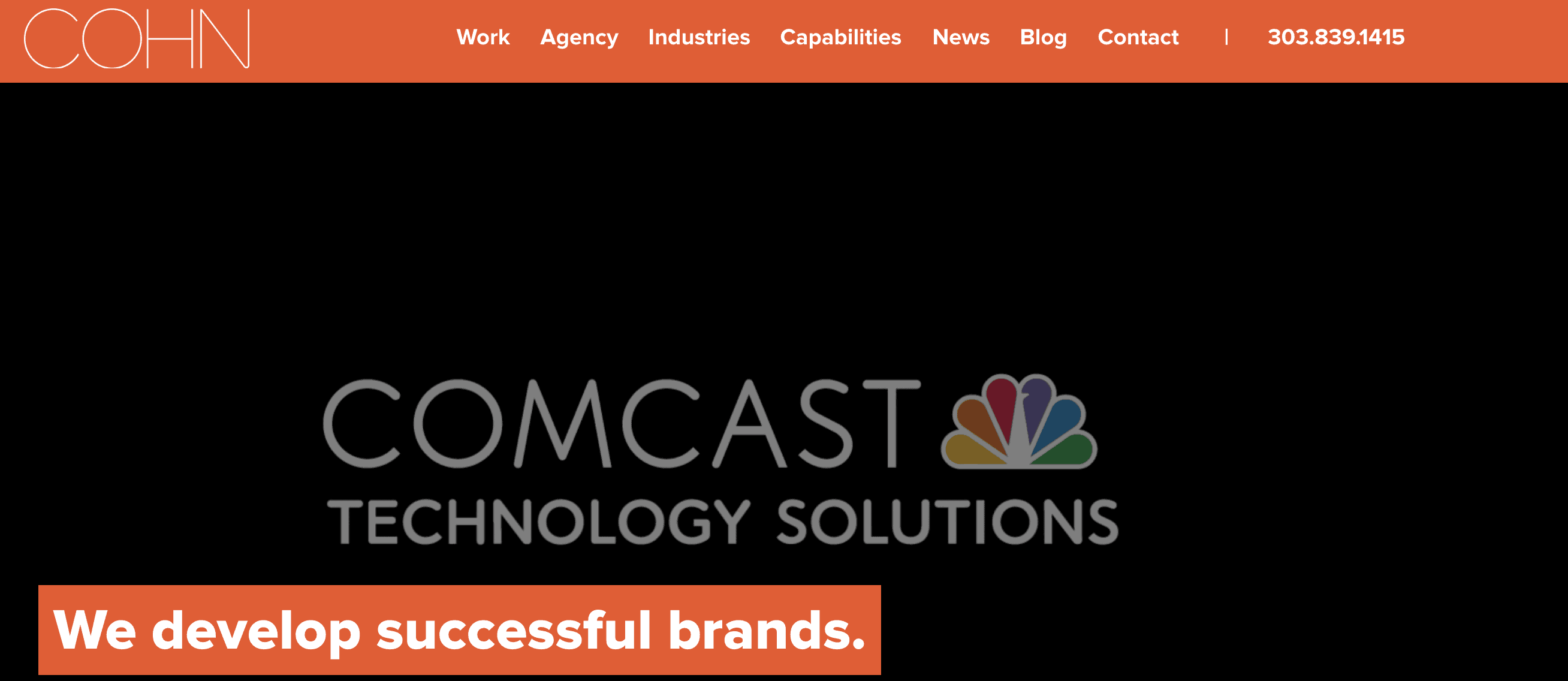 COHN is a bit more broadly focused than some of the other firms on this list; while they do focus on B2B marketing, they also serve B2C firms in real estate, healthcare, and lifestyle. Unsurprisingly, they're more brand-focused than many of the other agencies we've covered so far. Based in Denver, Colorado, their tagline is "We develop successful brands." While related, that's a different target than lead generation – in fact, it encompasses internal marketing, too. Here's how they describe their approach: At COHN, we develop brands and help them interact with their internal and external audiences to maximize business success.
At a Glance:
Bottom Line: If you're looking for B2B branding for your mid-sized firm, COHN is worth considering.

Bluetext's website is somewhat minimalistic and straightforward (which I actually kind of like). Like COHN, their strength is in branding; it's the first service they mention in the screenshot above. Their typical clients are a bit bigger, though – the DC-based firm has a star-studded portfolio packed with pieces they've done for Google, Adobe, CISCO, and others. Here's how this B2B marketing agency describes their success: Our senior team has delivered some of the most creative and effective campaigns for organizations looking to increase visibility and drive demand in the markets that matter most.
At a Glance:
Bottom Line: If you're a big brand looking for a branding campaign, Bluetext should be an option on your list.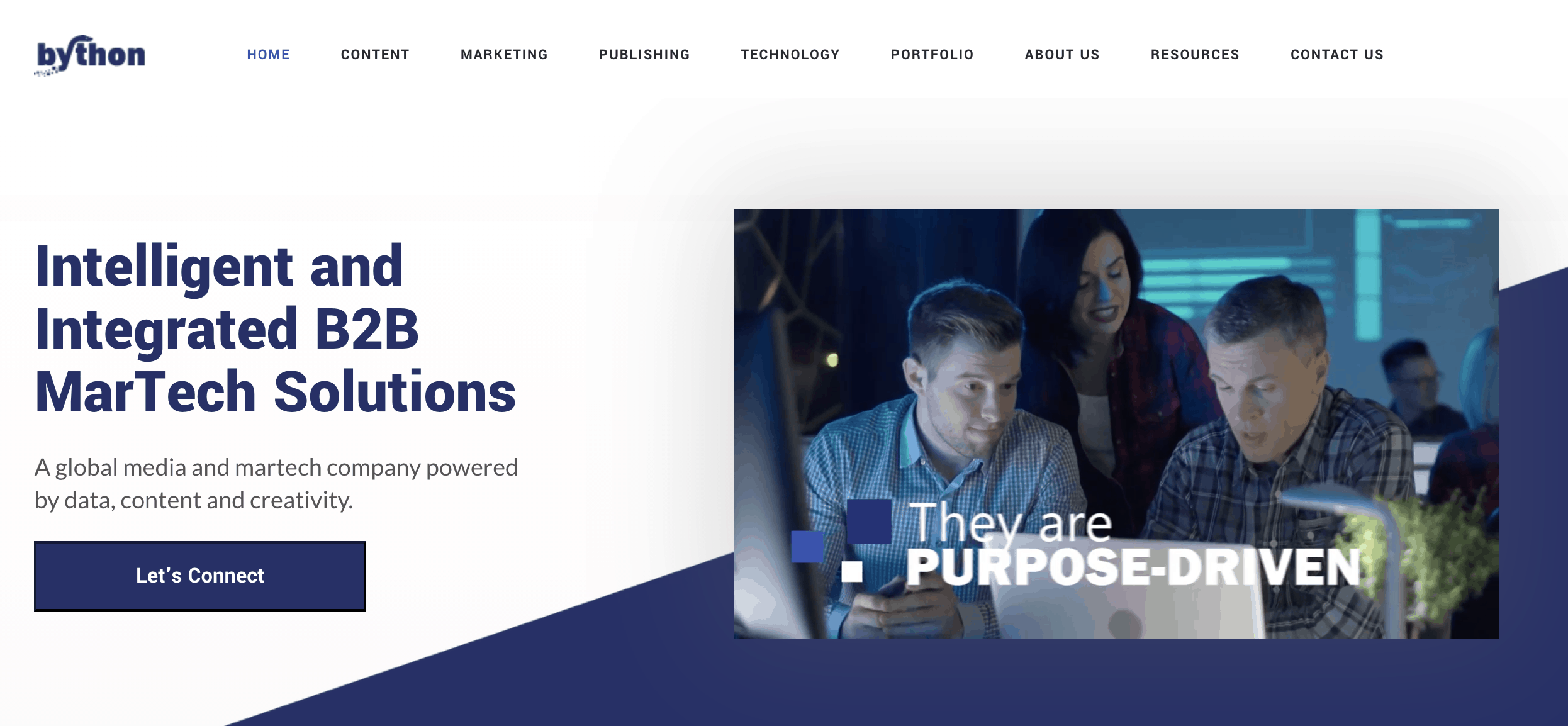 Bython is actually more than a B2B marketing agency – they're a "media and MarTech company." What's that mean? Good question. Basically, it means they focus on content creation and distribution. They're based in Texas, but they've got offices in London and Mexico. Most of their work seems to be campaign focused. In other words, unlike an integrated marketing company, they appear to be brought in for content projects for big brands. Here's how they describe their approach: We believe the right use of data, technology, media and marketing at the right time has the strong potential to build and improve quality client relationships, ensure high engagement among digital audiences, and create content that converts.
At a Glance:
Founded: 2012
CEO: Bhupinder Gulati
Notable clients: Microsoft, IBM
Clutch Score

: no rating yet
Bottom Line: If you're looking to create content for a specific campaign, Bython may be worth considering.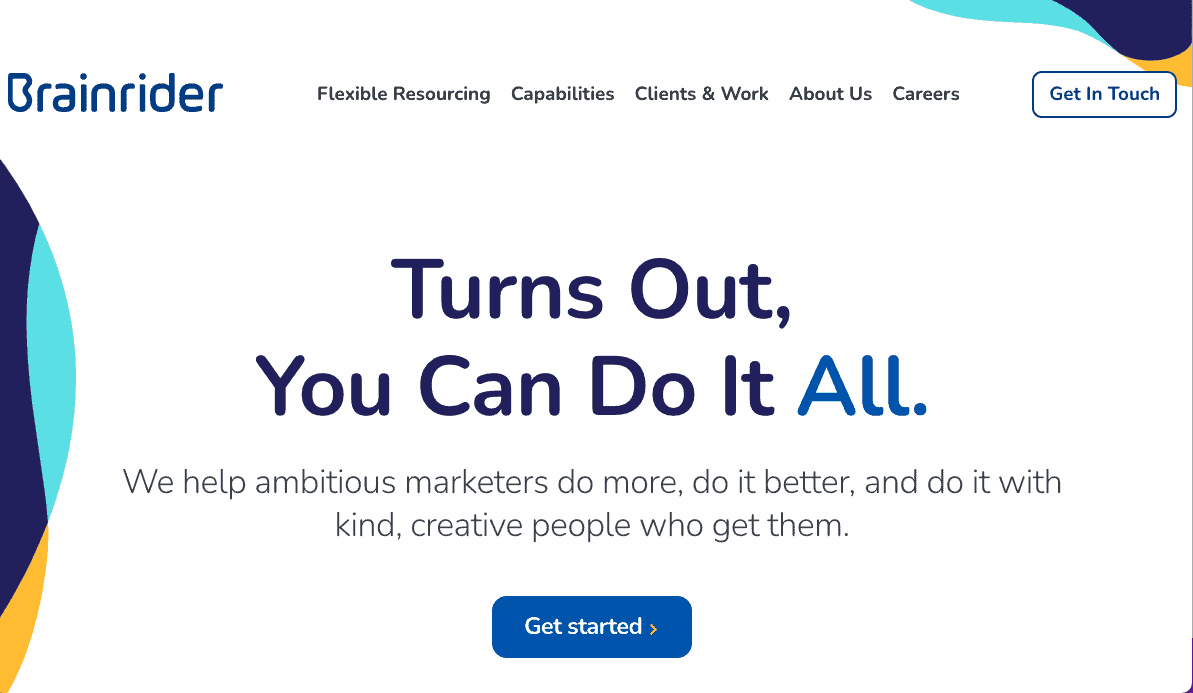 Brainrider offers a variety of engagement models—some unusual in the B2B marketing agency world. As you can see above, they do project-based work, offer flexible resources, and even offer on-site support. In other words, yes, they will send someone to your office to function as a part of your day-to-day team. In an industry that's predominantly digital and remote, that's an interesting distinction (if not a commonly needed one). They're based in San Francisco, and they offer a fairly comprehensive set of services. Here's how they describe their approach: We strive to be the most flexible, responsive marketing agency you partner with. We customize a team of resources to your requirements and operational needs to service your business.
At a Glance:
Bottom Line: If you want an agency that will literally function as your in-house marketing team, Brainrider is worth a call.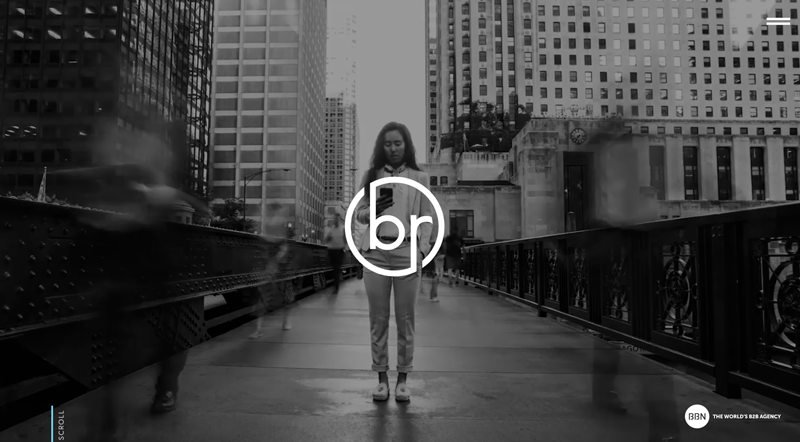 This certainly shouldn't influence your agency selection process, but let's admit it: Bader Rutter is just fun to say. Their site is also fun to look at. This is a company that's focused on brand building and aesthetics, through and through – and, interestingly, they do a lot of their best work for the agriculture industry (including for B2B ag brands). While they're branded as a full-service agency, it's clear that their best work is in powering design-heavy campaigns and in shaping brand identities. They're based in Milwaukee, but they're actually part of BBN, a larger, global B2B business network. Here's how they describe their approach: We work hard. Our work does too: earning attention, creating engagement, driving sales. If that description seems brief, well, it's reflective of their marketing – there's not much copy on their site. There are a lot of cool images, though.
At a Glance:
Founded: 1974
CEO: Jeff Young
Notable clients: Pioneer, National Pork Producers Council
Clutch Score:

No rating yet
Bottom Line: If you're looking for branding work for your B2B agriculture firm, Bader Rutter is an agency to look at.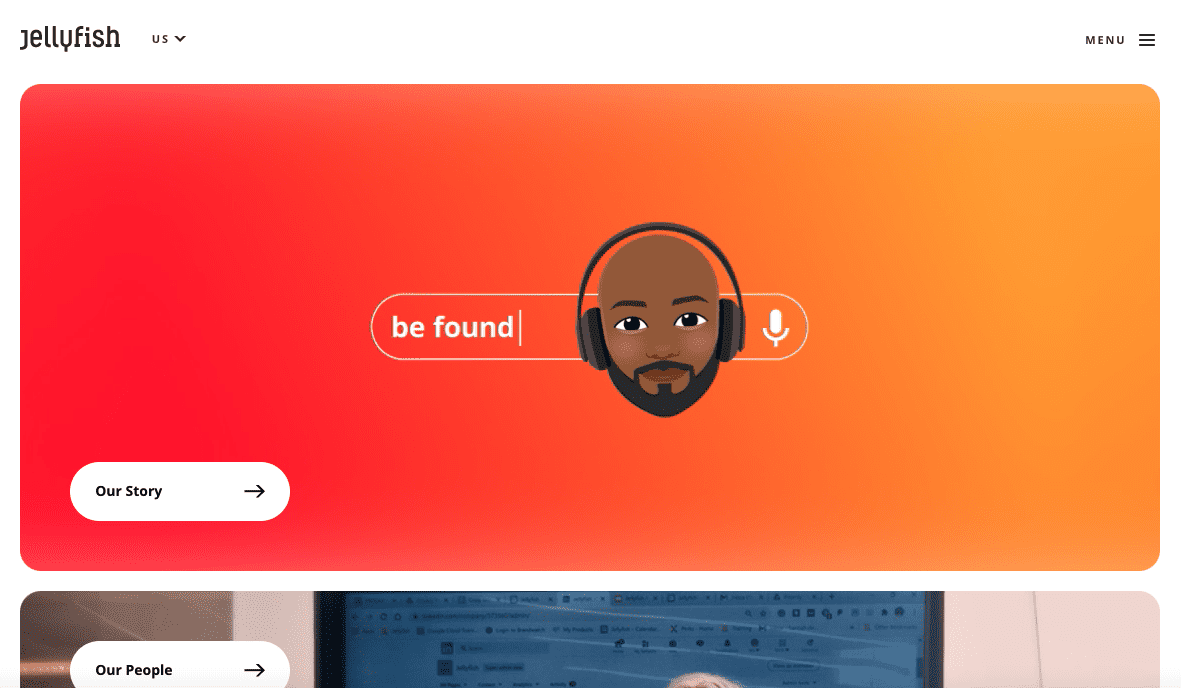 Jellyfish is not strictly a B2B marketing agency. Actually, most of their featured work has been done for B2C companies. But they're one of the biggest firms on this list, and so it's no surprise that they do B2B marketing as well. With 30 offices all over the world, they have the headcount to pull it off (although they're still "one jellyfish," according to their about page). It's also worth noting that they have a close partnership with Google – they're a Google Cloud Partner. Like Bader Rutter above, Jellyfish is perhaps most adept in a branding capacity, although they do offer a full-suite of services, including strategy work, analytics advising, and even digital training services. Again, with their headcount, they can try their hand at pretty much anything. Here's how they describe their approach: We partner with clients all over the world to create perfect digital journeys. Through our close partnership with Google, we are growing what we do and how we do it.
At a Glance:
Bottom Line: If you're looking for a big agency to do branding work with a B2C feel, this is an option worth digging into.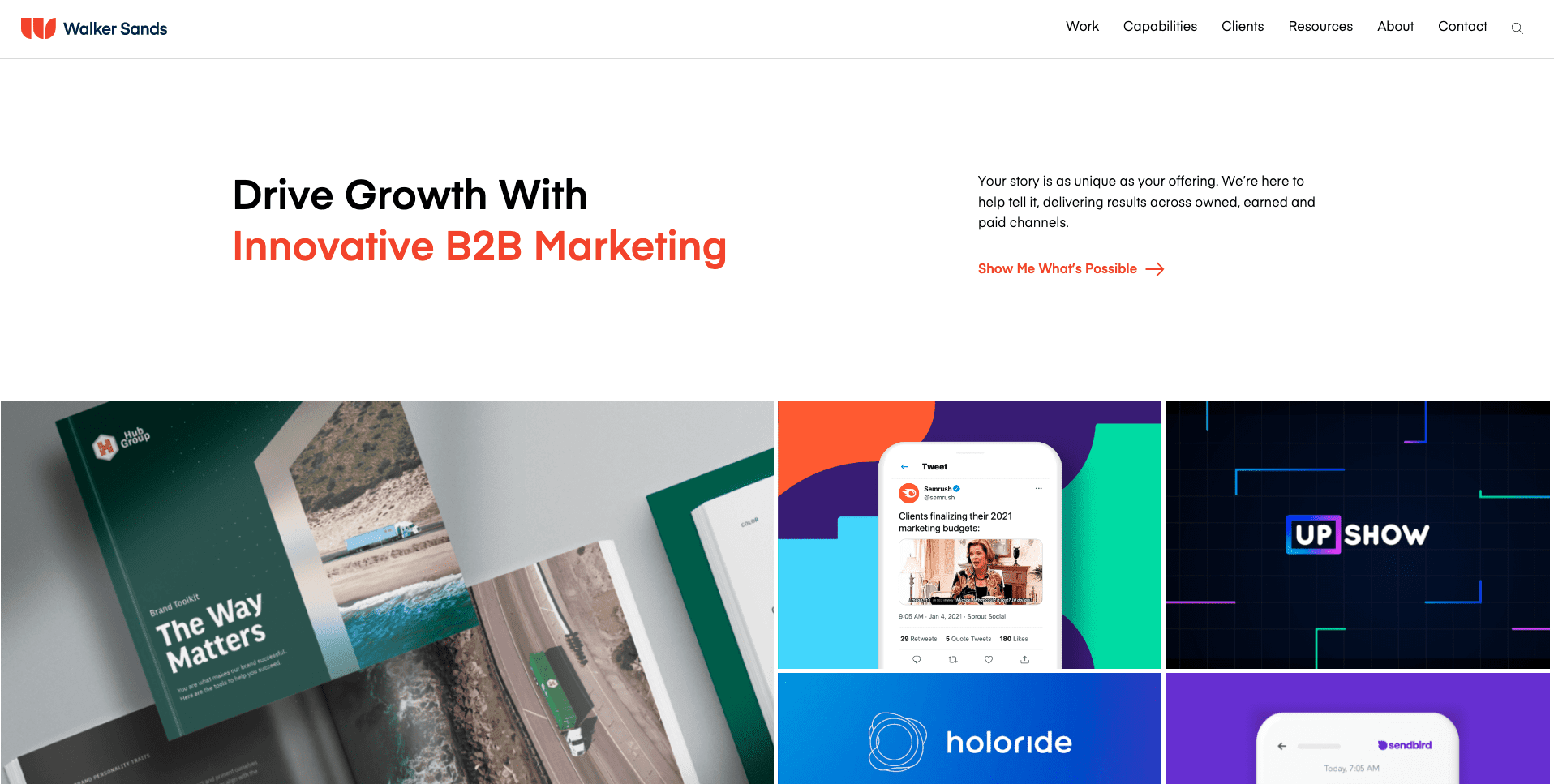 There's no denying it: Walker Sands is good. From their about page: Since 2001, we've been pushing the limits of what B2B marketing can do to get the results and recognition our clients deserve. We pride ourselves on helping B2B brands reach their goals — whether that's increasing revenue, pushing into new markets, attracting top talent, going public or getting acquired — and we always play for high score. Intense. They have a clearly emphasized focus on excellence and this B2B marketing agency has worked with the big brands to prove it: GrubHub, G2 Crowd, RaspberryPi. The company's big enough to work across seven industries:
Artificial intelligence
Distribution and logistics
Electronics
Fintech
HR technology
IT services
Insurance technology
Marketing technology
Professional services
Retail technology
And they offer the full breadth of marketing services – from branding and design to public relations. Also, as a side note, I'm a personal fan of their site (there's just something about the clean aesthetic that works).
At a Glance:
Bottom Line: Walker Sands is a great option for big technology brands looking for the big brand experience done well. If your product isn't "super cool" or your business isn't big enough to justify a big budget, though, you may want to look at other options.
While Sweet Fish Media does one thing, Hinge Marketing does three main things: B2B marketing, yes, but also digital marketing education (through online courses) and also dedicated research projects. The research offering is their calling card; they've used it to generate a plethora of reports and data, most of it based around their specialty in marketing for B2B services – and, more specifically, in marketing for B2B consultants. Hinge is based in Virginia, but they've served clients all over the world. Here's how they describe their approach: With more than a decade of high-growth research and successes behind us, Hinge has developed practical, reliable programs to transform almost any professional services firm into a high-performing standout.
At a Glance:
Bottom Line: If you're looking for a B2B marketing agency to conduct and apply research for your professional services firm, Hinge is a good bet.
Ready to Work with a B2B Marketing Agency?
Hopefully, this list is helpful as you think through your B2B marketing needs. If you're looking for lead generation and revenue growth – get in touch with us. New North's mission is to help B2B businesses grow with intelligent marketing that drives measurable results. Want to see if we're the right fit for you? Let's hop on a call today. Hope to talk soon, and here's to your success in a B2B marketing engagement.