Why is it important to know the difference between ad landing pages and general website pages?
The short answer: it's one of the more common mistakes we see businesses make in their marketing and it impacts campaign performance.
When businesses don't understand that these pages serve different purposes, they risk tanking customer acquisition and not seeing an ROI on their ad spend. They also can skew website tracking data and lose their chance to reach their audience in the correct place in the marketing funnel.
The longer answer is more extensive, and that's exactly what we'll be unpacking in this post, along with detailing how these pages differ and how you can build a better landing page.
What's the difference?
While there are many differences between landing pages and websites, here are a few key contrasts.
They Serve a Different Purpose
Well, the most obvious is the difference in how these pages practically affect your businesses' marketing.
It all goes back to how you define their qualities and purpose.
A landing page is a web page that a visitor can arrive at or "land" on, typically by clicking from an online ad or search engine result. It's also known as a destination page, static page, single property page, squeeze page, or lead capture page.
That final name in the list above describes the purpose of landing pages. They capture leads or drive conversions.
The average landing page conversion rate is around 2. 35% across various industries, but the top 25% are converting at 5.31% or higher. (The ideal landing page would fall into that 24%.)
A website page is not exclusively built to drive conversions; it's a part of a larger ecosystem or pages.
Can a well-built, robust website page capture leads? Of course! But that is not their only purpose. Many website pages are just one step of many along the buyer's journey. A website should be created to establish credibility and present your business to any visitors. Your branding and customer service are at stake here.
Bottom line: A website's purpose is multifaceted. A landing page has one purpose: to capture leads.
They Include Different Information
Another significant difference is what content is included in a landing page vs. a website page.
There are much fewer words on a landing page, and the content is very focused. Also, as the singular name implies, a landing page is only one page.
As an example, here is a list of well-crafted landing pages from Search Engine Journal. Each is focused on the conversion and applies the less is more philosophy.
Here's a specific example in this Slack landing page: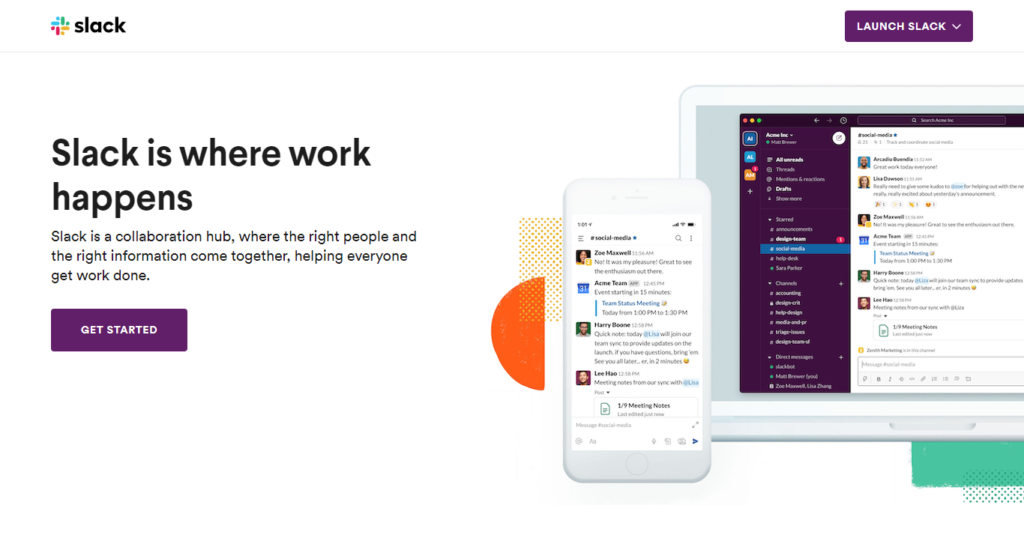 In contrast, websites have multiple pages and offer much more information, from details about service offerings to a mission statement and business history.
Examples of these pages would be a homepage, features or service page, an about page, or even a full blog page.
Here's our New North homepage and blog page. You can see that while they have the same branding, their design and content are different.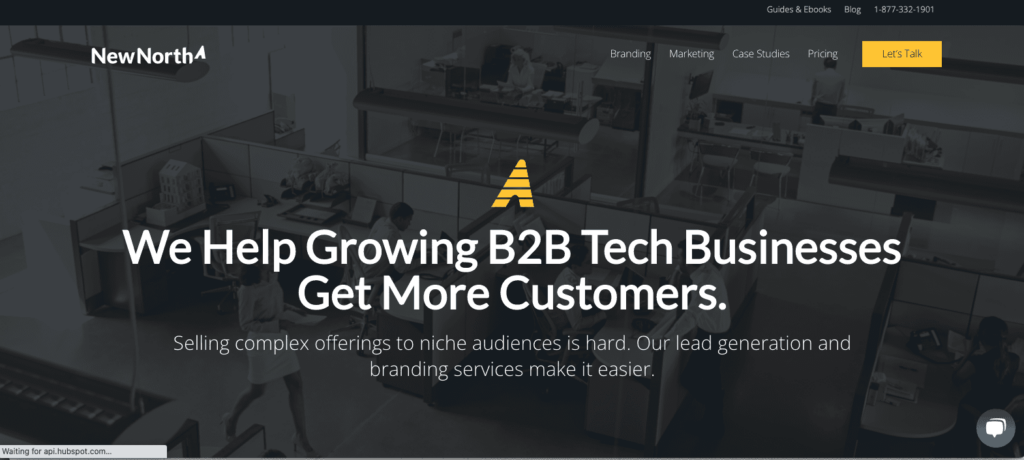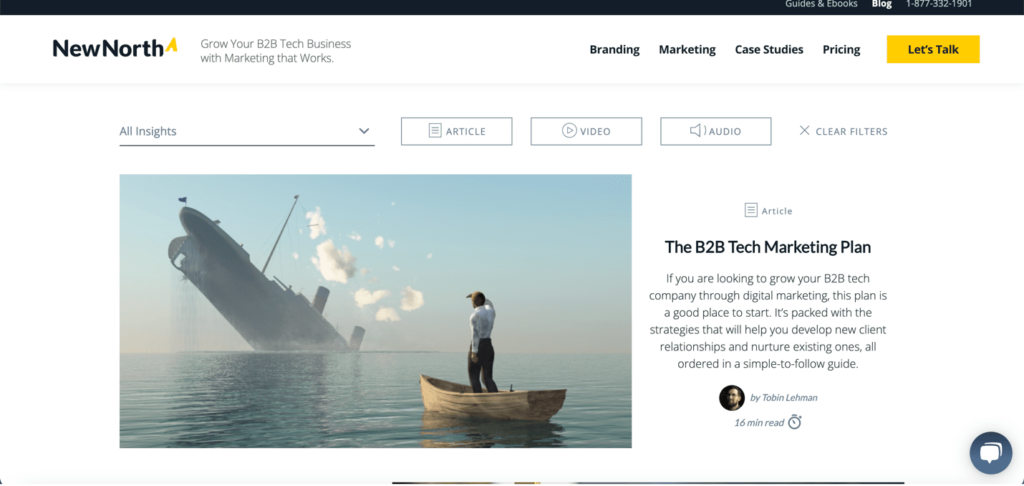 Bottom line: Landing pages are designed to be direct and concise.
The Approach to SEO
Finally, the approach to search engine ranking is not the same.
It's a given that most businesses want their website to have a strong SEO presence, so it ranks high on search results. It's a best practice across any industry from B2B to B2C.
However, for landing pages, the approach is different. As a general rule, your landing pages aren't used for SEO ranking because it's far less content-rich and much of your content will be duplicated by other pages.
Bottom Line: Invest in SEO for your website, not your landing pages.
As we pivot to the next section of this post, we'll start to focus more heavily on landing pages, specifically what basic rules to follow when creating one.
Key Elements of an Effective Landing Page
Landing Pages should constantly be optimized for conversions.
As we mentioned earlier, your landing page is all about conversions. This needs to be reflected in every aspect of its content, design, and strategy.
Content
The messaging on your page should engage and promote trust with the visitor. Chances are they just clicked on your ad and are looking for the next steps and reassurance about their choice. Don't use corporate speak or empty fluff. Speak to their pain points and concerns with empathy and practicality.
If you're struggling with jamming in specifics or using definitive language, remember that's it's okay to borrow from content that already exists on your website.
Also, always include clear and strong calls to action (CTA). We can't stress this enough. Don't overstuff but give your customer a clear idea of where to go next.
Bottom Line: Being clear in your landing page content is better than being clever.
Design
The web design of your page also plays a significant role in conversions. Your design should be simple and in line with your company or business's branding. Consider removing all or most of the navigation.
Add an aesthetically pleasing image, along with a minimal text that is specific enough to stir interest in a conversion.
A form should be included on all landing pages. This will capture the information you need about the lead and provide your lead with a next step.
Finally, make sure your landing page is optimized for visitors on mobile.
Bottom Line: Your design should keep interest and guide actions.
A/B Test Everything
This optimization practice will allow you to see what aspects of your landing page convert and what don't.
A/B testing compares two versions of a web page to see which one performs better in terms of conversion rate. Version A is the control, and version B is the variation. Traffic is split between the two versions, and data is collected to see which version produces more conversions.
It's a relatively simple way to enhance user experience and helps you understand your target audience's preferences.
Also, continue to A/B test your landing page. It's not a one-and-done action but an incremental process.
Here's a quick list of tools to use for A/B testing and optimization.
Bottom Line: Don't sleep on improving user experience through A/B testing.
Ad Alignment
We referenced them earlier because ads are essential for understanding landing pages. These two elements must work together in harmony. If a lead clicks on your ad, it should feel like they've moved to the next room, not walked into a different building. That means branding and design should be similar.
For Google ads, match your researched keywords to your ad copy. The alignment will reduce your costs and build your ad's Quality Score.
Bottom Line: Your landing page should fulfill the expectations set by your ad.
Ready to learn more about landing pages?
Look, there are different ways to approach websites pages and landing pages. But by understanding the information detailed above and employing the correct mix of strategies, intelligently implementing tactics, and optimizing your results over time, you'll be able to utilize your landing pages more.
And if you want help, reach out.
At New North, we've been helping B2B businesses to create landing pages for over a decade. Let's talk through your marketing goals and analyze your funnel to find out how we can improve your stream of new business. Schedule a free consult today.