Looking for B2B tech marketing? You've come to the right place.
At New North, we've been serving B2B technology companies with award-winning marketing for over a decade. Do you have one of these issues?
You need to connect more effectively with potential buyers. Either your message isn't crafted in a way that resonates, or you're speaking to the wrong audience.
You need to drive more leads. You have a solid offering. Now, you're ready to take the next step. That may mean entering new geographic areas, introducing new products, or simply building a bigger pipeline.
You need marketing support. The machine is humming, you just need more capacity to market effectively. You want a team you can trust to design and carry out strategic marketing initiatives – from collateral creation, to demand generation, to customer retention.
We can help.
We work with mid-level to enterprise-level brands to shape B2B tech marketing strategy and tactics that drive measurable results. Here's a brief overview of what we offer.
Digital Marketing Services
If you're interested in learning how digital marketing can help your B2B tech firm – let's talk.
The Next Step: Get a Free Marketing Consultation
Get in touch with us today to talk B2B tech marketing strategy. We'll review your current activities and identify challenge points and areas of opportunity, then begin to chart a roadmap toward marketing that reaches your goals.
Learn More About B2B Tech Marketing
If you're not ready to move forward – or if you want to learn more about B2B tech marketing – keep reading. Over the rest of this page, we'll walk through commonly-asked questions and offer B2B tech marketing insights to help you get a better understanding of how to market your firm.
We'll cover:
Ready? Let's dive in.
B2B Tech Marketing Resources You Should Be Reading
These are the blogs and publications that are worth following if you're looking to grow your skills (or your B2B tech business), broken down into three categories:
In combination, these resources will provide a wealth of information that will help you to improve your B2B technology marketing.
Tactical Tech Marketing Resource: PPC Hero
PPC Hero, like its name suggests, is dedicated to teaching paid search marketing tactics and strategies. It's actually run by an agency (Hanapin Marketing) that focuses specifically on training internal marketing employees. From their site: "We find our success in supporting digital marketing heroes as they face uphill battles every day in an industry that never stops changing."
Their blog is packed with useful, tactical tips on SEM-related topics from AI in PPC to scripts for managing Google Ads budgets.
General Technology Marketing Resource: Martech.Zone
Not to be confused with the other Martech blog on this list, Martech.Zone is dedicated to tactically using technology in marketing. (The other Martech-named publication, which we'll discuss later, focuses more on the news side of things).
It's got a regularly updated, wide-ranging selection of B2B marketing technology articles to check out – everything from "How to Redirect WordPress in Header" to "Everything You Needed to Know About Retargeting and Remarketing!"
Technology Business News Resource: Ad Age
You have to include Ad Age in any list of the marketing resources that are worth reading, right? For our purposes, I've narrowed the publication down to its marketing blog section.
Here's the brief: "Ad Age is a daily must-read for an influential audience of decision makers and disruptors across the marketing and media landscape. Created in 1930 to cover a burgeoning industry with objectivity, accuracy, and fairness, Ad Age continues to be powered by award-winning journalism." Yes, it's been around since 1930 – only valuable things last that long.
Want more?
These three resources are just a start. For our full list of B2B tech marketing reading material, view the post, "15 Best B2B Tech Marketing Resources for Growing Your Skills and Business".
A Monthly B2B Tech Marketing Plan
B2B tech is a broad term, so it's impossible to fit one plan to every B2B tech company. But, at a general level, there are tactics that are proven to work across multiple contexts.
We've written about them here.
Generally, these tactics are presented sequentially, meaning that they're best tackled in order. But it's likely that you have more experience in certain areas and less in others, so feel free to jump around to the sections that are most useful for you.
Everything you'll need to market your B2B tech firm is included in this guide. It covers:
Work through each of these pieces and tailor your own plan accordingly. And if you have questions or need help executing strategy, we're here to help.
The Best B2B Tech Marketing Agencies
B2B technology marketing is difficult. The good news is that a lot of agencies do good marketing work. The trick is in finding a partner that's a good fit for your needs.
Here's our list of the top B2B technology marketing agencies to help you make the right decision this year.
We may be biased in putting New North at the top of this list. We may also be totally correct. Either way, here we are, and there's nothing you can do about it.
We do growth-focused marketing for B2B technology industries like:
B2B SaaS providers
AV integrators
Technology consultants
Specifically, we're focused on lead generation (getting B2B technology businesses more clients) as opposed to branding (making pretty things – which is helpful but doesn't directly drive business). Tactically, this means that we're focused on channels like:
Email marketing (newsletters, automation, list building and optimization)
Social media marketing (organic social media, paid campaign creation and management)
Search marketing (SEO, pay-per-click campaigns)
Video marketing (testimonials, service explainers, social videos)
Content marketing (blogs, ebooks, web content)
Web design and development
What sets us apart most, though, is our agile approach to marketing. You can read more about what that means here, but the gist is that we balance long-term strategy with short-term opportunities to get better results and drive leads. We're a great fit for mid-market businesses that are looking to grow.
TECH B2B boasts a straightforward name and plenty of expertise in technical manufacturing and product companies. Interestingly, they were founded by a journalist (Winn Hardin) back in 1996. So they've proven their mettle.
They're sales-focused more than aesthetics-focused, and they feature a broad range of tactics that include some offline capabilities (like trade show collateral creation and sales planning). From their homepage:
"Public relations and marketing are not goals. They are processes: ways to build customer loyalty and media relationships, maximize existing customer sales, and find new customers for top-line growth." I'm in agreement on that; too many companies make the mistake of pursuing tools ("I need to be on Instagram") over strategies ("We need to drive more subscription sales. Let's figure out the best tools to make that happen"). In other words, TECH B2B is starting from the right place.
The company focuses on integrated marketing, which essentially means that they work in support of the full sales funnel and seek to use data across it.
The bottom line: if aesthetics are a focus for your business, TECH B2B may not be the best fit. But if you're focused on driving increased sales for something like hardware or technical manufacturing, they're definitely worth a look.
There's no denying it: Walker Sands is good.
From their about page: "Since 2001, we've been pushing the limits of what B2B marketing can do to get the results and recognition our clients deserve. We pride ourselves on helping B2B brands reach their goals — whether that's increasing revenue, pushing into new markets, attracting top talent, going public or getting acquired — and we always play for high score." Intense.
They have a clearly emphasized focus on excellence and they've worked with the big brands to prove it: GrubHub, G2 Crowd, RaspberryPi.
The company's big enough to work across seven industries:
Artificial intelligence
Distribution and logistics
Electronics
Fintech
HR technology
IT services
Insurance technology
Marketing technology
Professional services
Retail technology
And they offer the full breadth of marketing services – from branding and design to public relations. Also, as a side note, I'm a personal fan of their site (there's just something about the clean aesthetic that works).
The bottom line: Walker Sands is a great option for big technology brands looking for the big brand experience done well. If your product isn't "super cool" or your business isn't big enough to justify a big budget, though, you may want to look at other options.
How to Set Up a One-Page B2B Tech Marketing Funnel
Here's a simple strategy that consistently pays big dividends: create a landing page for your product or service and use it to convert paid traffic into customers.
This is one of our favorite approaches to take in lead generation, and it works in any B2B tech industry, as long as there's an established audience searching for the solution you're selling. We've used this method to drive leads for IT firms, SaaS providers, manufacturers, and more.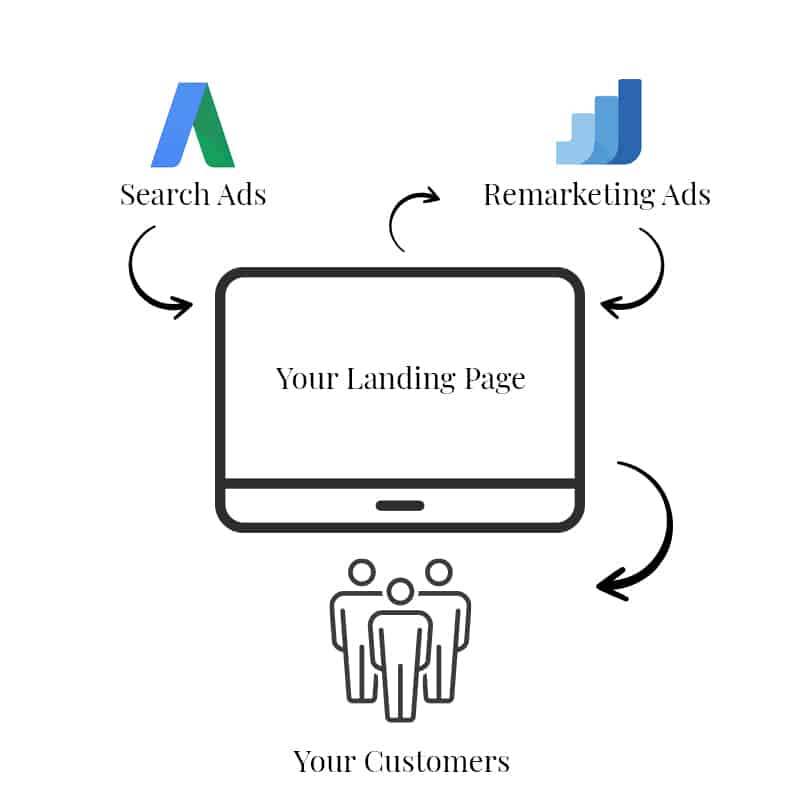 The one-page funnel can be set up in five steps:
Identify your top keywords
Create a landing page
Create a top-of-funnel offer
Drive traffic to the page with paid ads
Retarget people who visit the page
We've written a detailed post on that breaks down each of these steps – click here to view it, and start using this super effective B2B tech marketing tactic for yourself.
How to Use Data in Your Marketing
B2B marketing is hard; the audience is smaller, the persona is difficult to reach, most purchases require several decision-makers, and the competition is fierce.
To survive, marketers need to know they are reaching the right audience with the right message at the right time. This can't (and shouldn't) be done through the "shotgun approach" or based on anecdotal evidence.
When marketing our B2B businesses, we need to be making decisions off of data.
With the tools and resources available to us, the question is no longer can we do it, but how should we do it. What channels should I focus on? What metrics should I track/analyze? Which platforms should I use?
While the answers to each of these questions are specific to your company's marketing strategy and objective, we've written an article that walks through the key metrics you should know for some of the larger marketing channels. Along the way, you'll also learn about the systems that can be used to track these statistics. Then, you can use that data to improve the results for your B2B marketing.
Read the "Guide to Data-Driven B2B Marketing" here.
Tips to Improve Your SEO
Google's algorithm is constantly changing, but the foundations of SEO remain pretty consistent. Here are a few tips to keep in mind:
1. Take Advantage of Google Search Console
Google Search Console helps you measure your site traffic, flags any issues, and gives your site a boost when it comes to SEO rankings. For the most part, ranking for a number one keyword is dependent on how well you understand Google. Using Google-created tools can help you develop a deeper understanding of how Google views your website and what adjustments you need to make in order to increase your rankings.
2. Pay Attention to Mobile SEO
When you begin optimizing your B2B tech firm's site for SEO, a common tendency is to focus just on desktop users. But the world of mobile SEO is rapidly expanding – and, even in the B2B world, it matters more than ever. Achieving high rankings for a mobile user is a little different than desktop. You want to ensure your social profiles are set up and that your site is mobile responsive. One tactical note: on mobile, generally avoid pop-ups. Google docks mobile sites that use intrusive pop-ups.
3. Your Video Strategy Matters
B2B SEO is is no longer just about written content. Google has begun to increasingly integrate video content into SEO rankings. When people google a question, videos are popular methods of generating answers, because they're short, sweet, and engaging. One interesting strategy is to create videos that answer popular search queries. For example, if someone googles "how to select the right ERP," it'd be great if your short (under 2 minutes!) video popped up to answer their question.
4. Keep Working for Backlinks
You can't cheat when it comes to backlinks. Google really comes down hard on creators who attempt to scam the system for more backlinks. If they catch wind of the fact that you're making donations in exchange for backlinks, you'll almost certainly be blacklisted. If they think you're using a mass directory scheme, your SEO will be punished for it.
One of the best ways to curate backlinks is to reach out organically to users who may be interested in your content and see if you can write a guest blog post for them. Get your business on high-quality directories, such as Yelp or YellowPages. Creating a great backlinking network takes time. Keep working away at it.
5. Create a Pillar Page
Pillar pages are the core of your SEO strategy (and yes, you're reading one right now). You should have one pillar page per high-value keyword. Blogs that are related to this high-value keyword should all link back to the pillar page, thereby lending it credibility and authority. Think of your pillar page as your core knowledge demonstration around a topic. This is the page that you want to rank for your most important search terms (like, in our case, B2B tech marketing).
Mistakes to Avoid in Your Content Marketing
Content is foundational in any marketing effort, which means you can't afford to make these mistakes.
1. Stop content marketing to everyone.
The first step to better content marketing is to narrow your audience as much as possible.
We've written about audience targeting before. The gift and the curse of the internet is that you can reach anyone with your content. Remember, though, you don't need to reach everyone – you only need to reach the people who will buy your services.
For B2B tech companies, here's what that means: define who your ideal customer is, and write directly toward them. For example, one client of ours is a managed IT service provider that only serves professional service firm offices with more than 20 workstations. For a long time, though, they were producing content that could have applied to anyone with an interest in IT support, which resulted in subpar SEO results on the high-competition general topics they were writing to, and irrelevant traffic when users did find them. (Healthcare IT leads are useless if you don't provide healthcare IT.)
By shifting their content to an explicit focus on a certain type of client, they were able to speak more effectively to certain topics. The result? More (and better) traffic – and ultimately, more (and better) business.
Take the time to hone down your audience as far as possible. Tools like buyer personas and StoryBrand can help.
Is your ideal customer the tech administrator at a 50 workstation professional services office? Are they the VP of HR? Are they the facility manager at an industrial warehouse?
Whoever they are, find them (this takes research), and then write for them – not for everyone else. If you don't narrow your content down, your B2B tech marketing efforts will fail.
2. Stop saying what you want to hear.
With the audience identified, it's time to speak their language. That means creating content that interests them, instead of focusing on content that interests you.
I've written about this in more depth here, but it's worth a brief recap. There are two basic tenets to a client-centric content marketing approach:
Position your customer (not your company) as the hero in the stories you tell. Create messaging that focuses on how the customer can win with your service – not on how your service is the best because of how many years you've been in business, or on how great you are at incorporating certain types of technology. Those things are valuable only insomuch as they serve your customer.
Write to topics that your customers are searching, and use their language. Don't write blogs around things you think are interesting. Write blogs around what your ideal customers are searching for. And, on that note…
3. Stop using B2B tech jargon.
This comes back to using the language of your customers. You know firsthand that B2B tech is as jargon-packed a field as you'll find. Don't hope to impress customers with B2B tech marketing language they won't understand. Instead, impress them with how much you understand them.
A quick way to determine if you're using too much jargon: give your sales pitch to someone who's not in the industry. Even, better, give it to a fifth-grader. If they can understand it, you're doing well. If not, get simpler.
Yes, your clients are almost certainly tech savvy. But the reality is that jargon varies so much from organization to organization – and even from department to department inside of an organization – that it's always better to speak in plain terms than to risk fanciful obscurity.
Create content marketing that's clear.
Tips to Start Driving Leads
This is the end goal: B2B tech marketing should help firms to get new clients. But how should it work?
It's a big question – but it's important to get right, because leads are key to business growth. With that in mind, we're putting our extensive B2B tech marketing background to work to answer it correctly. Admittedly, there's a lot of noise out there that can get in the way of good results.
Here's how we've helped B2B tech firms to keep new business coming in:
Define the audience.
Shape the message and your firm's value propositions.
Make the website work.
Build intelligent paid ad campaigns.
Create impactful content.
It's important to note that these steps should (nearly always) be completed sequentially – so you wouldn't be able to, for instance, "create impactful content" before "defining the audience".
We've written about each of these steps in more detail in this article: "B2B Tech Marketing Lead Generation Tactics". Dig into each step and start bringing leads in.
Ready to Get Started with B2B Tech Marketing That Gets Results?
Hopefully, the information presented here has been helpful as you consider your own firm's marketing approach. If you're ready to move beyond information and start taking action to build your business, let's talk.
Schedule a free assessment, and let's take your marketing to the next level.