Looking for a B2B SaaS marketing agency?
Congratulations – you've come to the right place. Here are our picks for the top B2B SaaS marketing agencies in 2023:
Any of these firms could be a good fit for you, depending on your niche and your needs. (See the Bottom Line section of each listing for a quick fit check.)
Now, I'm not going to bore you with a long intro and a lot of keyword stuffing. But I do want to clarify the answer to a question you probably have…
Q: Why are you qualified to make this list?
A: Good question. Basically, we're pretty qualified because we've been doing B2B SaaS marketing successfully for over a decade. We've helped SaaS firms increase AAR, build user bases, and grow, and we've seen agency competitors come and go. We also built and sold our own SaaS product.
In other words, we know the playing field.
Okay – that said, let's just jump into it. Here are the top 10 B2B SaaS marketing agencies, based on our review of the industry as it stands in 2023.
1. New North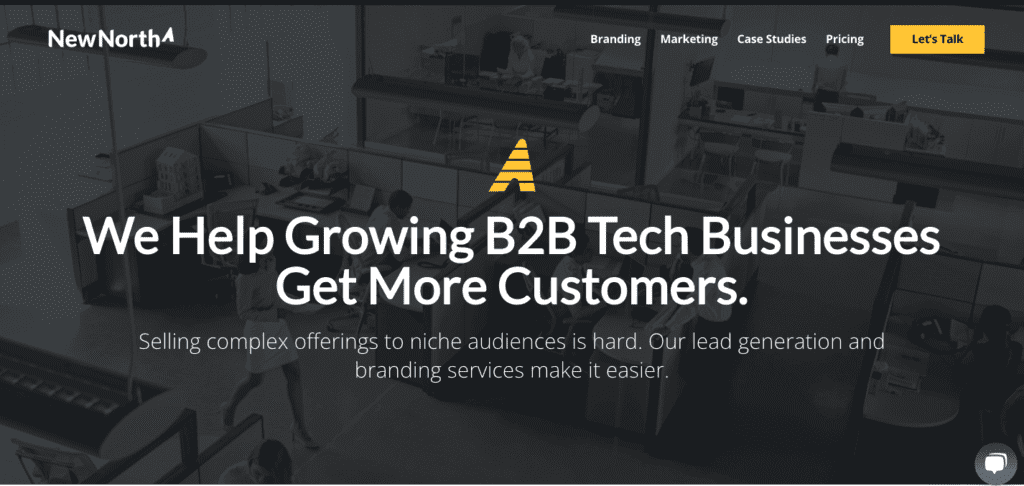 Yeah, we're listing ourselves as one of the top B2B marketing agencies. Are we biased? Maybe – but maybe we're totally correct, too, and anyway, it's our list.
Anyway, the brass tacks: We do growth-focused marketing for B2B SaaS companies. Specifically, we're focused on lead generation (building user bases) and branding (building awareness in your market). Tactically, this means that we're focused on channels like:
Design (logos, style guides, collateral)
Email marketing (newsletters, automation, list building and optimization)
Social media marketing (organic social media, paid campaign creation and management)
Search marketing (SEO, pay-per-click campaigns)
Video marketing (testimonials, service explainers, social videos)
Content marketing (blogs, ebooks, web content)
Web design and development
We have deep experience in the B2B SaaS space; like many of the firms below, we built and sold our own SaaS product. What sets us apart most, though, is our agile approach to marketing (something there's a good chance you're familiar with). We've written more on how the approach impacts us here, but the gist is that we balance long-term strategy with short-term opportunities to get better results and drive leads.
At a Glance
Founded: 2008 // Co-owners: Tristan Pelligrino and Justin Brown // Notable clients: Langner, Real Networks, Blue Pillar
Bottom Line
We're a great fit for enterprise SaaS firms looking to launch targeted campaigns and for startups that are looking to grow brand awareness quickly.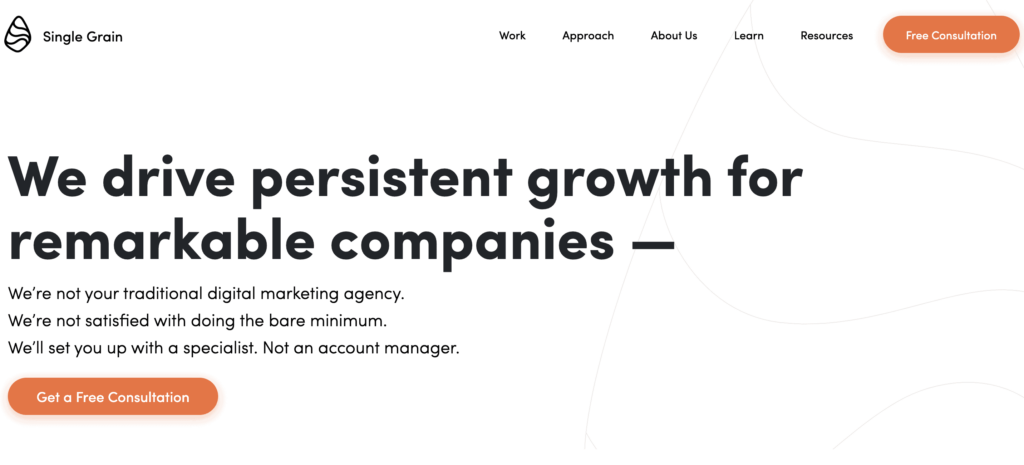 Single Grain is one of the more recognizable names in the B2B SaaS marketing space, thanks largely to the fact that their CEO, Eric Siu, is kind of a marketing celebrity – he hosts the podcast Marketing School with SEO-guru Neil Patel.
The backstory on the company is kind of interesting. Siu bought the agency in 2014 from a friend for $2. At the time, the company had been exclusively focused on SEO, but had been struggling and seemed on the brink of going under. Siu transitioned the firm from SEO specialists into a full-suite agency. From there, his team was able to steadily grow things to the point they are today.
Here's how the company explains their approach:
We use smart, innovative, cutting-edge digital marketing strategies to find the right leads for your SaaS business, and can build marketing funnels that turn them into users.
The firm's not exclusively SaaS-focused or specifically B2B-focused, but they have done work with some notable brands in the B2B SaaS space, like Intuit.
At a Glance
Founded: 2014 // CEO: Eric Siu // Notable clients: Intuit, SEMRush, Wave
Bottom Line
Single Grain is a great option for B2B SaaS companies with closer-to-B2C products. They offer a wide range of services, and they're especially adept at SEO.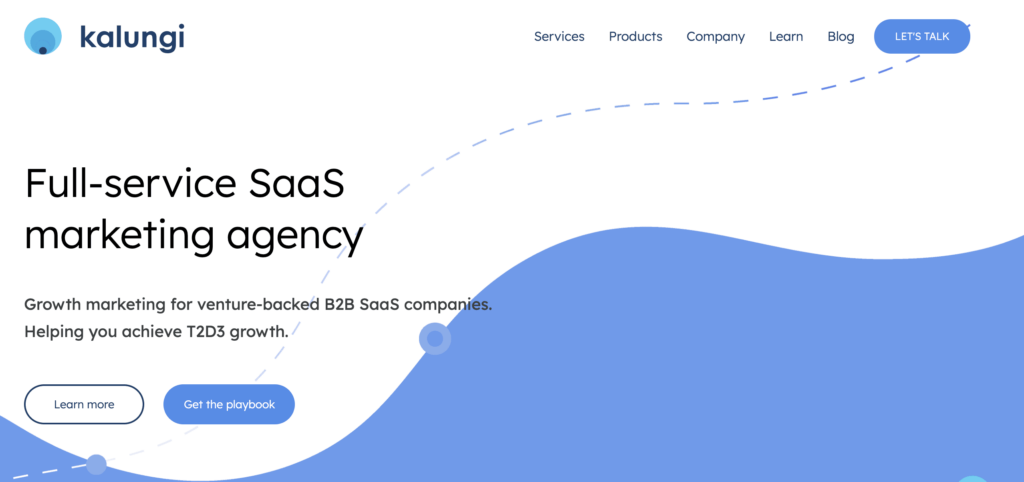 Kalungi is a relatively new player in the B2B SaaS marketing space (the company was founded in 2018), but they've quickly risen toward the top of the field thanks to a focus on B2B SaaS. In other words – yeah, marketing for this niche is pretty much all they do, which is why they're good at it.
Like ourselves and Single Grain, Kalungi is a "full service" agency, meaning they offer a wide range of tactics. However, instead of breaking down their offerings into different tactical channels (i.e. SEO, email, video, and so on), they break their services down based on the growth stage of their clients. So, they've got packages for teams from $1-10M AAR, from $10-$100M AAR, and $100M+ AAR.
Here's how they explain their approach:
From starting up your business to scaling it to the top, we offer a variety of specialized B2B marketing services for software companies, and packages that provide results fast.
One last notable thing – they have a specific package for VCs looking to audit their investments.
At a Glance
Founded: 2018 // CEO: Fadi George // Notable clients: Acumatica, Ascend Software, Permit Docs
Bottom Line
Kalungi is worth checking out if you're looking for investor-savvy marketing or a very sharp growth curve.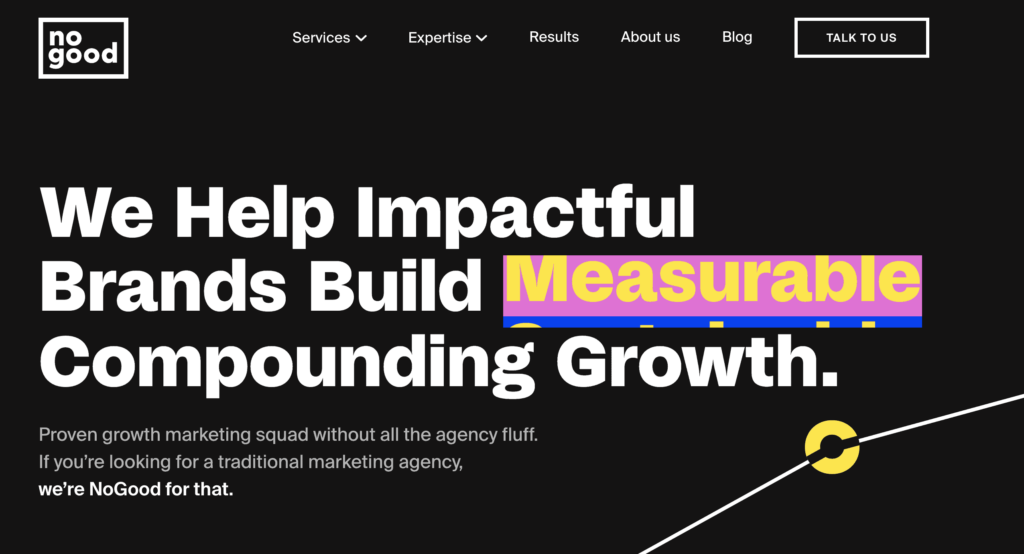 First of all, I love the name of these guys – it's slightly funny and it leads to copy that writes itself ("We're nogood for your competition…"). The look of their website and collateral matches it, too. Bottom line is that, from a branding perspective, these guys are good.
Like Kalungi, NoGood is a relatively new player in the B2B SaaS marketing space. Unlike Kalungi, NoGood isn't specifically focused on the B2B SaaS marketing space. Their client base is pretty broad – rather than a focus on a single industry, their focus seems to be on scaling.
They're a full-service agency with a sweet spot in branding. Here's how they put it:
We are hyper-focused on increasing your revenue. We leverage learnings from thousands of experiments with successful brands and startups to refine the growth playbook we create for your business.
They're also highly familiar with the VC world; many of their team members came from it, and they continue to rely heavily on that background.
At a Glance
Founded: 2017 // CEO: Mostafa ElBermawy // Notable clients: Ghostery, Ventract
Bottom Line
NoGood is great at branding and a good option if you're looking to scale quickly.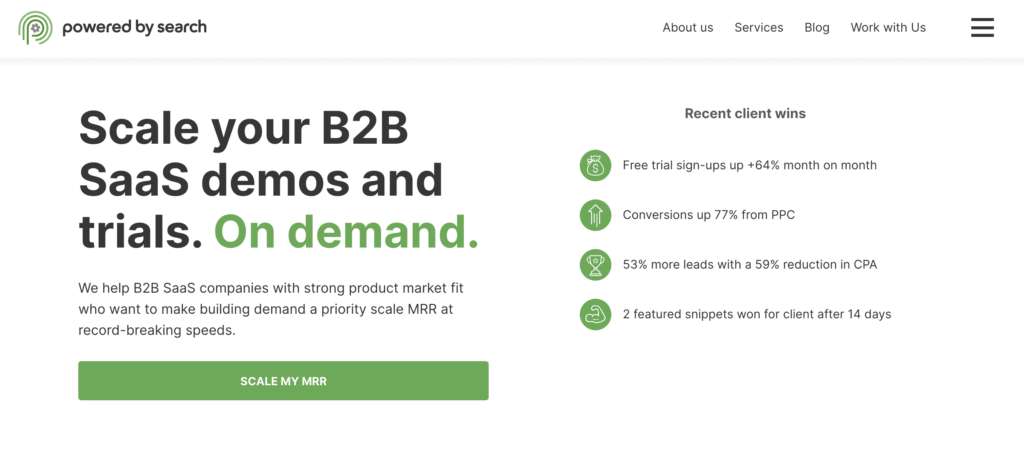 Powered By Search bills themselves as the B2B SaaS marketing agency, which we think is a little pretentious (although arguably not as pretentious as listing your own company first on a list called "top B2B SaaS marketing agencies," so we'll let it slide).
As you can tell from their company name, they're sharply focused – not only are they locked in on B2B SaaS, but they're also specifically built for search marketing. Now, that's a broad category (they include things like conversion optimization and social ads in it), but it's a narrower suite of services when compared against most of the other firms on this list.
Their tagline says it all:
Scale your B2B SaaS demos and trials.
That's what they do – simple and to the point.
At a Glance
Founded: 2009 // CEO: Dev Basu // Notable clients: Structure Studios, TouchBistro, PointClickCare
Bottom Line
If you're looking for B2B SaaS search marketing, Powered by Search is well worth consideration.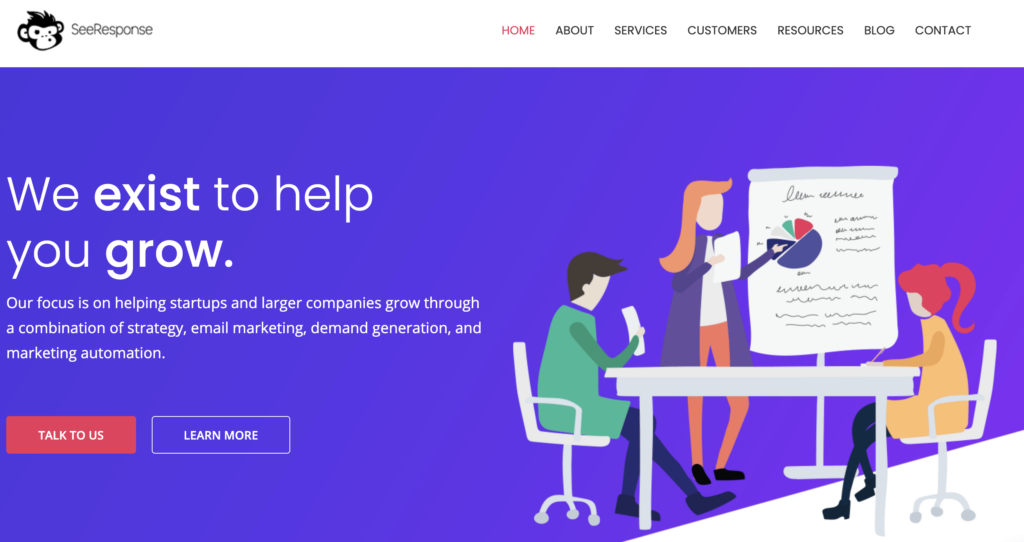 SeeResponse has built a website that looks exactly like a thousand SaaS websites – which I'm sure is the point, because their focus is on marketing for B2B software (although they've expanded more recently to do B2B technology in general).
From their about page:
"We are a digital-savvy bunch of passionate B2B marketers. Our expertise and experience in marketing strategy and execution bring to the software technology businesses world-class marketing services, without having to spend gazillions of dollars."
They offer all of the digital marketing services you'd expect (inbound marketing, email marketing, SEO & SEM) and some additional services you might not (sales appointments, sales operations).
At a Glance
Founded: 2016 // CEO: Sheena Rijwani // Notable clients: Knack, BitTaxer
Bottom Line
If you're a B2B tech software startup looking for a marketing recipe, SeeResponse has a good one.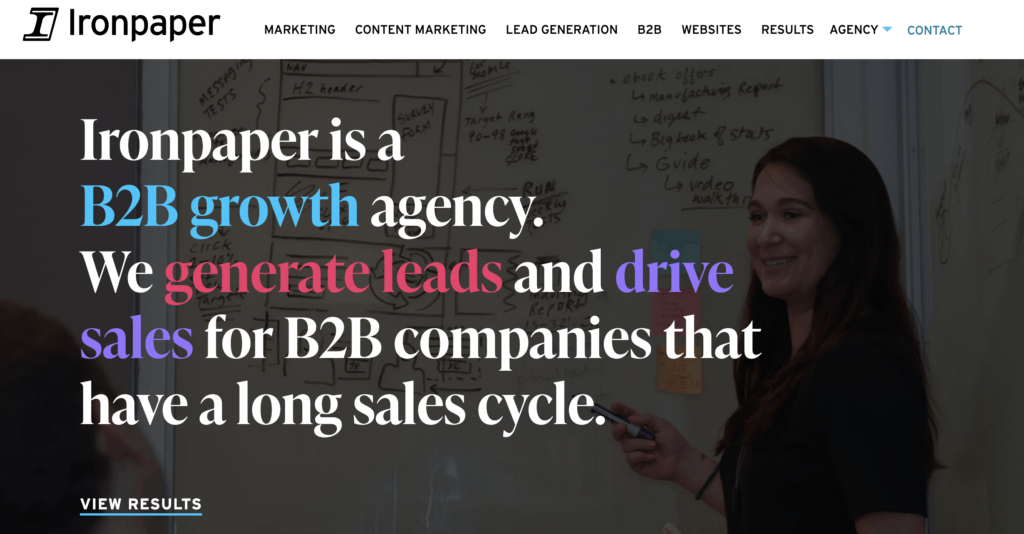 Ironpaper is another B2B marketing agency that's focused primarily on lead generation. They're not specifically SaaS-focused; as you can see in the above screenshot, their speciality is in working with companies with a long sales cycle.
The upshot is that while they may not be a great fit for B2B SaaS companies that sell at a lower price point, they have appeal if your product is in the enterprise space or is technically complex.
Here's their story:
Ironpaper was founded in New York City in 2003 with a mission to help companies drive growth using the internet. Today, our 50+ person team has taken this mission to heart. Ironpaper is a specialized agency. We focus on helping remarkable B2B grow. Our work crosses the boundaries of B2B marketing, content, sales enablement, qualified lead generation, website design, and B2B strategy.
While they don't trumpet it in the way we've seen some other companies do, it's worth noting that Ironpaper is a Diamond Hubspot partner – meaning they're at the second-highest tier of the program.
At a Glance
Founded: 2003 // CEO: Jonathan Franchell // Notable clients: SAP, Nokia
Bottom Line
If you're looking for a big agency that has experience in technical industries, Ironpaper is certainly worth putting on your list.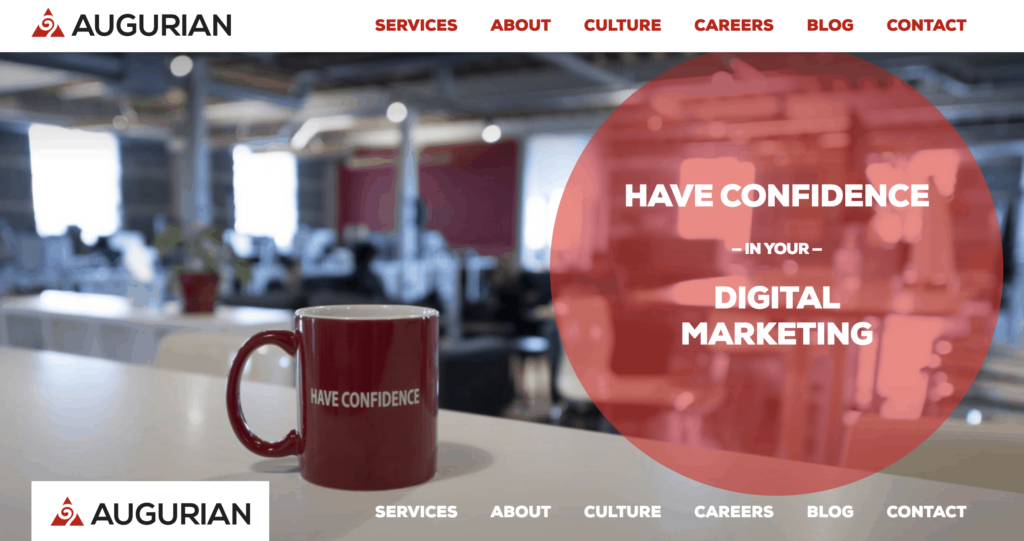 Augurian wants you to "have confidence in your digital marketing." The company takes its name from "the augurs of Ancient Rome who provided counsel to emperors". That idea represents their ethos well; they're strategically focused, meaning that instead of focusing first on tactics, they look for the best ways to reach goals and build trust, then let tactics flow from there.
Compared to the firms we've listed ahead of them, Augurian is something of a generalist agency. They serve B2B SaaS, but they also serve regular SaaS – and tech, and retail, and education, and manufacturing. That's not a bad thing, but it does mean they aren't absolutely locked into the niche. They make up for it with experience selling their own SaaS product, though.
We don't just work with SaaS companies; we know SaaS because we've built SaaS, too. That's why we can confidently speak to what SaaS companies need to do in digital marketing.
At a Glance
Founded: 2015 // CEO: Colin Hirdman // Notable clients: Leadpages, Vanco
Bottom Line
If you're searching for a strategic, full-suite agency with a background in SaaS, give Augurian a look.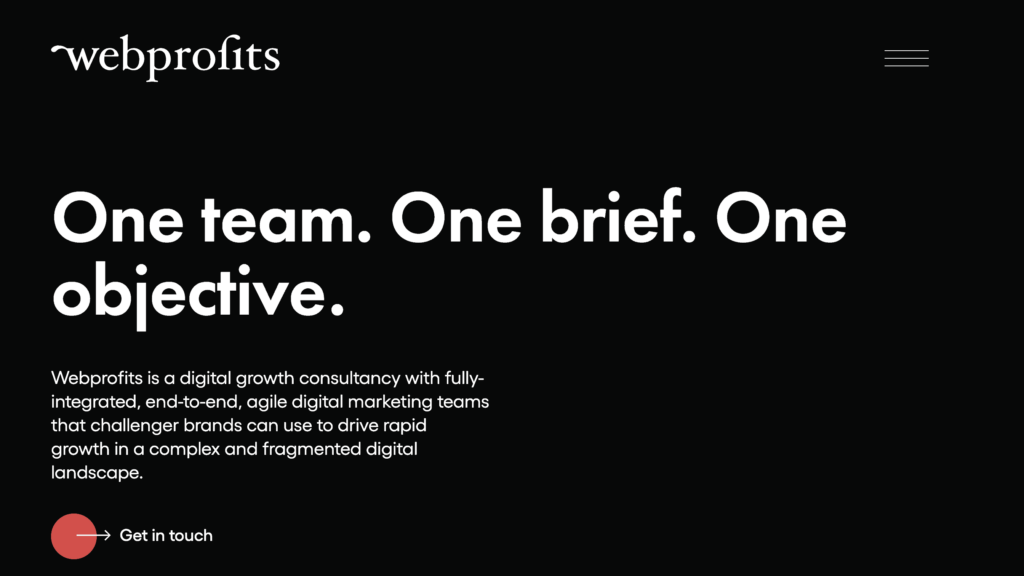 While the name Webprofits sounds vaguely like some kind of multi-level-marketing scam from 2009, the company itself is pretty solid.
Founded in 2006 and based in Australia with offices in Sydney, Melbourne, and LA, these guys are positioned as marketers for "challenger" brands. They focus on integrated marketing campaigns – complex initiatives like omnichannel product launches that take place across multiple regions – and their sweet spot is pulling branding into wide-scale tactical execution.
Like many of the companies on this list, they aren't specifically SaaS-focused, but they do have a good bit of experience in the vertical.
Here's how they describe their approach:
Webprofits is a digital growth consultancy with fully-integrated, end-to-end, agile digital marketing teams that challenger brands can use to drive rapid growth in a complex and fragmented digital landscape.
At a Glance
Founded: 2006 // CEO: Paul Sprokkreef // Notable clients: Logitech, Click Energy
Bottom Line
If you're looking for an agency that can help you pull off a multi-faceted campaign that challenges your industry's leaders, look at Webprofits.
Need a B2B SaaS marketing partner?
Hopefully, this list has been helpful as you evaluate your options. There are plenty of good B2B SaaS marketing agencies. The chances are very good that one of the companies above will meet your needs.
And, if your needs include branding or lead generation, the chances are very good that that company is us.
To find out if that's the case – and for a complimentary review of your current B2B SaaS marketing efforts – schedule a free consultation with us.
And no matter what, here's wishing you good luck as you build your B2B SaaS company with marketing! You've got this.