Your B2B tech firm can have the best sales team in the world, but if you don't have the right marketing strategy and tools, you'll struggle to bring in leads. Lead generation is a crucial part of any B2B tech marketing plan, but it's also complex and can feel intimidating.
Let's make it a little easier. Good work happens with good tools, and these ten B2B marketing in tech tools are a great place to start.
1. Google My Business
Have you ever googled a place to eat and seen the little box come up with several different businesses in it? This is what's affectionately known by marketers as the "snack pack." It's a small section of Google search results that highlights businesses in your area that match your search. If your business is impacted by location, you want to appear here.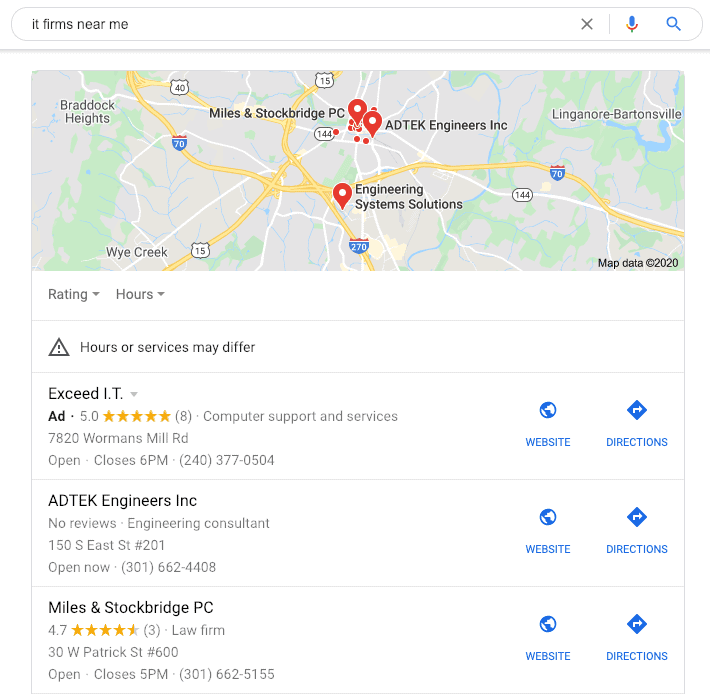 The only way to appear in the snack pack is with Google My Business. Google My Business is super useful tool for your B2B marketing in tech toolbox – and the snack pack is just the start.
Google My Business is also cost-effective way for your organization to see customer insights, gain more visibility on Google Maps and search results, and acquire customer reviews. It also gives you another opportunity to showcase what your business is all about. Google My Business is an essential lead generation tool because it can bring in more leads through heightened visibility and help you better understand your audience with customer insights.
2. Killer SEO Strategy
What's your current SEO strategy? How many blogs are you producing on a daily basis? Google My Business is one factor, but you can't consider a single factor alone when it comes to SEO. You want backlinks on other relevant websites, high rankings on search engine result pages, and online visibility. Without a great SEO strategy, the cost of B2B marketing in tech increases greatly, as you'll be stuck using paid campaigns to deliver leads.
While it's not a silver bullet, the most impactful way to increase your SEO rankings is to produce, produce, and produce great content. The more content you create, the better your chances at a great SEO ranking.
3. Website as Sales Support
This may seem out of place in a blog about online lead generation for B2B tech firms, but few things are better than combining your online lead generation efforts with your sales teams efforts. When someone on your sales team hands a new contact a business card, you want that contact to be able to find your website and have their message confirmed. Digital marketing and sales efforts complement each other quite well and can greatly increase the number of leads for your business.
4. The Right CRM Software
What CRM software do you use? Without a great CRM that works for your business, it'll be much more difficult to track leads, optimize lists and keep records of the sales process. You can integrate your CRM software with both your marketing and sales team. This will allow you to coordinate lead generation efforts by both parties. You may be surprised at how many leads your marketing efforts are bringing in once you establish better lead tracking protocol.
5. A Website That Works
Not all websites are created equal. Having a website online is not the same as having a website optimized for B2B marketing in tech and for lead generation. An optimized website has CTA buttons above and below the fold, in the header and the footer. There should be at least one eBook or other incentives to convert a visitor on your website. Contact forms should be readily available to the visitor at the bottom of each services page.
6. Good Brand Awareness
Brand awareness doesn't start and end with a website. A good PR and social media campaign can really help with lead generation. Public relations efforts can consist of press releases, paid advertising, podcasting, and more. Consider hosting events to generate leads, especially if, again, your services are impacted by location. While it is possible to generate leads from social media, we encourage our B2B clients to look at social media as a brand awareness platform.
7. Google Search Ads
Google Search Ads are highly effective at driving conversions because they target low-funnel users – people who are ready to buy. A great Ads campaign can rain leads onto your website and create high-quality conversions. Not all Ads campaigns have to be expensive. If you choose to go for long-tail keywords, you can often be competitive on a smaller budget. The key to using PPC ads for lead generation is to perform comprehensive keyword research and develop a great strategy.
(See a simple and effective approach to running a paid ads campaign – a "one-page funnel.")
8. LinkedIn Sales Navigator
LinkedIn Sales Navigator is a new tool for your sales team that combines social media and lead generation efforts. The Sales Navigator can often integrate with your CRM to offer you more information about prospects via their LinkedIn profiles. With the help of the sales navigator, you can receive lead recommendations, and learn more about your market and personas.
9. Segment Contact Lists
Just compiling contacts into lists on your CRM isn't good enough. You need to segment your contact lists into different subsets to do B2B marketing in tech effectively. For example, you could have one list for local contacts, another for national. You could also create separate lists by industry in order to target a group for an issue specific to that industry. There are a billion ways you can segment your contact lists. The best way to segment lists for lead generation is to ensure that you can contact a group based on a problem that your product can solve.
10. Great Relationship with Your Marketing Team
Hiring a B2B tech marketing team isn't enough. Building a great relationship with your marketing team is how you start to bring in more leads. You can work with your marketing team to build a cohesive overall strategy that integrates into your sales team and offers you options for building up leads and preventing customer churn.
At New North, we are experts in lead generation for B2B tech firms. After ten years working with industries including MSPs, SaaS providers, and VARs, we know what it's like to work in the tech industry. We offer a decade of expertise in paid ads, social media, website development, and more.
Learn more about how you can get leads flowing with New North's lead generation services.