Managed IT service companies can find an audience on social media. It's the focus of modern attention – for IT customers as much as for anyone else.
But the reality is that, as the market gets more and more saturated, reaching an audience in the midst of the noise gets harder. That's especially true as social channels continue to monetize their businesses; on platforms like Facebook, normal organic posts are only reaching 10% of your entire follower base. That's rough.
Why? It's because social channels are cashing in on their audience – and that means they're making you to pay to reach yours.
While that's a bit of a downer (especially when reaching your entire audience on these channels used to be free), it's still a huge opportunity, because the cost per impression on social channels is still markedly lower than it is on comparable digital mediums. And, as we've mentioned, social media is where people spend their time.
If you're marketing your managed IT service firm, that means that you can benefit from using it well.
Let's take a look at how.
Expanded Audience Network
When you think about paid social media advertising, you probably think about showing your ads exclusively on the social media channel of your choice. Running a LinkedIn campaign? You'd expect your ads to reach users when they're on LinkedIn. Running a paid Facebook campaign? You'd expect your ads to reach users when they're on Facebook.
Right?
Well – yes. But campaigns have expanded.
In fact, platforms have started to roll out expanded audience networks that allow for off-platform targeting. For example, LinkedIn's expanded network promotes your sponsored content on a network of publishers beyond just the LinkedIn newsfeed. That means that your ads can show on LinkedIn partner sites, apps, and other digital channels based on where LinkedIn expects your audience to be. LinkedIn partners with these mobile applications and websites to reach more professionals and help your ad get more clicks and conversions.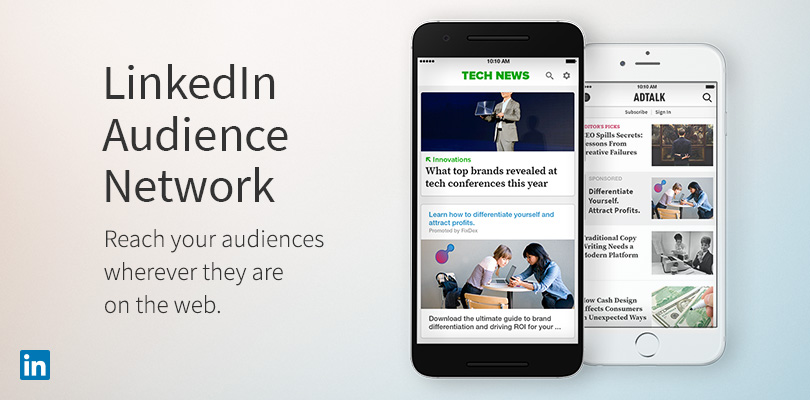 The same's true of other channels, too; for example, Facebook and Instagram have rolled out something similar.
The consequences of this are a mixed bag. On the positive side of the coin, you now have the chance to expand your reach even further than before, potentially generating more impressions and clicks. On the more negative side, using an expanded network gives you slightly less control over where users will be seeing your ads.
We tend to advise targeting as narrowly as possible, which sometimes means unchecking expanded network capabilities in order to serve ads to users on the platforms exclusively. But the right call will always be in support of your marketing goals, and the reality is that your managed IT service firm's customers may be reached through the expanded network.
In support of the right goals, an expanded network can be a powerful tool.
Reach the Right Audience
We've already established that paid social advertising helps IT firms to boost reach both on and off of social channels, and that targeting is crucial. Now, let's dive a little bit more into exactly what targeting can do for you.
Before we get started, let's review a few key terms that'll help you to determine how effectively your ads are showing.
Frequency is the average number of times each person saw your advertisement. You want to keep this low so that people don't get annoyed by your ad.
Reach is the total number of people who have seen your ad, not including the number of times each person saw it after the first time.
Impressions are reach (the number of people who saw it) times the frequency (amount of times each person saw it).
Quick note: the vernacular for these terms differs slightly across different channels, but each channel measures them in some variation. For example, LinkedIn measures impressions, but substitutes the term "unique impressions" for reach.
The goal in any campaign is to show your ads to exactly the type of people who will be most likely to engage with them. Each channel offers a myriad of tools to help you do this – and, honestly, each channel is worth a deep dive on its own terms.
For our purposes here, though, we'll stick to overviews of how paid social media targeting works.
LinkedIn: This channel is packed with job-relevant data: job title, company, company size, industry, seniority, group membership, and more.
Facebook: This channel tends to have less job-related information, but more interest-related data. You'll be able to target based on interests, behaviors, demographics, and more.
Instagram: Instagram and Facebook ads are linked, so Instagram tends to offer the same targeting capabilities that Facebook does.
Twitter: Twitter tends to have similar targeting capabilities to Facebook, often with a bit less control (but that's okay because, as we all know, Facebook is the creepiest about data).
One more thing to mention in regard to targeting: all platforms allow you to target emails, or to create remarketing lists and target the people who visited your website. They also offer lookalike audiences, meaning you can create a list and then use it to target different people whose characteristics match your known list.
The goal in all of this is to drill down into exactly who will be interested in buying your services. So, if you're selling managed IT services for 50+ workstations, you might choose to target individuals at businesses of a certain size. If you're selling ransomware protection, you would probably choose to target people with an interest in cybersecurity.
Reaching the right people with the right message is how you win on any channel – and on social channels, you've got pinpoint control.
More Selling Power
Choosing to do paid social can give you more selling power than you'd gain from your average LinkedIn post. You can optimize your ads for specific objectives and customizable goals combined with a CTA that can draw in customers. The result is that paid social advertising for IT firms can help you sell your services, grow your follower base, increase brand recognition, or increase engagement on your page.
No matter what your goal is for your ad, paid social advertising can help you get there. Paid social ads give you all the keys to success, but you need to be able to put them to good use by developing social media skills of your own. Keep your descriptions short but highly-engaging and full of value. Read them from your customer's point of view.
Are you giving them information that they'll value?
Native Advertising
Have you ever seen a super obnoxious ad? Trust me – they exist. One thing that makes an ad bad: when it sticks out as different from its surroundings in a way that's uncomfortably jarring or out of context. Paid social advertising for IT firms allows you to avoid this by capitalizing on a phenomenon known as native advertising. Essentially, it means that when you advertise on a social platform, your advertising is non-disruptive and, if you've done it right, not annoying.
Your advertisements need to add value, not take it away. Native advertising on social channels helps you to do that.
Instagram makes your ad blend in with the surrounding feed, identified only by a sponsored mark. You can take advantage of this by using highly captivating visuals in your ad that add value to your audience's newsfeed.
When you work with paid social advertising, the last thing you want to do is take away from your audience's enjoyment of the platform.
Make Paid Social Advertising Work For You
Paid social advertising can be a powerful tool for IT service providers. But it needs to be used properly and effectively. If you're inexperienced when it comes to paid social advertising, it can often be hard to get the ROI that you need. New North can help guide you through it.
At New North, we help companies like yours grow through effective digital marketing. Our company revolves around our clients' needs and how we can help their business grow. We're paid social advertising experts who can help you find the right social media channel, the right audience, and the right message to get great results.
Are you ready to take your paid social advertising to the next level? Work with New North today.