"Hey! She's copying me. It's not fair!"
I sometimes wonder if this protest still rings out in elementary school classrooms as they did in mine. Some classmate was always trying to copy another's color scheme for an art assignment.
My neighbor once decided to borrow my idea for a take-home science project. (I'm not bitter at all.)
Why does this happen? Because even as young children, we realize the value of superior ideas or good examples. We see the success of others and want the same success for ourselves.
Looking at the expert or successful examples can teach you more about how to market in a B2B SaaS field than most anything else, significantly more than any arduous and expensive trial and error process. Whatever BSB SaaS marketing area you want to get a leg up in, a good example is always helpful.
B2B SaaS marketing and an elementary school don't seem to overlap at first blush. Today, however, we will find their small patch of common ground. We are going to take a peek at our neighbor's work.
Here are four killer B2B SaaS marketing examples to emulate for success. (In no particular order)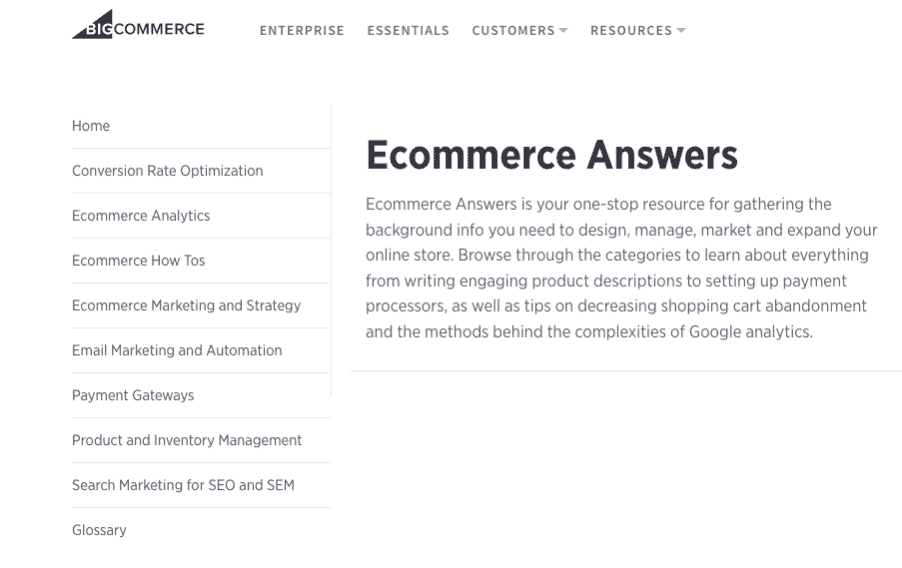 What it is:
Content is king. BigCommerce got the memo.
They have created a massive Q&A section, and it's aptly called Ecommerce Answers.
Why it's worth your time:
This example is worth it for a couple of reasons.
First, it exemplifies the marketing marriage of quantity and quality. Visit the site. You will find nearly 50 pages of answers to questions about eCommerce you may have never considered. It's organized into eight user-friendly sections and even has a glossary.
In all its vastness, the site also prioritizes quality. This example article answers the question "What is Technical SEO" with a comprehensive definition while including detailed recommendations with stats on keeping your technical SEO up to industry snuff. So, you get depth and breadth in one read.
Second, in marketing, especially of the B2B SaaS kind, all content on the web should be created for SEO. Ecommerce Answers fits the bill beautifully.
Why? Because its Q&A set up optimizes it to appear in search engines. When you research a topic, you often type in questions. As a result, your research would lead almost automatically to BigCommerce's page.
Key Takeaway:
To create traffic and capture leads from your blog, be easy to find and produce a lot of high-quality content.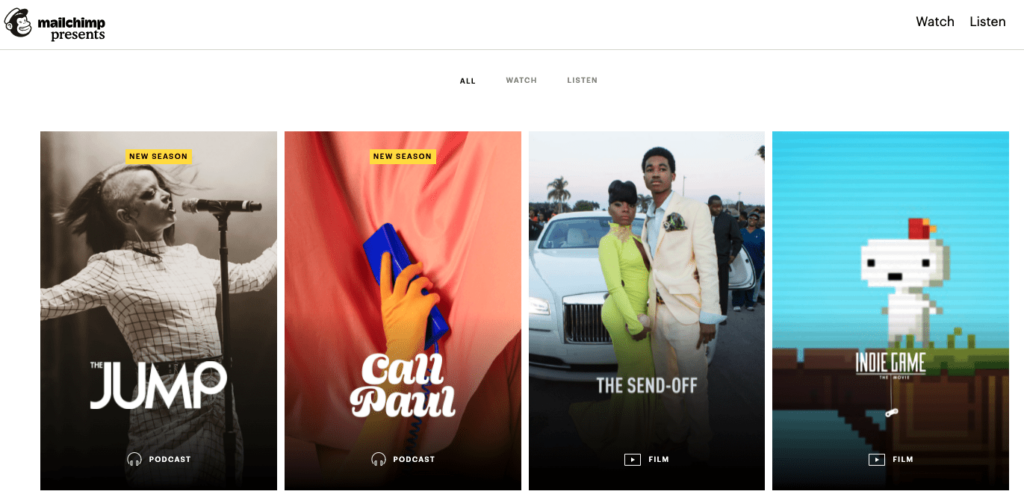 What it is:
MailChimp Presents combines education and entertainment in short films, documentaries, web series, and podcasts.
All their content is original, and it is intended to "celebrate the entrepreneurial spirit." Marketing and smart business practices are also featured topics.
Two of my favorites include "Unlikely Business Lessons" and "Taking Stock." The first is a series of interviews with people who provide unscripted business advice they gleaned from unexpected sources or experiences.
The second is just old-fashioned entertainment. If you're up for a laugh, watch the episode linked above. "Taking Stock" is another web series about an engaging fictional team who live the highs and lows of shooting stock photos. Both series provide value in their way.
Why it's worth your time:
It's fun. MailChimp Presents produces content with a touch of intrigue and humor.
People like fun. We like people who make us laugh. Why wouldn't you show potential clients that you can produce high-quality content while making them chuckle?
It doesn't focus directly on marketing their products. None of the series, podcasts, or films pitch MailChimp marketing solutions to you. This approach may seem counterintuitive. However, it can be effective for a couple of reasons.
Sometimes, it's nice to have a break from all the selling constantly happening on the web. Enjoying content simply for its educational and entertainment value is becoming rarer in the marketing world. Potential clients might appreciate a little respite.
They also might appreciate how MailChimp uses this site to show off their creativity, sense of humor, and passion for business. It may be a more subtle approach to selling your services or products, but it still speaks volumes.
Key Takeaway:
To stand out in an over-saturated market, show off what you can do and what you are about in an entertaining way.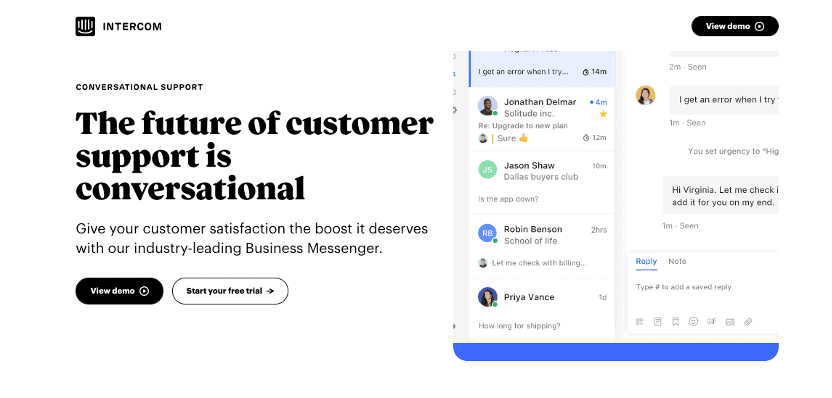 What it is:
It's a great website. It has the 3 "C's." That's it.
What are the 3 "C's?" You may ask. Here's my disclaimer first: I didn't make them up for this post, and there are many variations.
In short, these three "c" words can help you create many things, from websites to social media posts. These three "c" words are:
Intercom's website captures all three.
Why it's worth your time:
Here's how the site contains all the "C's.
They immediately include stats about who they provide to and how successful they've been. Numbers don't lie. I feel like that's as clear as you can get.
They maintain that same level of clarity throughout the rest of the site. You won't get lost in their navigation bar. They don't have one.
You can read each section of their homepage and quickly absorb the information. In addition, their CTA is easily identified and understood.
Being concise is hard. It's even more complicated when it comes to website design.
Websites, especially SaaS sites, can be guilty of information overload.
Banners are flying at you from all directions. Graphics are popping up demanding your attention. You feel like you need to read that entire text block, so you don't miss their list of services.
Intercom keeps everything to the point. For example, their site has about 23 words above the fold. Most sites have more than 40.
Consistency is key. Intercom has it. All their graphics go together to achieve a clean but colorful look. Their language is tonally coherent, and you easily pick up their peppy but professional vibe.
I'm guessing these elements give them a solid conversion rate.
Key Takeaway:
Follow the "3 C's" for a better website.

What it is:
It's taking better together seriously.
BuzzSumo and Moz joined forces a few summers ago to create a research report focused on "the correlation of shares and links, to understand the content that gets both shares and links, and to identify the formats that get relatively more shares or links." These SaaS companies analyzed over 1m articles to bring us this info!
It's a 30-page report that says links and shares increase due to several factors. They discovered that specific content types, especially research-backed content, achieve higher links and shares.
Why it's worth your time:
Buzzsumo and Moz made this work for them in several key ways.
Thirty pages? 1 million articles? That grabs some attention.
Repurposed research
Industry credibility
Now comes the coup de grâce. They proved their research. They found that long-form research-backed content grabs more links and shares. So, they created that exact type of content.
What happened?
Their research report scored many quotes, cites, shares, and links. The proof is in the pudding.
Key Takeaway:
Take the time to produce long research content for your niche, and you could see some similar results.
Want to work with the best to grow in your B2B SaaS Marketing Expertise?
We can observe and examine these examples can be observed, but they are someone else's success stories. However, you are still outside looking in.
Working with experts can bring you inside and put you on the right track to become a success story in your own right.
At New North, we've helped many B2B SaaS Firms get there. So, if you want to apply insights from these examples (and countless others) to your own strategies, let's talk.
If you'd like a free review of your current B2B SaaS marketing efforts – and a path forward based on expertise – get in touch with us today.