We're well into Q4 and 2023 is just about glimpsable around the corner.
As you evaluate your progress toward the completion of your current goals and start setting new ones for the next year, lead generation must be taken into account. The amount of business you generate is undoubtedly one of the goals you'll set, so you have to think about how you'll draw in new leads.
New North believes Search Engine Optimization (SEO) is indispensable to lead generation.
If you're part of a tech company in the B2B sphere, B2B SEO will be the main way you draw in new business. And if you're reading this blog, you probably recognize that it's not quite in your wheelhouse. There's no shame in that.
Fortunately, there are a number of marketing agencies that specialize in B2B SEO. The purpose of this blog post is to help you understand what good B2B SEO looks like and to point you to the firm that will best meet your needs and be a good cultural fit.
What is B2B SEO?
Search engine optimization is exactly what it sounds like: It is the strategic work of making your business—and specifically your website—appear among the top results for relevant keyword searches by potential customers. It starts with building an SEO-optimized website—a challenge in itself—but there's more to it than that.
How is B2B SEO different from other SEO?
As with other processes in the B2B world, marketing takes longer to achieve the desired result here than in the B2C realm.
Businesses that sell directly to the consumer typically attempt to get users to make a purchase during their first visit to the website. B2C SEO will therefore focus on driving only those who are ready to purchase to their website.
But with B2B SEO, you're trying to fill a whole sales funnel, and you need to capture people searching preliminary search terms—not just those that indicated they're trying to buy.
This is why we almost always recommend that our clients start a blog if they don't have one already. Blogs let you pose questions (Like, "How is B2B SEO different from other SEO?") and answer them for searchers, knowing that the people who are currently researching your industry will likely be ready to make a purchase in the future. That question and answer will show up on a search results page and can be used to funnel traffic to your site.
B2B SEO focuses on establishing trust between the prospect and the brand long term by providing genuinely helpful, relevant information that will lead to a sale—and perhaps many sales—down the line. But not typically right away.
For these reasons, B2B SEO includes branding work and a good deal of content creation—blogs, whitepapers, podcasts, videos, and/or eBooks. New North has a proven track record of creating A+ content (like this) that establishes our clients as trustworthy guides to the prospects who download them.
What is Good SEO?
Strong B2B SEO has a few phases:
Building a strong website that helps search engines find it and communicates to viewers quickly and effectively what exactly your business does.
Providing additional website content that adds value to users and thereby helps you rank higher with search engines.
Leveraging additional means—such as ads and social media campaigns—to drive traffic to your website.
When it's done well, you'll have a list of keywords that describe what your business does best, and you'll rank on the first page—and ideally at number one—for every keyword. Plus, you'll have content that takes your prospects through each stage of the buyer journey and makes them ready for a sale.
Not all attempts at SEO achieve the above result. Good SEO is both an art and a science. It requires
On the science side, you need people who have a strong understanding of the numbers and the psychology behind them. They also need to be capable at testing methods and improving upon them in response to hard data
As for the art, you need creative people who can write spectacular, engaging content, and talented designers who can catch the eye and leave your website viewers breathless. All this while communicating—within a visitor's first five seconds on the page—who your company is and what you do.
And when you have the right artists and scientists who can synergize their expertise together, they'll fill your sales funnel, amplify your business, and drive your skepticism away.
Want to find a team like that? Look no further than this list (and IMO, just stop after number one!)
The List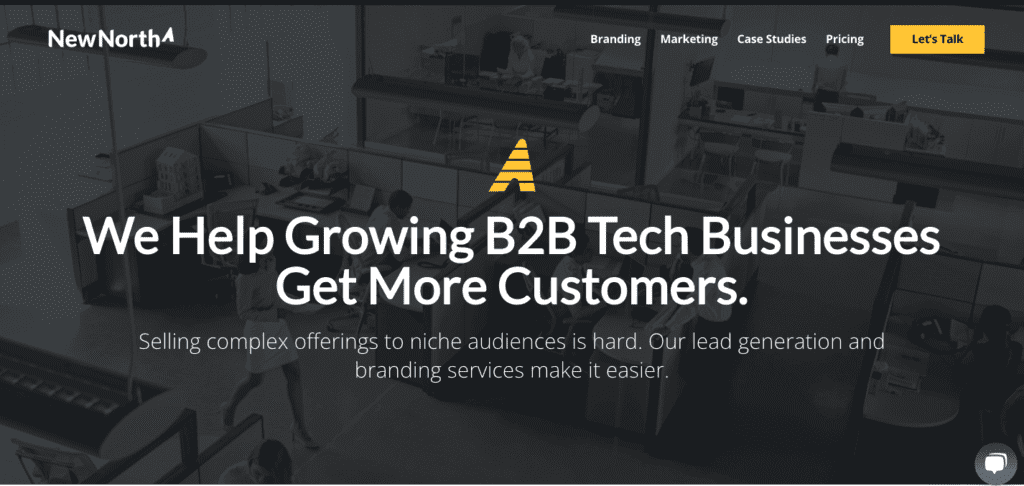 Yes, we're biased. Totally. But I think we're pretty likely to be correct.
New North is the best B2B marketing agency for a bold and brilliant new 2023, because we have one thing that no other marketing agency—B2B or otherwise, tech-focused or not—can boast.
Want to hear what it is?
We're the most Agile marketing firm on the planet (and there are only 5 or so of us to begin with).
We use a proprietary delivery framework, based on Agile Kanban principles that enable us to give every client…
Fast turnaround times. Like, Jimmy Johns fast.
A flexible service model.
Goal-oriented consultations and deliverables.
Data-driven approaches to everything we create—as large as websites and eBooks and as granular as email subject lines.
We call it Continuous Delivery. And it's awesome.
We take the same methods many of our clients use when they're developing software and we apply them to B2B marketing and SEO optimization.
And when we apply these methods, we make epic content—the kind that wins awards and drives hits to your website in high numbers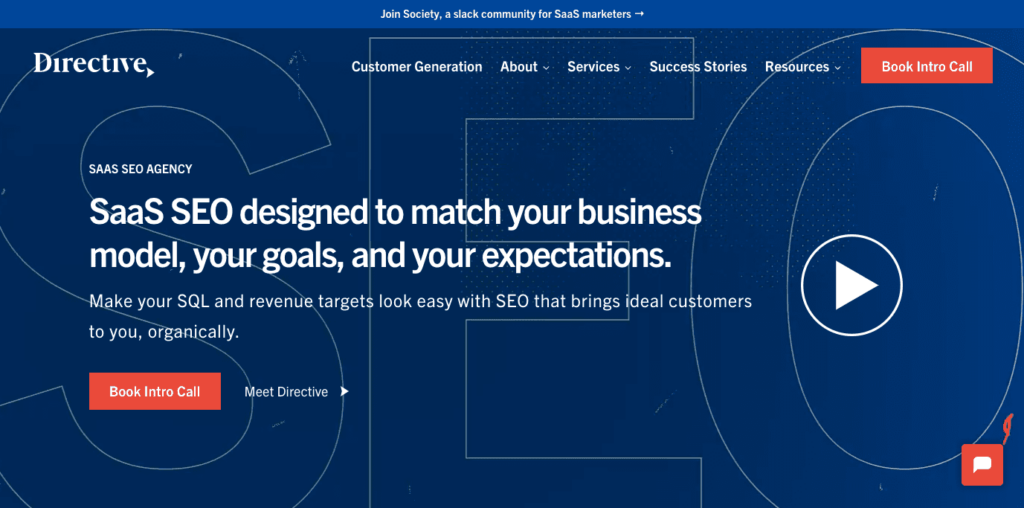 There's a real virtue to staying in your lane. Do something well, narrow down your market, then refine and do it even better.
Directive excels at SEO optimization strictly for SaaS companies. The team touts its Customer Generation method as being superior to traditional Demand Generation, and they have statistics to back it up. They recognize that your product has a limited, niche market, then they define it and go directly after sales.
Another cool thing about Directive is the principle, "There's no such thing as B2B." The point is, they market to the people in those businesses, rather than the businesses as nebulous entities.
Bottom line: Directive capitalizes on personalization. They'll treat your buyers as people who belong to your own personal market. It's an approach that gets results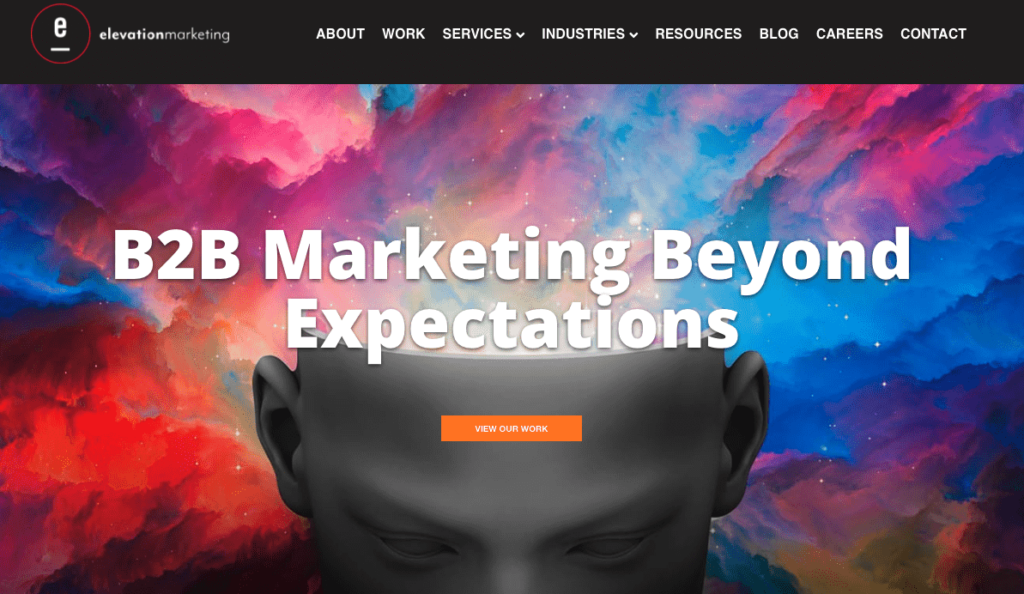 We've featured Elevation before, because they've done some excellent, creative work. From the outset, Elevation promises to be different, pushing the slogan, "B2B Marketing Beyond Expectations."
They serve a wide variety of industries, including technology, food and beverage, education, healthcare, automotive, and more. Over 60% of their clients are $1 billion+ enterprises.
Boasting high-profile clients such as Amazon, Duracell, and Coca-Cola, Elevation promises not to use B2C strategies to meet your B2B goals. Like New North, Elevation maps each content offering to its ideal place in the sales funnel and leverages it for maximum effect.
Conversion goals are the driving force for Elevation. Every strategy is tied to a particular goal, utilizing various in-house specialists to meet them.
If you're a larger corporation looking for an aggressive marketing strategy, you may want to give Elevation a look.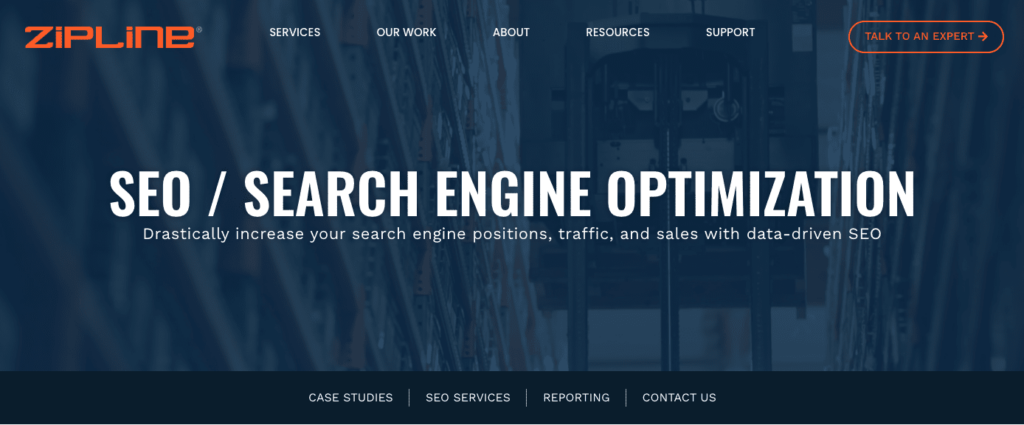 Where Elevation boasts its uniqueness, Zipline's team subverts expectations by saying they don't have a novel magic formula—just a scientific method that relies on data models.
At New North, we applaud this approach, because it's the hard work of trial and error based on hard data that achieves success in marketing—when combined with a little creative X factor.
You'll find Zipline to be more traditional than a bleeding-edge firm, because they believe in using those methods that are proven over years of use. But we can't dispute it, because their client results are solid—multiple #1 rankings for relevant keywords, according to their SEO page.
The firm says it can increase your sales with your current customers while leveraging digital marketing more effectively. Brands like Tootsie Roll Industries have had success with Zipline, along with legacy manufacturers like Bodine Electric Company.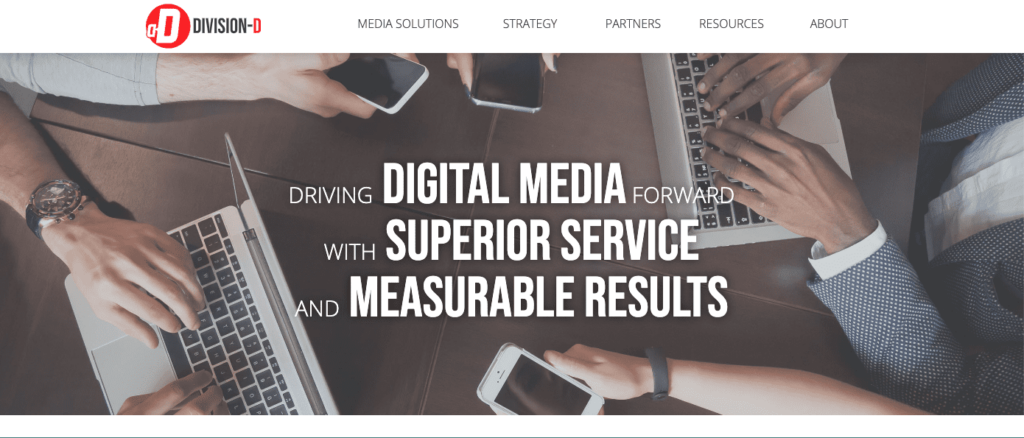 One of the first things Division D promotes regarding its SEO approach is how its team segments markets geographically, letting them focus on building your brand locally and nationally at the same time.
Division D majors on advertising over some of the more organic marketing tactics. This approach won't work for everyone, but if you've got an ad budget that you're eager to exercise with hopes for maximum ROI, this agency is ready to strategize with you.
They emphasize a personalized approach to meeting your lead-generation goals and then use a cross-platform strategy to accomplish it. They use "hyperlocal" targeting to a scientific degree, taking aim at your potential clients from a multitude of angles.
If you're past the point of brand building and organic marketing and you're ready to crack the whip for sales, Division D could be the right match for your business.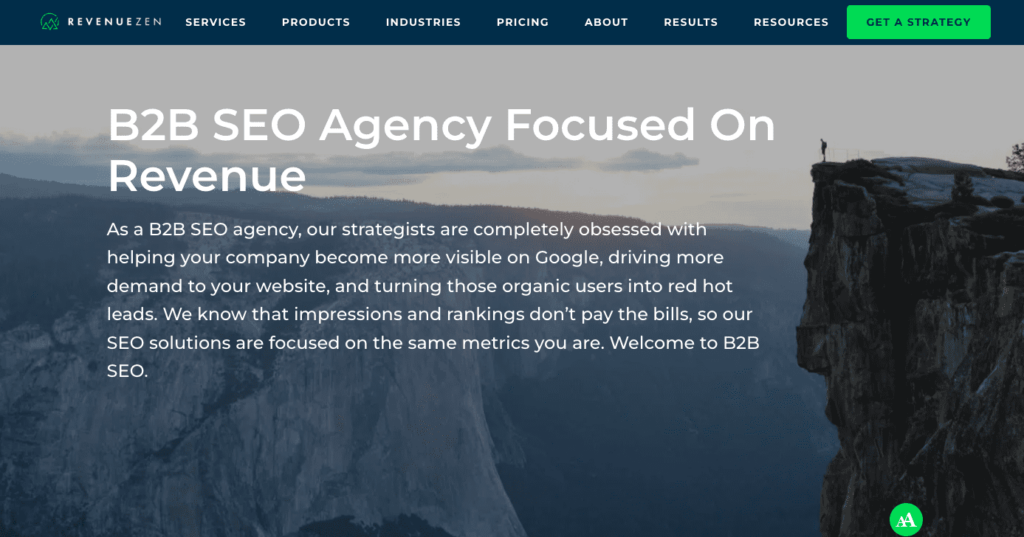 Perhaps a little counter to their name, Revenue Zen says they'll be obsessed with SEO performance for you. And they've got their focus on the right things, too—not merely a high ranking, but also "turning those organic users into red hot leads."
Revenue Zen takes a reverse approach to Division D, focusing on organic leads as opposed to an advertising-centered tactic.
They understand how B2B marketing works, and what the stakes are for you. Their SEO page says, "If you aren't on page one of any given result, you will lose out on 75% of user clicks."
They use this to explain their content-marketing approach—they'll add genuinely helpful content to your website in order to establish trust with the viewer of the content.
Technical audits and keyword research beef up Zen's approach, offering a data-based approach to content marketing. They're a safe bet, and they'll likely live up to their name after all.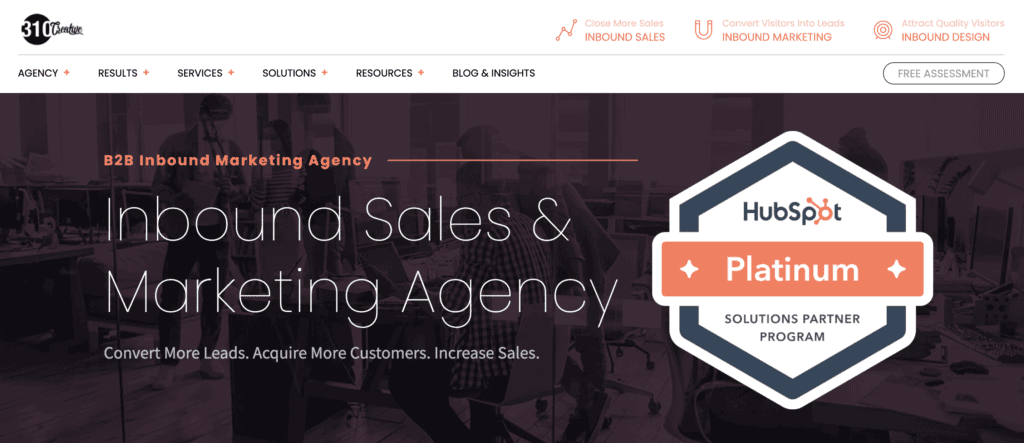 We like 310 Creative because they cater to Agile sales teams. This means they'll be feeding you leads quickly and in bursts from early on in your relationship.
310 takes a traditional approach to digital marketing and starts building your sales funnel for you. They'll work with your salespeople by giving them high-quality leads and data that will help them convert.
As for their SEO strategy, they start with sales-ready messaging, combine it with content marketing (like the Zen folks above), and focus on writing strong pillar pages that will drive traffic to your site.
What we like to see is that 310 stays on top of Google's changing algorithms, making sure they're not using years-old strategies that have gone out of date. They use dynamic content that resonates with the specific searcher to draw them in and seal the deal.
If you work with 310, they'll want to put a heavy emphasis on keeping your blog up to date. Admirably, they want you to be as useful as possible to your potential and current customers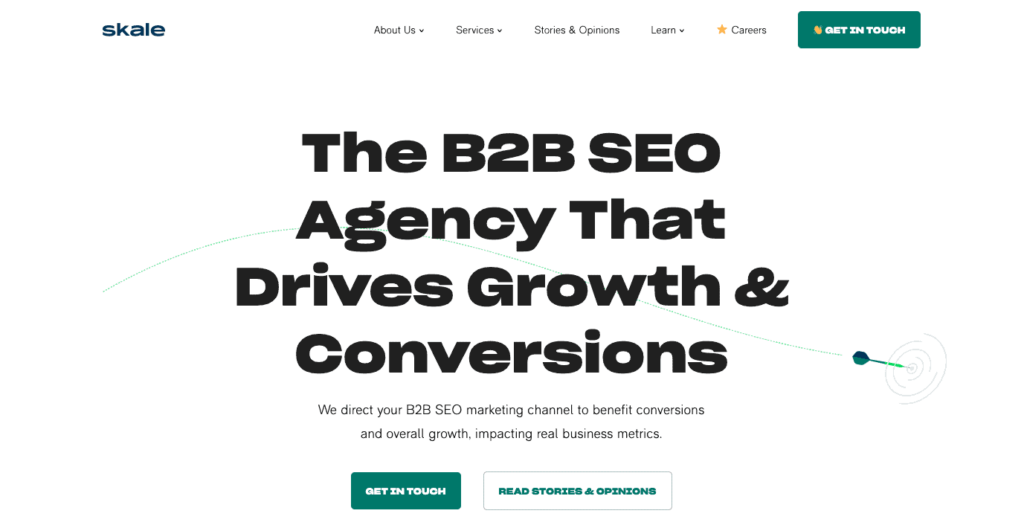 Skale is another agency that specializes in SaaS brands. They've got some powerful case studies that boast major multiplication of product signups.
The agency says it will optimize the content you've already produced, backlink it to your website, and use it to drive organic leads that will get signups. Of course, they make new content too, and all of it embraces the proven method of helping your customers.
If this is starting to sound a little repetitive to you, recognize that it's not a mistake—the best brands offer excellent products and services that help their customers. If you show your prospective buyers just how helpful your product or service is, they'll choose you over a bigger name because you've gained their trust.
This is a tried-and-true way to make you succeed, and Skale does it well.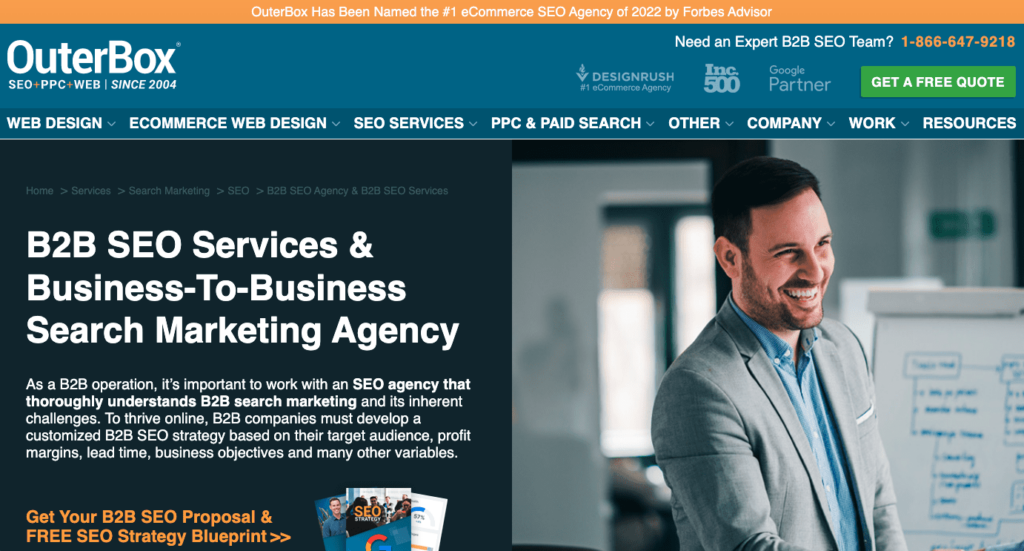 Refreshingly, OuterBox highlights its SEO team early on as its great asset. It's hard not to like a marketing agency that values people highly for their abilities. They're touted as "a staff of in-house SEO experts that include [sic] developers, designers, copywriters, and more."
OuterBox features an SEO case study to support its team's custom strategies approach. Website traffic took a steep climb—400 percent—when OuterBox got involved. Other testimonials mention monthly metrics reports.
We hope their methods are as data-founded as their metrics for measuring success. If they are, you can rely on OuterBox for dependability and genuine results.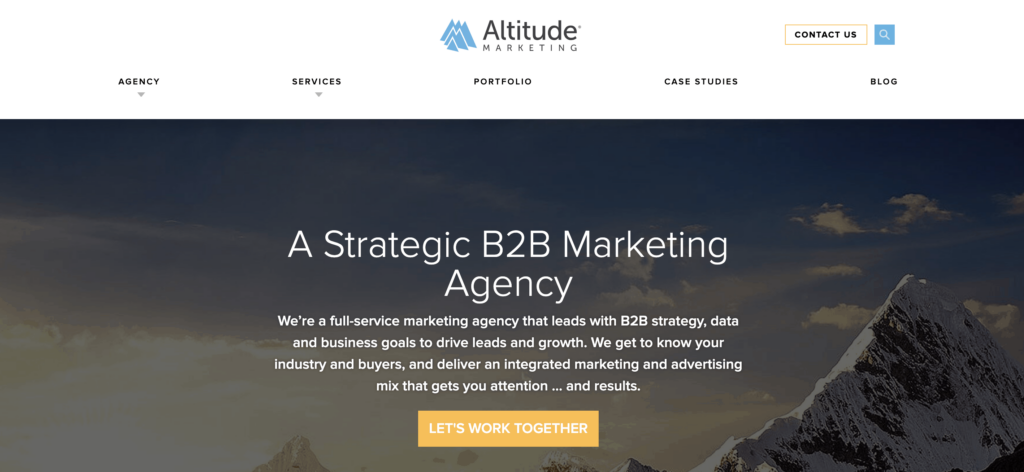 This isn't the first time we've mentioned Altitude Marketing. They position themselves as an integrated marketing department, meaning they offer services well beyond the digital realm.
But when it comes to SEO for B2B companies, they know what they're doing. They rely on a content marketing approach to attract—rather than drive—potential customers to a website.
Specifically, it's through long-tail keywords. That's a five-dollar marketing term that simply means the keywords Altitude focuses on are longer, specific phrases that searchers will be running on search engines.
There are risks to this strategy because you lose the broad appeal of simple search terms. But the advantage is that those who are searching longer phrases know what they're looking for with more specificity, which means they're probably more likely to make a purchase after finding what they're searching for—you.
Like New North, Altitude recognizes the advantage to this approach.
Promising "more qualified leads for the sales team" and better brand recognition through an improved web presence, Altitude is an attractive option for a marketing agency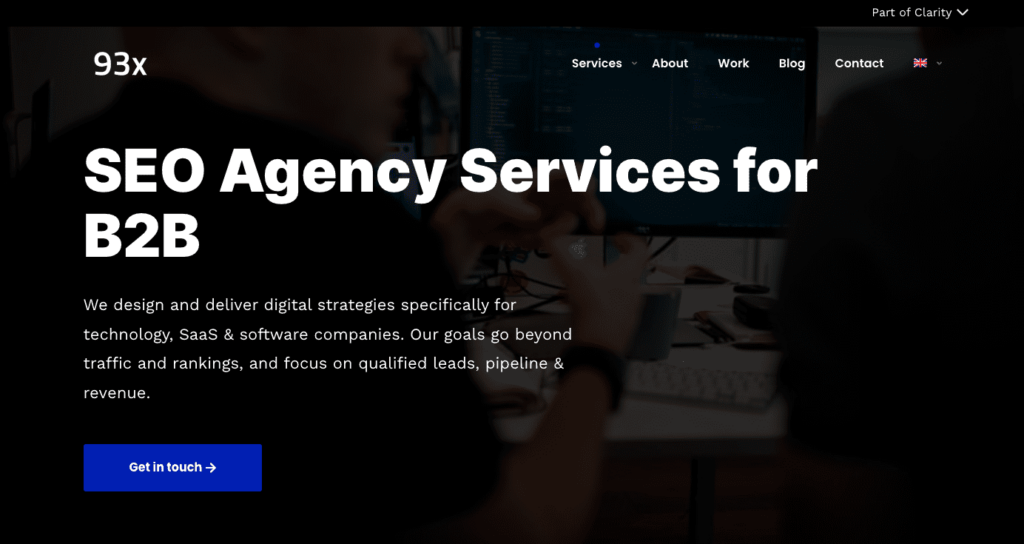 Don't let the forgettable name fool you. Your web traffic will be thoroughly memorable after this agency helps you strategize.
Majoring, once again, on SaaS and other software companies, 93x's bare website gives you an idea of how the team thinks. They prefer quality, helpful content over flash.
You won't get a website that looks like a Hollywood lights show (and it's fine if that's important to you), but 93x promises that you will get high-quality web traffic and qualified leads that will likely culminate in higher-value sales.
If that sounds like your priorities, it's worth a visit to the 93x website.
But allow me to add that flash and substance do not have to be not mutually exclusive. It is possible to use a spectacle to draw high-quality traffic to your site that will convert into high-value leads. You'll just need a high-tier agency with award-winning designers and wunderkind-level specialists to do it.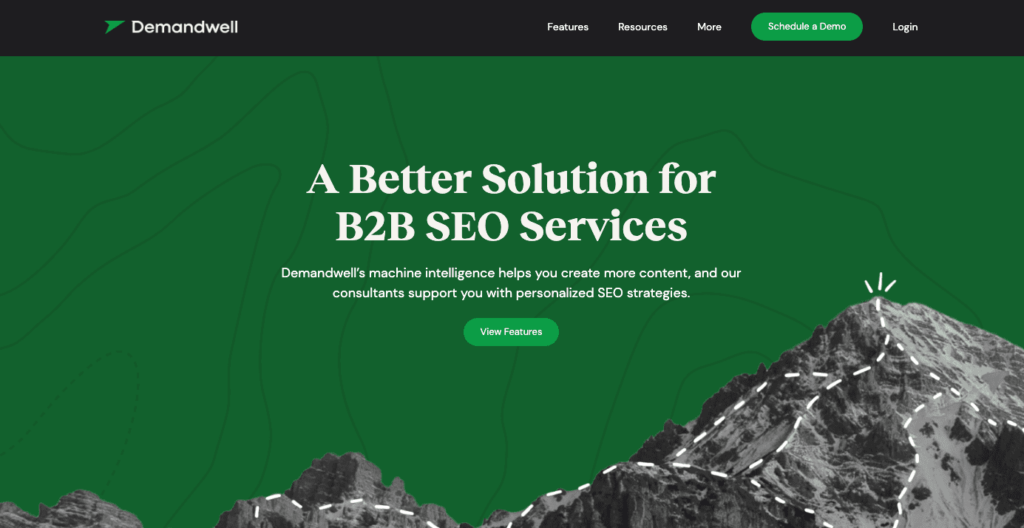 Demandwell majors on, well, demand generation. (Actually, they do more than that, but see what I did there?)
Truthfully, Demandwell is a cutting-edge marketing firm that proudly wears its use of AI to create and evaluate content and formulate an SEO strategy.
If you sign on with Demandwell, they'll audit your site and plug their findings into their platform. They'll use that to help their strategists quickly come up with a way forward, as it will help them zero in on specific keywords that the machine intelligence predicts will perform well.
AI's primary advantage is speed. You can create content faster when you use the best tools, and you can expect quick results from a firm that will embrace them—such as Demandwell.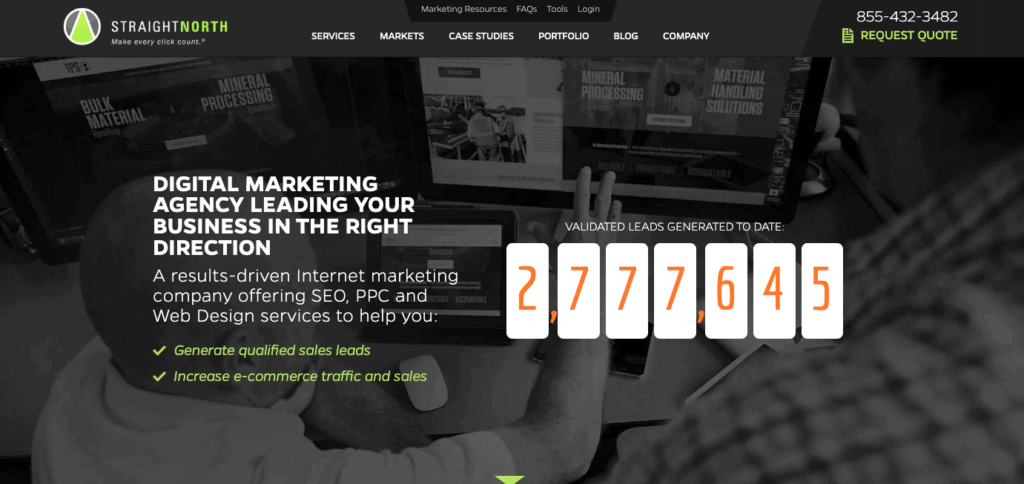 While we do prefer a different adjective in front of our compass points, Straight North puts it all on the table by offering the first month of SEO free. They will start with an SEO audit and then give you the first month of services free. This could be a good way for you to see if you like the agency's methods.
This team offers many kinds of SEO, not only the B2B kind. But when they do SEO, they go straight down the line with what they promise: results-driven SEO and marketing that generates qualified sales leads and an increase in website traffic.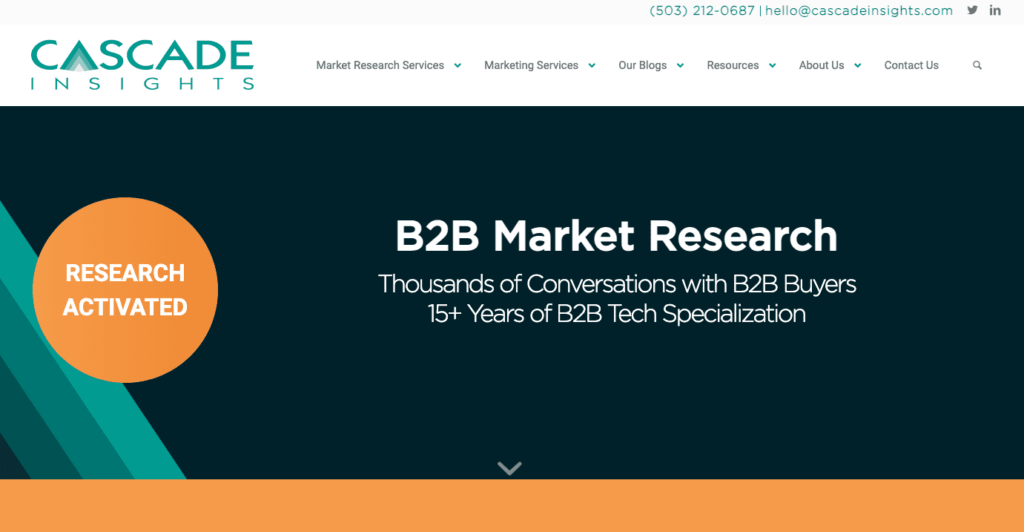 The folks at Cascade have built a business doing much for their clients—pay-per-click (PPC) ad messaging, email campaigns, content audits and overall message consulting.
They think a little differently about SEO, but their focus on content is a good thing. In a talk with SEO partners, they revealed that when it comes to optimizing for websites, they think outside the box of standard accepted SEO practices, wanting to make sure they can deliver the right content to those who find the website.
Cascade won't be for everybody, but we commend this firm as a group of innovators and experimenters who can accomplish much if you'll let them.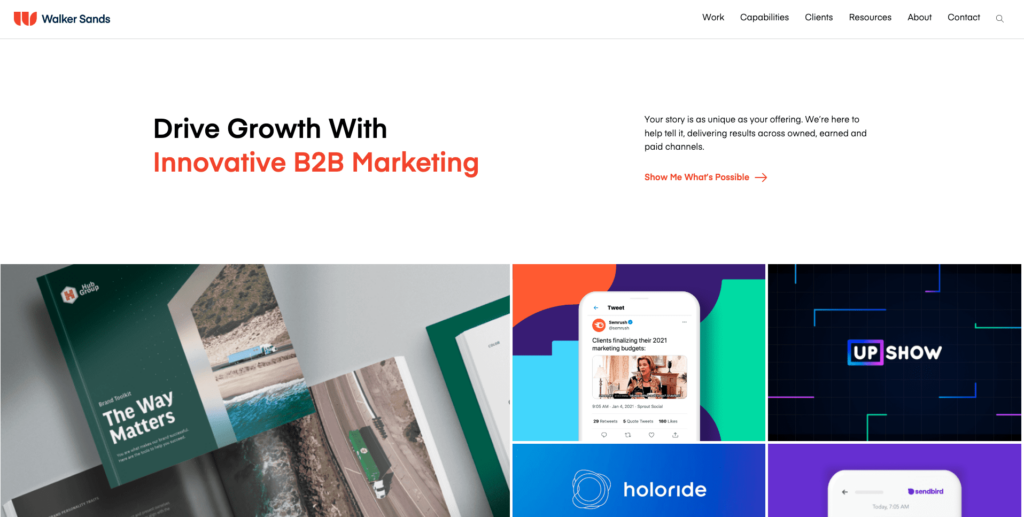 What we like about Walker Sands is its holistic approach to SEO that considers the whole sales funnel. In their own words, "The goal of our SEO services is to fill your sales pipeline with a greater share of organically converting traffic."
Walker Sands understands that SEO has evolved and is continually evolving, and they endeavor to stay on the front edge of what is happening with search algorithms and changing strategies to put your business ahead.
As a team of people that prides ourselves on bleeding-edge tools and trends, we appreciate Walker Sands' mentality. If you go with them, you can expect to do well.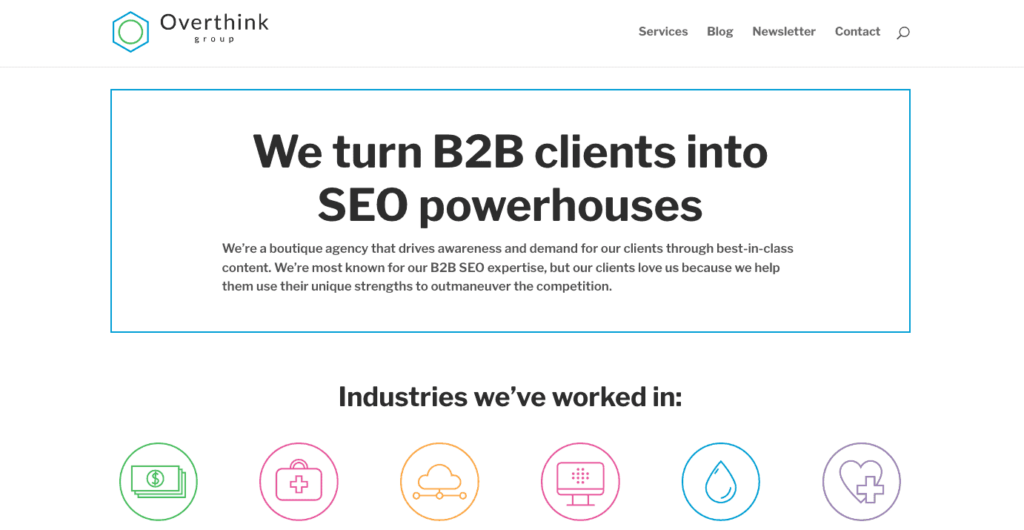 It's hard to overthink SEO because it's such a difficult thing to get right consistently, so we appreciate the intentional misnomer.
This agency stresses boutique in B2B SEO, and that's the right way to (over)think about it.
Although there are established best practices—which may yet change—there is no one-size-fits-all approach to SEO. Overthink gets that, so they approach each client by what makes it unique, and they tailor their messaging, keywords, and strategy so that each is true to the business.
That's the right way to get B2B SEO results.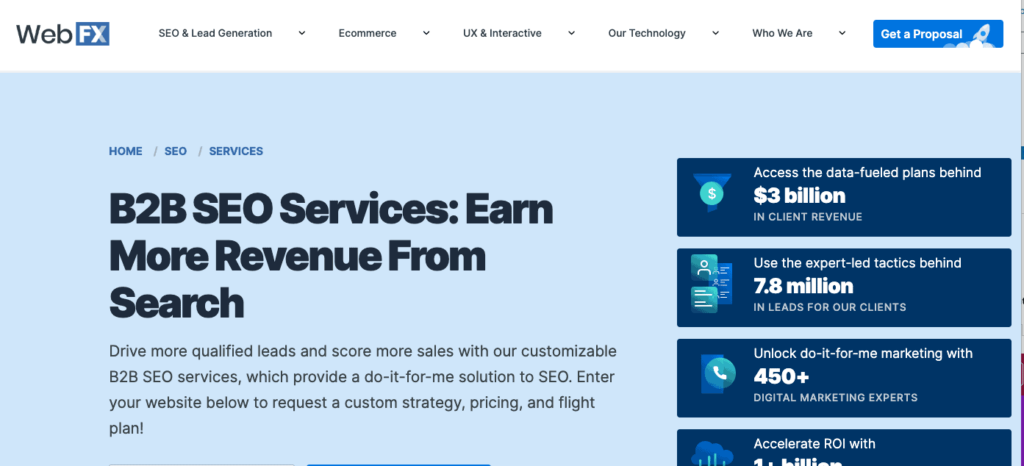 Right off the bat, WebFX promises not merely leads or traffic, but revenue, from Internet searches. It's this kind of bottom-line thinking that nets WebFX many clients.
They have the data to back it up—their approach works: $3B in client revenue and 7.8 million leads. Noteworthy partners include Meta and Google.
So if you want the front of the web working for you from a no-nonsense, numbers-driven marketing agency, WebFX may have your mark.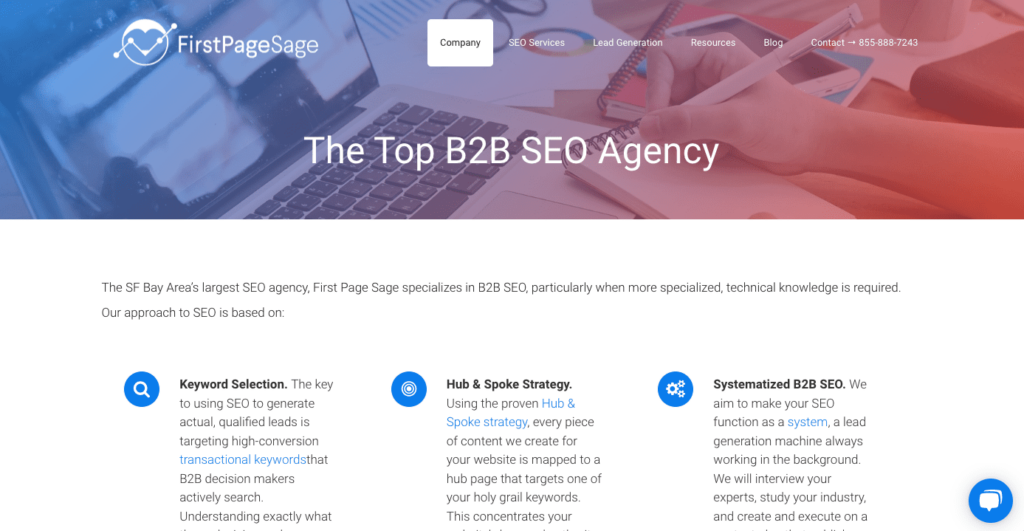 Based in the San Francisco Bay area, First Page Sage is a B2B SEO firm especially suited for high-tech businesses.
They've got a solid strategy to approaching keyword research and selection, and their Hub-and-Spoke model links all they do—content, messaging, and otherwise—back to SEO and getting results.
They've worked with the likes of Verizon, VeriSign, and Logitech. If you're in the tech space looking for a non-Agile approach to SEO, First Page Sage could be a good fit.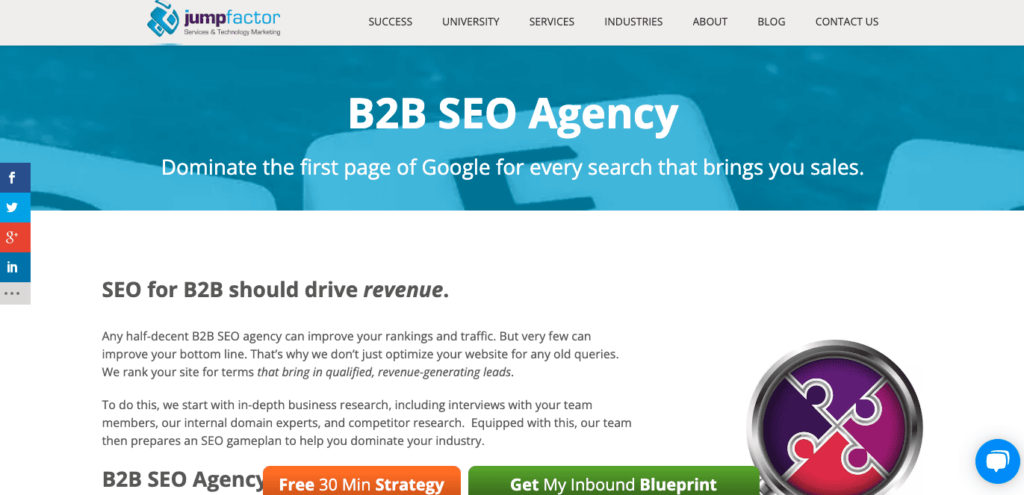 An international team with a global reach, Jumpfactor's internationality immediately sets it apart from most of the B2B SEO agencies on this list.
They boast an impressively detailed method that has scored proven results for companies around the world. Perhaps the most impressive piece of this is their promise to get more outside sites to link to yours.
They produce content that others will want to link to, but they also propose public relations services: "Pitching original content to industry publications can help with backlinking."
This is an impressive, proactive approach over which we can't help congratulating Jumpfactor. Bravo.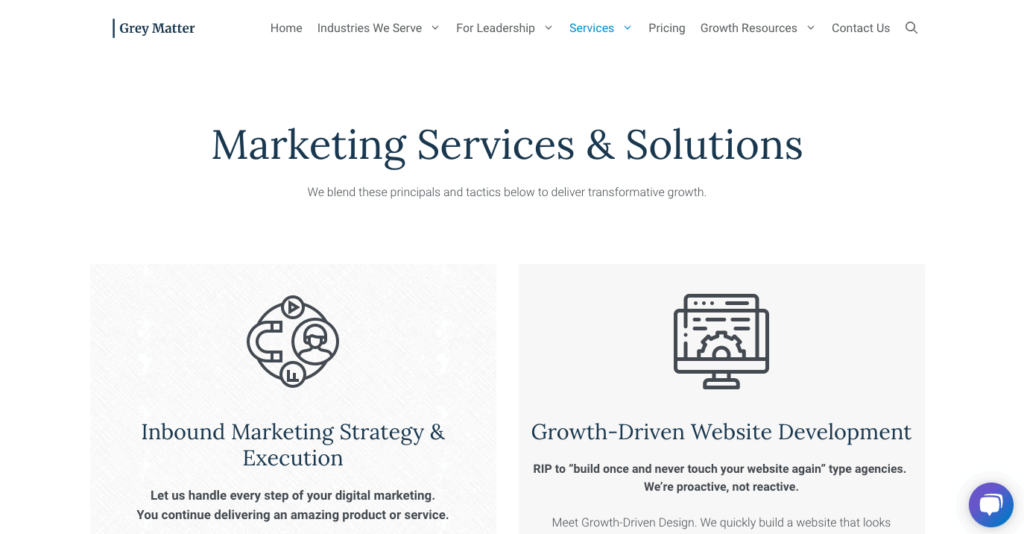 Grey Matter stresses its process. Its team takes SEO seriously, and we commend that.
Promising an unfair advantage over the competition and boasting some impressive results for their existing clients, this agency doesn't explain much with regard to its approach—just time-tested, results-proving methods.
If you want to know more, you'll have to contact Grey Matter.
Ready to Work with a B2B SEO Agency?
Perhaps this list is a little overwhelming. You can see now that every marketing agency has a slightly different approach, and choosing one over another depends very much on your business's unique strengths and goals, and possibly on your company's culture.
New North's mission is to help B2B businesses grow with intelligent marketing that drives measurable results.
Want to see if we're the right fit for you? Let's talk.
Hope to chat soon, and here's to your success in B2B SEO.